Section Branding
Header Content
John Lewis Tells Civil Rights History in Graphic Novel "March"
Primary Content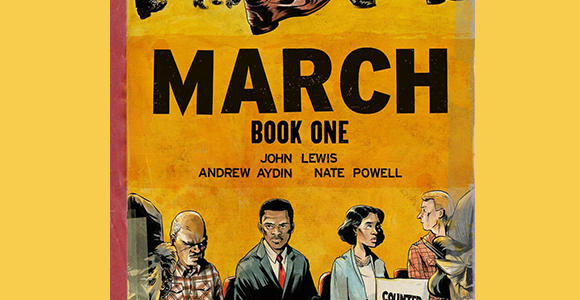 Here's a way to educate young people about the civil rights movement of the 1960s. Tell the story in a graphic novel. That is what Congressman John Lewis has done with his new book "March." The graphic novel chronicles his role leading demonstrations and marches during his time as an activist in the Student Nonviolent Coordinating Committee in the 1960s.
"March" comes ready for teachers to use in the classroom as there is a teacher's guide available. Download it here!
The idea to tell his story in comic book form came from Lewis' aide, Andrew Aydin. Aydin's college dissertation was based on the groundbreaking 1958 comic book Martin Luther King and the Montgomery Story. The 16 page book spread the word about the nonviolent activities of Dr. King and other civil rights leaders and the results of the Montgomery bus boycott.
It was instrumental in educating young people about the civil rights movement at the time. A young John Lewis bought a copy himself.
Aydin and Lewis hope "March" which is a trilogy, will educate a new generation about those important events of the past. Over the weekend, they debuted the book before one of the largest gathering of comic book lovers - ComicCon. (Check out the video of Lewis signing copies below.)
Would you use this graphic novel to teach history in your classroom? Let us know. And what other history or literature graphic novels would you recommend using in class?

Secondary Content
Bottom Content