Section Branding
Header Content
Samsung Mobile App Academy Cultivating Future App Makers
Primary Content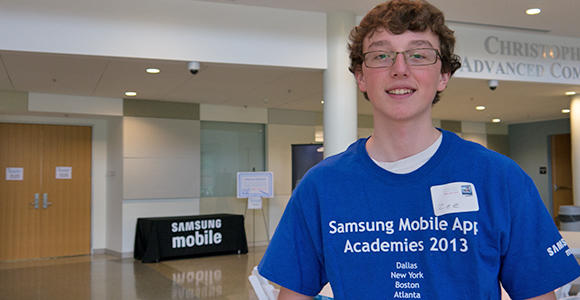 Earlier this year I blogged about how to raise your kids to be the next millionaire app makers. Samsung is behind a STEM summer boot camp that may be in the business of doing just that.
At their free Samsung Mobile App Academies held in six cities, 11th and 12th graders got the chance to learn how to create apps for two days.
I visited the session in Atlanta, hosted at Georgia Tech. I was pleasantly surprised to see that students weren't drenched in computer code but were taught the critical thinking involved in app creation.
Students were put into groups and Samsung provided them with tablets - the Galaxy Note(tm). Based on scenarios Samsung gave them, they had to come up with a detailed app idea. What would the app do? What problem would it solve? Who is the audience the app is meant for? What are its colors?
It was refreshing to see the students employ real world tools like creative briefs and storyboards to create their apps. They also had to present their concepts as a group and answer questions.
Aliyah Hill, an 11th grader from Rockdale Magnet School for Science and Technology, says she learned the most from being in a group setting.
"I basically learned how to express myself and how to be heard in a group setting." Hill says. Hill's group Team Class E came up with an online textbook and classroom management app.
Watch her describe the project in the video below.
Zee Doehling, an 11th grader from Mountain View High School, says his group's biggest hurdle was narrowing down the audience for their soccer app.
Watch him describe his challenges and what he considers the most fun part of the academies.
Participants will be able to submit their own mobile application concept proposal for a chance to win a grand prize of $20,000 in scholarships; 2nd and 3rd place winners will receive $10,000 and $5,000 in scholarships. All winners, plus one 4th and one 5th place winner, will receive the new Samsung Galaxy S(r) 4 smartphone. Additionally, Samsung is collaborating with its developers group to explore building the student's winning app.
Check out photos from the last day of the academy.
Secondary Content
Bottom Content