Section Branding
Header Content
Black History Month 2013
Primary Content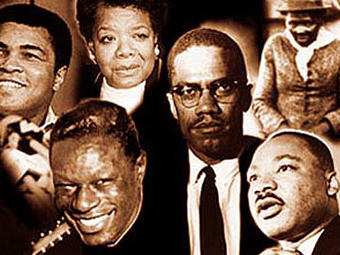 February is Black History month. Some say that this special month is no longer necessary because African American history should be taught throughout the year. That argument minimizes the historic significance of the month itself and the opportunity it brings to set time aside to dig deeper into Black history.
Black History month started out as a week to focus on the achievements of African Americans then expanded to a month. During the month of February, it is an opportunity for students to explore the back story of why a week and then a month had to be established in the first place and engage in meaningful discussions about race, inequality and culture in this country.
To assist teachers in leading these discussions and digging deeper into that history, we have put together a resource page that lists television shows, radio specials and digital resources that includes timelines, apps and lesson plans.
Here are Some Highlights
PBS Learning Media - Check out our classroom page that includes clips from the series Freedom Riders and MIssion US Flight for Freedom. Click Black History month on the left side menu to get to the page. Logon to PBS Learning Media to search for content for your classroom or create your own pages.
Larry Ferlazzo's Websites of the Day: The Best Websites to Teach and Learn About African American History
American Experience Abolitionist Map Game - With American Experience's Mapping History app, you can relive the history of the abolitionist movement by exploring places central to the nation's anti-slavery effort.
Get the complete list here and check back as we will continue to update the site.
Pointers on Teaching Black History
The article Do's and Don'ts of Teaching Black History Month from the Southern Poverty Law Center offers these suggestions on teaching Black History Month.
DO...
"Incorporate black history year-round, not just in February. Use the month of February to dig deeper into history and make connections with the past."
"Continue Learning. Explore how to provide an in-depth and thorough understanding of black history. Textbooks are notorious for omitting information about the struggles of communities, and what they include is limited, so use the textbook as one of many resources. While exploring multiple resources, allow for opportunities to learn along with your students."
"Reinforce to students that "black" history is American history. Make black history relevant to all students."
Secondary Content
Bottom Content