Section Branding
Header Content
Teachers in the News You Should Know
Primary Content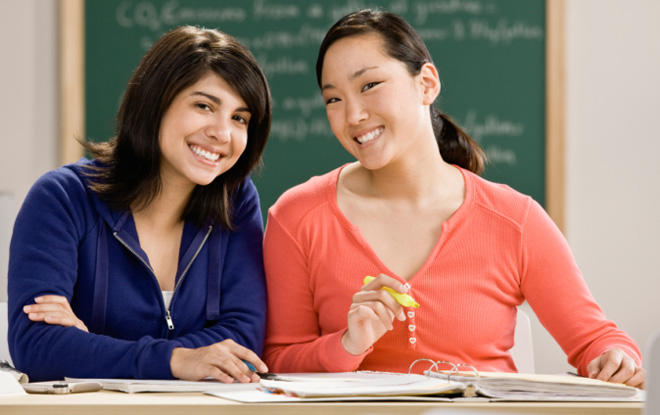 Not all news is bad these days. There are a lot of really creative, inspirational teachers out there and we want to be sure you have heard about them.
Shawn Rux is the principal at MS 53. When he began his role there, 50-60 students were absent every day and 22 teachers and all of the office staff had quit. It was a failing school and the students knew it. To amend the problem of student absences, Rux held raffles for prizes. To get a ticket, you had to show up. Sometimes showing up early meant students got extra tickets. The tickets evolved into currency, "Rux Bucks," that the students could exchange for school supplies, lunches, even a shopping spree with Mr. Rux. MS 53 was recently severely damaged by Hurricane Sandy and Mr. Rux is working hard keeping all of his students going, this time to other schools while theirs is repaired.
Beach High School in Savannah, Georgia has a similar reward program. It's recently been in the news for similar issues to MS 53. The principal and half of the staff were fired and replaced in an effort to turn around the failing school.
Jake Scott was recently featured in an NPR report for his innovation in math class. As a student who struggled and was frequently bored, Mr. Scott believes he's found a way to keep kids engaged while learning: his math rapping alter ego 2 Pi. He records and posts videos on YouTube for his students to watch in and out of the classroom. In that way he's able to introduce his lesson in a memorable way while providing at-home help when students go back and watch the videos. The videos show example problems with math vocabulary, which can be confusing since we aren't using words like "hypotenuse" in everyday language.
Check out this one on the Pythagorean Theorem:
Gregg Breinberg is a chorus teacher at PS22, a public school in New York. Each year he holds auditions for the fifth grade chorus, which has 60-70 members. In twice weekly rehearsals he is able to get these kids to sing beautifully mixed harmonies of popular tunes with emotion and passion. The teacher's obvious enthusiasm is clearly contagious and inspiring for his students. This school is not a magnet or arts charter school. It's a typical public school that is keeping and nurturing its arts department.
See this video of PS22's version of "On Top of the World" by Imagine Dragons and you'll see what I mean.
John Willis was featured by the Southern Education Desk for a teaching model known as the "flipped classroom." Mr. Willis and other teachers experimenting with this technique are doing "homework" in the classroom. Students watch a prerecorded lesson at home on YouTube before coming in to class where they exercise the lesson. The idea is that students can listen to concepts, instructions, theories, curriculum – over and over again if needed -- and then practice the lesson with the teacher available in the classroom. It means that classes like Mr. Willis's have time for creativity in the classroom, which helps engage students and gets the concepts to stick for real learning.
Deana Jump is a private school teacher in Georgia. You may remember we told you about her last year when she became the first educator to earn one million dollars by selling her lesson plans to educators on teacherspayteachers.com.
See CNN's video interview with Deanna Jump here:
What great teachers do you know and how are they being creative and innovative? What favorite teachers inspire you?
For more on creative teachers, see the Special Report from the Southern Education Desk on What Is Good Teaching?"
Secondary Content
Bottom Content