Section Branding
Header Content
Classroom Content in Honor of Neil Armstrong
Primary Content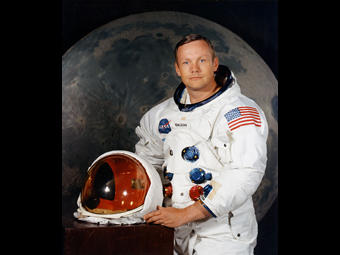 Neil Armstrong passed away on Aug. 25, 2012 at the age of 82. Armstrong was the first person to set foot on the moon during the 1969 Apollo 11 mission. In his career at NASA, he held numerous roles, including engineer, test pilot, astronaut and administrator. He participated in numerous ground-breaking aircraft projects, operating as test pilot for many of them. His bravery and passion for aeronautical advancement have helped move technology forward for decades.
According to NASA's website, Armstrong has flown over 200 different models of aircraft, including jets, rockets, helicopters and gliders.
In an age where Armstrong's feats are not-quite common but at least less terrifying, it can be difficult for students to understand what it must have been like when those men left Earth, hurtled through space, and then left the relative safety of their shuttle to step onto the moon. I still love listening to my mom recount watching the events on their black and white television. She was a young girl and was terrified that Armstrong would die from any number of complications. To integrating science and literacy while highlighting the significance of Armstrong's contribution to today's aeronautical technologies, invite a guest in to recount what it was like to be your students' age when Apollo 11 left on its mission. Ask your students to write questions ahead of time and record the guest's responses.
Share this video of a space shuttle landing with your students.

NASA's kids club has a lot of interactives for classroom use, including a special section where ELMO visits NASA!
Older elementary students right on through high school physics classes can make paper airplanes, experimenting with scale, angles, and lift. A simple Google search will reveal numerous example of varying difficulty. Amazing Paper Airplanes has instructions for making a paper space shuttle in only 11 steps.
You may also want to record (or ask your media specialist to if you don't have a device at home that you can easily share with students) tonight's episode of Space Age: NASA's Story at 7pm on GPB.
The Space Age: NASA's Story - BBC HD from Alex Norris on Vimeo.
Secondary Content
Bottom Content