Section Branding
Header Content
A Tribute to the 35th Birthday of "Star Wars" with Fun Lessons
Primary Content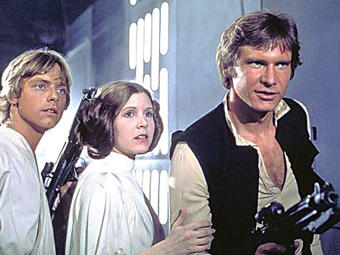 Thirty five years ago in movie theaters far and wide, "Star Wars" made its debut. In addition to spawning two sequels, three prequels, TV specials and cartoons, it has inspired teachers to mine the saga for teaching material. It's an easy and natural fit for teaching science and storytelling skills. (Louisiana Professor Rhett Allain uses "Star Wars" quotes to teach physics.)
We did a quick search and discovered a few sources of "Star Wars" themed lessons you can use to mark the 35th anniversary and pass the time. And May the Force be with you of course.
Lucas Learning's Make a Hero Website: This site teaches students what myths are and how to create their own, hero and all. The site is a bit old so don't expect major bells and whistles. But there is a hero creator application that allows kids to dress and style hero avatars. There are several classroom activities that can be adopted for students who are now home for vacation. Plus there is a book list for further reading.
Jedi Training Lesson Plans: These lessons focus on the science in the "Star Wars" movies. Because of a reference to the fictional element midi-cholorians in cells in the "Phantom Menace" film, students learn about real cell structure. They also learn about space travel and the solar system.
George Lucas and the Power of Myth: Login to PBS Learning Media for a lesson on myths and good and evil in stories. It also explores the power of the imagination.
Star Wars Internet Scavenger Hunt: This lesson is designed to cultivate Internet research skills. Kids use the site to find specific information about the movies and characters. Since kids are glued to their computers, smartphones and tablets anyway, this makes a more constructive use of their time on those devices.
Secondary Content
Bottom Content