Section Branding
Header Content
Astronomical Bummer: No Eclipse for Georgia on Sunday
Primary Content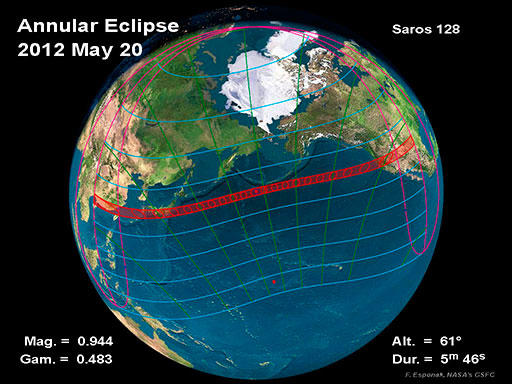 As mentioned in my previous post, Supermoon and Solar Eclipse, an annular solar eclipse will occur on Sunday, May 20, 2012. While that is certainly an exciting astronomical event, portions of the United States (including Georgia) will not be able to observe the eclipse - the sun will set on the Eastern seaboard before the heavenly bodies approach alignment.
Image source: Jay Anderson
Within the U.S., the best region to watch the eclipse is west of the Mississippi River. According to the image above, areas outside of the shaded box will experience a partial eclipse, where as a complete annular eclipse will occur within the shaded region. The event will begin in Asia on May 21st and rotate into North America on May 20th.
That's right - Sunday's solar eclipse will also be traveling back in time. It's as if it will hop into a DeLorean and go back to the future.
Science-fiction joke aside, the solar eclipse will be occurring over the International Date Line in the same direction that the Earth turns. This means that the eclipse will be observed at a (relatively) later time in Texas (8:36pm CT) than it will in California (6:26pm PT). It will be nighttime in Georgia before our portion of the Earth moves into alignment - alas, no solar eclipse for us.
National Geographic's Daily News Blog contains a wonderful breakdown of this weekend's astronomical event. NASA fans can check out all of the juicy details at NASA's Eclipse Web Site.
The next major eclipse to occur in 2012 is the Partial Lunar Eclipse on June 4th. Georgia will be able to observe the eclipse during the moonset - at 5:59am EDT.
Secondary Content
Bottom Content