Section Branding
Header Content
Weekend Programming Changes
Primary Content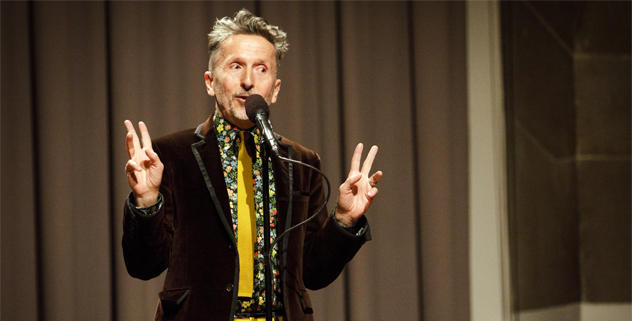 Based on your feedback, we're making changes to the weekend radio schedule here at GPB.  Starting May 31st (June 1 in Atlanta), the weekend lineup will be:
Saturdays on GPB
5a.m.   Best of Public Radio -- You never know what you'll get in this program.  Could be a serious exploration of what it's like to live with a terminal illness or could be a lighthearted look at the relationship challenges.  We cull PRX.org to find the most compelling and entertaining public radio programs out there.
6a.m.   Fresh Air Weekend -- Everything you love about Fresh Air, tailored for the weekends.  Host Terry Gross interviews with writers, filmmakers, actors and musicians, and often includes excerpts from live-in studio concerts.
7a.m.   Only a Game -- An award-winning sports magazine hosted by veteran NPR commentator Bill Littlefield, Only A Game is radio for the serious sports fan and the steadfast sports avoider.  Only A Game puts sports in perspective with intelligent analysis, insightful interviews and a keen sense humor.  Guests  have included writers John Updike, Robert Pinsky and Roger Angell; current and former athletes Muhammad Ali, Kristine Lilly, former Sen. Bill Bradley and Kareem Abdul-Jabbar; and coaches Pat Summit and Geno Auriemma.
8a.m.   Weekend Edition Saturday -- Drawing on his experience in covering 10 wars and stories in all 50 states and seven continents, host Scott Simon brings a humorous, sophisticated and often moving perspective to each show. He is as comfortable having a conversation with a major world leader as he is talking with a Hollywood celebrity or the guy next door.
10a.m.  Car Talk -- Brothers Tom and Ray Magliozzo yuck yuck it up in this Peabody Award-winning radio talk show dedicated to all things cars, relationships, life and... well, prett much anything the callers throw at them.
11a.m.  Wait, Wait Don't Tell Me -- This is NPR's weekly hour-long quiz program, hosted by Peter Segal. Each week on the radio you can test your knowledge against some of the best and brightest in the news and entertainment world while figuring out what's real news and what's made up.
12p.m.  This American Life -- Host Ira Glass is hard to miss in the public radio world. He's seemingly everywhere!  His show is broadcast on more than 500 stations to about 2.1 million listeners every week.  It's won all of the major broadcasting awards and is often the most popular podcast in the country.   There's a theme to each episode, and a variety of stories on that theme. It's mostly true stories of everyday people, though not always. There's lots more to the show, but it's sort of hard to describe.   Suffice to say you never know what you're going to get each week, but you can be guaranteed to have a "driveway moment."
1p.m.  Snap Judgment -- A smoking-hot new public radio show that "straps audiences into an audio rollercoaster", says host Glynn Washington.  Like This American Life, each Snap Judgment is based around a theme (this week's theme is "legendary people"). This show has one of the fastest growing audiences in the country right now.
2p.m.   Moth Radio Hour -- "Brilliant and quiety addictive" (The London Guardian).  The Moth is dedicated to the art and craft of storytelling. It's a "celebration of both the raconteur, who breathes fire into true tales of ordinary life, and the storytelling novice, who has lived through something extraordinary and yearns to share it."  Moth creator George Dawes Green has said he wanted to recreate the feeling of sultry summer evenings in his native Georgia, where he and his friends would gather on his friend Wanda's porch to share spellbinding tales. There was a hole in the screen which let in moths that were attracted to the light, and the group started calling themselves The Moths.
3p.m.  Ask Me Another -- NPR's exciting new show featuring puzzles, word games and trivia played in front of a live audience and hosted by Ophira Eisenberg.  Eisenberg was selected as one of New York Magazine's "Top 10 Comics that Funny People Find Funny," and featured in the New York Times as a skilled comedian and storyteller with a "bleakly stylish" sense of humor, Ophira has appeared on The Late Late Show with Craig Ferguson, Comedy Central, The Today Show, VH-1 and more.
4p.m.  On the Story with Bill Nigut -- If you're expecting a radio version of the TV program, think again!  This will be more like Fresh Air for Georgia, with in-depth interviews with some of the smartest, most-talented and interesting people living in our state.
5p.m.  Weekend All Things Considered -- Based at NPR West in Culver City, CA., the WATC team of NPR hosts, reporters, producers and engineers bring you the news you need to know on the weekends.
6p.m.  Prairie Home Companion (statewide)
or Studio 360 (Atlanta) -- The weekly show about music, movies & TV, art, design, performance and more.  Host Kurt Anderson is a novelist and regular contributor to Vanity Fair, The New York Times, New York and Time.  
7 p.m. WRAS Album 88 programming (Atlanta)
8 p.m.  Existing Saturday night schedule (statewide)
Sundays on GPB
5a.m.   Fresh Air Weekend
6a.m.   On Being with Krista Tippett -- A Peabody Award-winning public radio conversation opening up the animating questions at teh center of human life: What does it mean to be human, and how do we want to live?   The show explores these questions in their richness and complexity, pursuing wisdom and moral imagination as much as knowledge.
7a.m.   The TED Radio Hour -- If you like TED talks you'll love the TED Radio Hour. It's a journey through fascinating ideas: astonishing inventions, fresh approaches to old problems, new ways to think and create.  Based on Talks given by riveting speakers on the world-renowned TED stage, each show is centered on a common theme – such as the source of happiness, crowd-sourcing innovation, power shifts, or inexplicable connections – and injects soundscapes and conversations that bring these ideas to life.
8a.m.   Weekend Edition Sunday -- Interviews with newsmakers, artists, scientists, politicians, musicians, writers, theologians and historians. The program has covered news events from Nelson Mandela's 1990 release from a South African prison to the capture of Saddam Hussein.  The program is hosted by NPR's Rachel Martin, who served previously as NPR National Security Correspondent, a foreign correspondent based in Berlin, and NPR's religion correspondent.  Rachel was part of the team that launched NPR's experimental morning news show, The Bryant Park Project.
11a.m.  Car Talk
12p.m. On the Media -- Hosts Brooke Gladstone and Bob Garfield tackle sticky issues with a frankness and transparency that has built trust with listeners and led to more than a tripling of its audience in five years.  To get a better idea of what the show is, and why, check out Brooke's manifesto.
1p.m. America's Test Kitchen -- Food is a national obsession and there are a multitude of flashy programs, magazines, books and blogs ranging from pure entertainment to celebrity showcases. But ATK host Christopher Kimball thinks they aren't much help to the everyday cook. That's why America's Test Kitchen is finding a better way, with clear, practical information without the gourmet fuss.
2p.m.  Splendid Table -- Why should you clap your hands when you're making fried chicken? How do you cook persian rice?  Did you know folks are "rethinking" the classic wine bottle?  Host Lynn Rossetto Kasper knows that and a whole lot more and each week her show features interviews with chefs, restaurateurs, and wine experts.  It's a show "for people who like to eat."
3p.m.  Travel with Rick Steves -- Guidebook author and travel TV host Rick Steves is America's most respected authority on European travel. Rick took his first trip to Europe in 1969, visiting piano factories with his father, a piano importer. As an 18-year-old, Rick began traveling on his own, funding his trips by teaching piano lessons. In 1976, he started his business, Europe Through the Back Door, which has grown from a one-man operation to a company with a staff of 80 full-time, well-travelled employees.  If you're planning a trip - or if you just want to live vicariously through Rick - this is your show!
4p.m.  Wait, Wait, Don't Tell Me...
5p.m.  Weekend All Things Considered
6p.m.  Prairie Home Companion (statewide)
or Radio Lab (Atlanta) -- Radiolab is a show about curiosity. Where sound illuminates ideas, and the boundaries blur between science, philosophy, and human experience. Host Jad Abumrad is the son of a scientist and a doctor.  He studied creative writing and music composition at Oberlin College in Ohio, then wrote music for films, and reported and produced documentaries for a variety of local and national public radio programs, including On The Media, Studio 360 with Kurt Andersen, Morning Edition, All Things Considered and WNYC's "24 Hours at the Edge of Ground Zero."  In addition to co-hosting Radio Lab, Robert Krulwich reports for National Public Radio. "Krulwich Wonders" is his NPR blog featuring drawings, cartoons and videos that illustrate hard-to-see concepts in science.
7 p.m. WRAS Album 88 programming (Atlanta)
8 p.m.  Existing Saturday night schedule (statewide)
Give it a listen, then give us your feedback, at ask@gpb.org.
Secondary Content
Bottom Content