Section Branding
Header Content
Can Public Radio Survive An App World?
Primary Content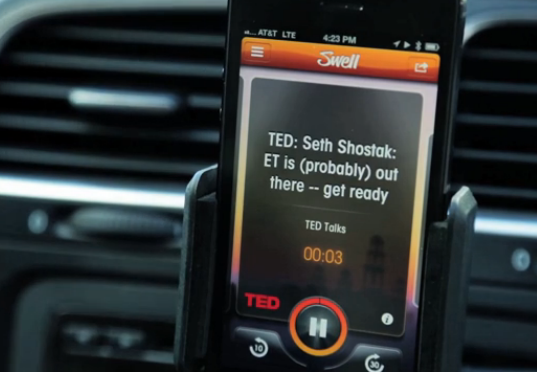 In July, when NPR President Gary Knell visited GPB, he talked with staff about how he envisioned NPR being a "Pandora of News." He explained to us -- and the Wall Street Journal -- that it would "allow listeners to customize a playlist, available through the cloud, live." There would be a GPB experience or a WNYC experience that would "combine the news chops of NPR covering the globe with what WNYC is doing locally, so people will continue to give money to WNYC."
Many people in our building were intrigued. As public radio listeners we love the idea of being able to customize our listening experience -- to, for instance, choose to listen to health stories or education stories or immigration reform stories.
But as a manager I have lots of questions. Yes, some of these apps integrate some local content; but will they work with all of the more than 1,000 public radio stations in the U.S. or just the heavy hitters? And will they allow for funding credits from public radio underwriters? Or fund drive messaging?
And I'm not the only one wondering if public radio stations can survive the news app innovation. Yesterday, Mashable.com posted an article titled "Will Public Radio Survive Music Streaming Apps?". In it Scott Pham, digital content editor for NPR member station KBIA, writes:
"Promising mobile apps like Swell and AGOGO launched this summer, representing a new challenge to legacy media companies like National Public Radio. These apps create new listening experiences for consumers of talk and news because they tie together segments of audio into customizable and curated streams.

AGOGO combines podcasts with segments from NPR, the BBC, audio from videos and text-to-speech versions of newspaper articles. And Swell has been dubbed the "Pandora for News."

I'm a producer at an NPR member station, and these are frightening words in my world. Pandora dealt a massive wound to our cousins in music radio. The advertising dollars Pandora sucked up will likely never return to the table for terrestrial radio. That's just the new reality."
The public media industry publication Current reports that within four hours of going live, the post had been shared on various social media platforms more than 700 times.
So, what do you think? Are you rushing over to Swell or AGOGO to download the app to start using it? Prefer to stick with your local radio station or streaming on your phone? Innovate or Die? Innovate and Die?
Secondary Content
Bottom Content