Section Branding
Header Content
Monkeemania comes to Athens as Micky Dolenz celebrates his new record of R.E.M. songs
Primary Content
Hundreds of Monkees fans gathered outside historic Wuxtry Records in downtown Athens on Friday afternoon to have their copies of Micky Dolenz Sings R.E.M. signed by Dolenz himself.
The new EP contains Dolenz's versions of R.E.M.'s "Shiny Happy People," "Radio Free Europe," Man On The Moon" and "Leaving New York."
At 78, Dolenz is now the only surviving member of The Monkees, which included Davy Jones, Peter Tork and Michael Nesmith.
"We may be coming to your town," the group teased in last line of the theme song to its eponymous TV show which ran from 1966 to 1968 and reached most American households, thanks to Saturday-morning syndication and multiple stints on MTV over the decades.
But fans never forgot it.
That's why James Robertson from Greensboro, Ga., drove up to Athens for a glimpse of Dolenz. Before moving to Athens, Robertson grew up in Michigan watching The Monkees on TV.
"Being a Detroit kid, the car [they rode in] was awesome, but I loved the music," he said. "You can't not hum along or get it stuck in your head."
Another fan, Carol Ann, who has lived in Athens for ten years but grew up in Tennessee, said she watched the show as a small child. Her brother convinced her to attend his soap box derby races because if she didn't, The Monkees "wouldn't come to her town" as the theme song promised.
"It was like Santa Claus to me," she said. "So now, they're finally coming to my town, so here I am."
As the crowd waited for Dolenz to arrive, musician Michael Guthrie and friends performed Monkees music on Wuxtry's outdoor balcony with an assist from R.E.M. guitarist Peter Buck on "(I'm Not Your) Stepping Stone," with R.E.M. drummer Bill Berry watching from the wings.
Then the entire block sang along with Guthrie's rendition of "Daydream Believer," originally a No.1 Billboard hit for the Monkees in 1967.
Dolenz, who did not perform, was scheduled to pull up to the record store in a canary yellow classic car similar to the one pictured on his new record. But, in a madcap scene that recalled his group's TV episodes, plans changed when the hired driver of the car misplaced the keys in the trunk and there was no Monkeemobile to be found.
"It's like Spinal Tap," Dolenz laughed after he made his way through the crowd at the corner of College Avenue and East Clayton Street and was escorted up the backside of the building, where he joined Athens Mayor Kelly Girtz and R.E.M. members Buck, Berry and singer Michael Stipe (Mike Mills was not in attendance).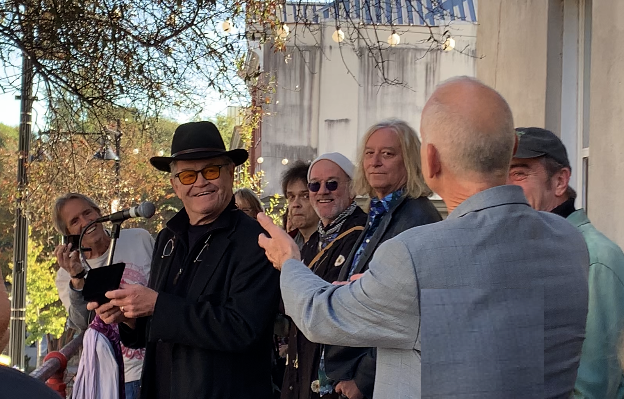 At the microphone, Girtz welcomed Dolenz to Athens and told a story about the impact of music on his own childhood — from memories of waiting outside a record store to purchase concert tickets while listening to a cassette of R.E.M's 1983 album Murmur to flashbacks of sneaking over to a friend's house after school to watch The Monkees on TV.
"I love that there is this wonderful, creative mashup of my experience happening, and I'm glad it's happening in front of all of you," Girtz said, before touting Athens' "magnetic" pull on musicians.
"Mickey Dolenz could have done his record launch in Los Angeles or London," he said. "But he's doing it right here in little ol' Athens, Georgia."
Girtz then presented Dolenz a ceremonial key to the city.
"Wow! Does it work at the bank?" Dolenz quipped with a familiar smile. "What an honor. What a beautiful town. What great people, what great history," he said.
Dolenz then thanked Stipe, Buck and Berry for the "fundamentally incredible material" he used for Micky Dolenz Sings R.E.M.
"That's where I start from, is material," Dolenz said. "I had great writers writing for me — Carole King and Gerry Goffin, Boyce and Hart, Neil Diamond, Carole Bayer Sager, Harry Nilsson, Paul Williams, Neil Sedaka ... and you guys had and have the material. I'm blessed, I'm so thankful to be able do my little interpretation, as it were, of these wonderful, wonderful songs that came, initially out of that record store right underneath us. Thank you so much."
As the members of REM left, Dolenz went back down the stairs and took a seat on a barstool in front of the store, faithfully signing albums and posing with fans in the afternoon sun as Girtz helped manage the foot traffic. 
Secondary Content
Bottom Content