Section Branding
Header Content
Georgians remember arts journalist and international model Gail O'Neill
Primary Content
Gail O'Neill, a journalist, TV show host and former model died on Oct. 10, 2023, at age 61.
Vogue and Women's Wear Daily were among the first publications to report the news, followed by Essence, Vanity Fair and other magazines which O'Neill's image had graced across her long modeling career.
O'Neill reportedly died at her Atlanta area home and no cause of death was disclosed.
Born in New York to Jamaican parents, O'Neill attended Wesleyan University and was hired as a Xerox salesperson before being discovered by a photographer and signed to a modeling contract with Click Models in 1985.
She was part of a group of women in the 1980s and 1990s whose faces became some of the most recognizable on the planet. She modeled in runway shows and in photo editorials for designers along with supermodels Christy Turlington and Cindy Crawford. She appeared in ads for Esprit, Revlon, Coca-Cola and more. She was part of a group of models photographed by Annie Liebovitz in 2001 for Vanity Fair's Women in Black feature.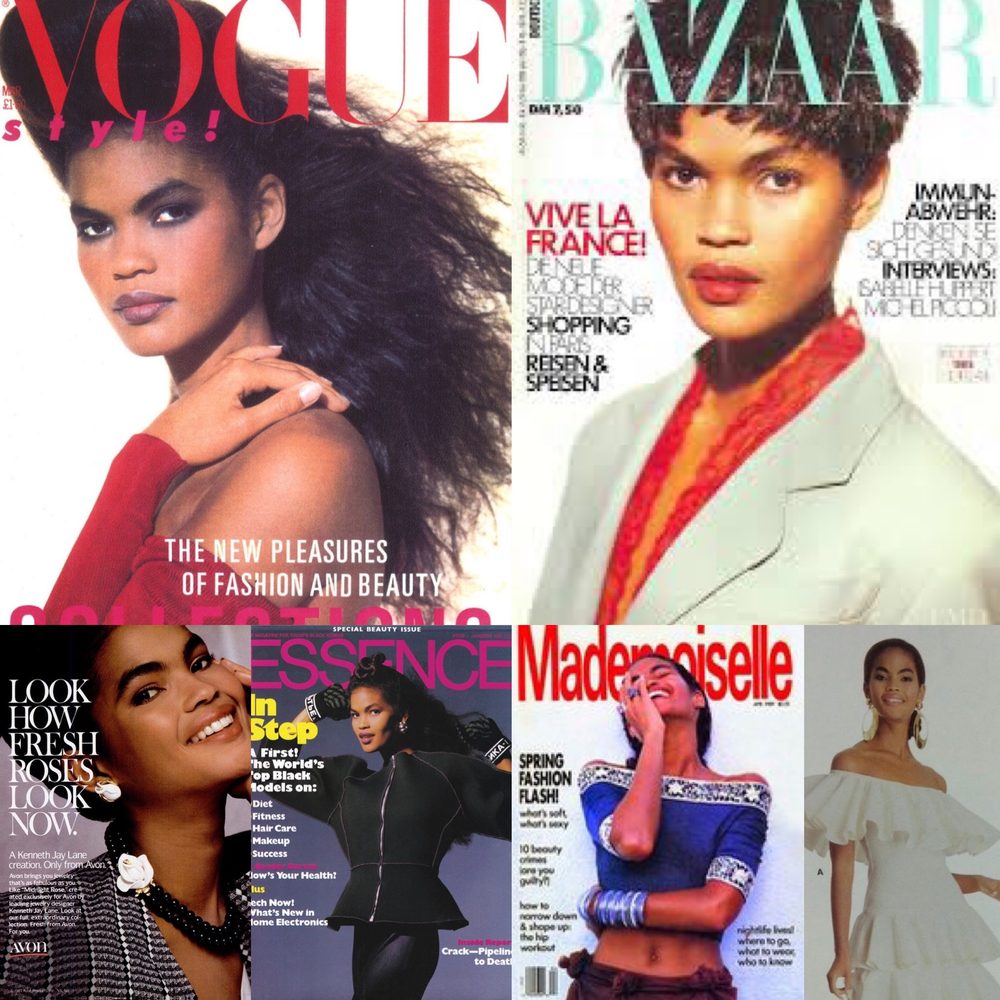 After moving to Atlanta in 2000, O'Neill spent nearly two decades in Georgia working as a contributor for CBS's Early Show, CNN, HGTV and ArtsATL and supporting local nonprofit organizations. She also hosted and co-produced Collective Knowledge, a conversations series on THEA Network.
Her work as contributing editor for ArtsATL included reviewing gallery shows, interviewing book authors and spotlighting marginalized voices. In her final year of writing, she covered a performance by Fela Kuti-inspired dancer Qudus Onikeku, spoke with former White House photographer Pete Souza and discussed art as activism with Spelman College Museum of Fine Arts' executive director, Dr. Liz Andrews.
Colleagues remember O'Neill as passionate advocate for arts and humanities
In an email to GPB, ArtsATL Executive Editor Scott Freeman wrote:
"[Gail] wrote a profile of my neighbor, the author and actress Sybil Rosen, a few years ago and they became friends. Gail lived nearby in Serenbe [a masterplanned community located Southwest of Atlanta], and loved to come here to visit. The three of us would spend an afternoon sitting on Sybil's back porch that overlooks the Chattahoochee while I serenaded them on my guitar. Gail would often bring a warm, freshly-baked apple pie wrapped in a towel that looked (and tasted) so perfect that you would have thought she brought it directly from a food magazine photo shoot. She told me that "Blackbird" was one of her top three all-time favorite songs, and I always played it for her whenever we did a porch sit. Gail was a beacon of light. I'm really going to miss her."
Arts and culinary executive, Judith Service Montier, also shared an email about a visit with O'Neill in 2016:
"She was going to interview Steve Nygren about Serenbe's new Rural Studio Cottages and to hear spoken word poet Anis Mojgani, who was the first visiting artist to stay in Serenbe. She invited me to join her and drove us in her new Tesla, another first for me. Gail drove me around the idyllic community and we had a bite to eat. Afterwards, we sat outside in the crisp night air around a bonfire at the ArtFarm waiting for the performance to start. As Anis opened his heart and shared his beautiful poetry, I felt as if I had been whisked away to another time and space. When I think about that night, I can still see Gail's smile and the light in her eyes. And I always whisper a thank you to her."
On a phone call with GPB, artist Michael David, whom O'Neill profiled in a 2022 story for ArtsATL, recalled a road trip that he and O'Neill made to see an exhibition in Gainesville, Florida with New York artist Arnold Mesches. Both he and O'Neill were visiting their mothers in the state, and he got to experience her reverence for her Jamaican heritage during those interactions.
"This 83-year-old powerhouse [David's mother] and Gail O'Neill, this, you know, supermodel, go visit Arnold Mesches on a road trip. I drove during that trip. Naturally, I didn't get one word in edgewise. Anybody that knows me know that's a rare thing." 
David also said that O'Neill's presence exuded an ethereal quality and described her a combination of "tallowah [a Jamaican term meaning strong and sturdy] and this kind of very angelic creature," he said. "The best way I can think about her is that she was this kind of energy passing through from someplace different."
The filmmaker Christine Leuthold recalled a time when O'Neill provided a key connection to a museum curator that transformed Leuthold's career:
"Leave it to Gail, the ultimate magician to pull that rabbit out of a hat. And fast forward to now, 10 years later, as I find myself living in LA, thanks to her introduction. And, as fate would have it, I'm directing my first film, In the Name of Hope, about the magic that happens when formerly unhoused people move into forever homes, about them and the support partners that make it happen. I count Gail as one of my support partners ... and always will. This film wouldn't be happening if it wasn't for her. "
Please note: Interviews have been edited for length and clarity.
Secondary Content
Bottom Content