Section Branding
Header Content
Yellen calls Savannah port 'by far the most impressive' she's seen, praises Biden's work on economy
Primary Content
LISTEN: Seeking to shore up public support for Biden's economic agenda, Treasury Secretary Janet Yellen pointed to the Port of Savannah's growth as a sign of success. GPB's Benjamin Payne reports.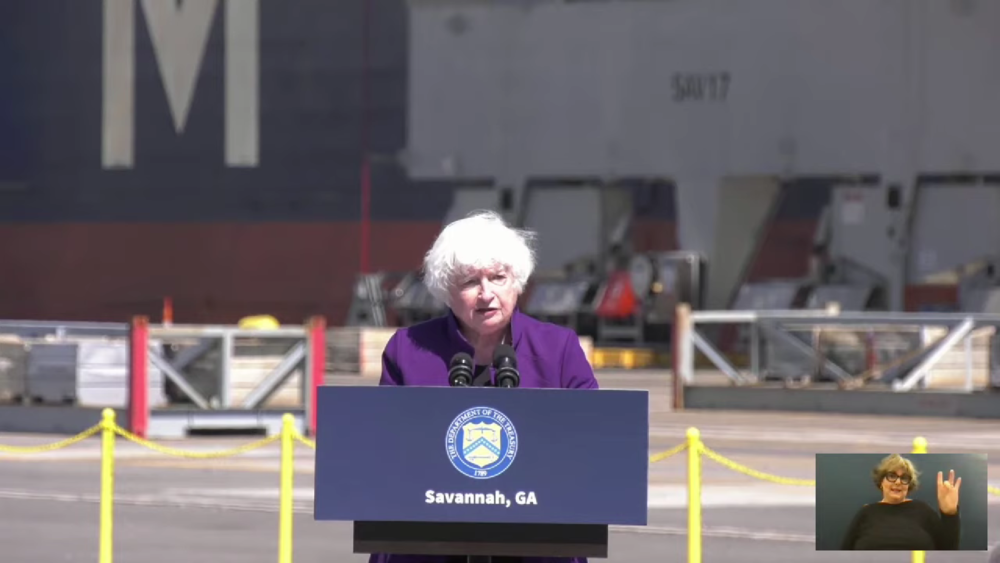 U.S. Treasury Secretary Janet Yellen visited the Port of Savannah on Friday, where she touted President Joe Biden's economic policies and investments in the nation's infrastructure.
Following a tour of the port, Yellen described the facility as "by far the most impressive port I've ever visited in my life," and thanked port employees for their work.
"This port's ability to receive and ship goods effectively and efficiently matters tremendously for our country's economic strength," she said.
Yellen announced no new policies or programs in her 20-minute talk, which resembled a battleground campaign speech for Biden, who has recently struggled to win over public approval for his handling of the economy.
The Infrastructure Investment and Jobs Act — commonly known as the Bipartisan Infrastructure Law — was praised by Yellen as a boost to Savannah's regional economy.
The legislation provides $48 million for environmental monitoring of the recently deepened Savannah harbor, allowing larger ships to enter and exit the port.
"Estimates project that every dollar invested in this project will bring about $7 in benefits to our economy."
Relatively few of Yellen's remarks centered around the port. Instead, she spoke broadly about federal infrastructure spending as part of Biden's "modern supply-side economics" to increase American productivity.
"Over the past two-and-a-half years, we've undergone an historic economic recovery," she said. "Unemployment is near historic lows and inflation is down substantially through the long term."
Yellen cautioned that many economic gains would be lost if House Republicans fail to reach an agreement on a spending bill to avert a government shutdown at midnight Sunday.
Secondary Content
Bottom Content