Section Branding
Header Content
VP Harris visits Morehouse as part of national HBCU swing to rally young voters
Primary Content
Vice President Kamala Harris received a friendly welcome Tuesday afternoon when she stopped by Morehouse College in Atlanta as part of a national college tour.
The crowd, which consisted of students from Atlanta's historically Black colleges and universities, roared with applause as the VP took the stage for a moderated conversation which lasted about 45 minutes.
The event was part political rally, part pep rally as a capacity crowd danced to the Morehouse House of Funk Marching Band and cheered step performances from campus Greek groups.
In her remarks, Harris spoke about issues like abortion rights, gun safety, voting rights and book bans.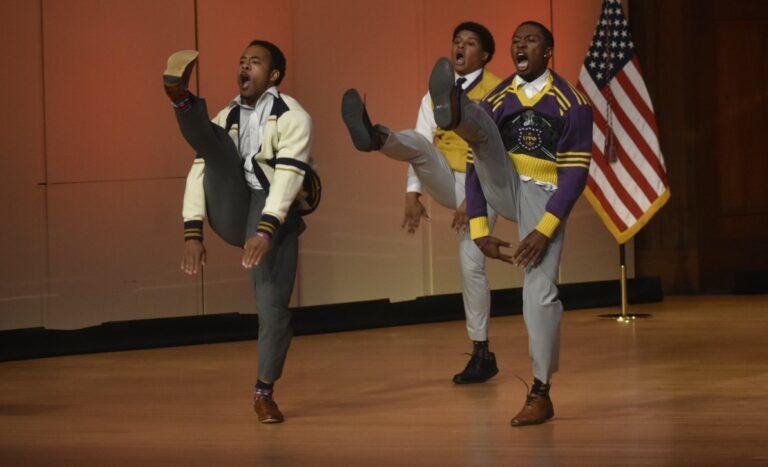 "Your generation is, I think, a very special one," she said. "You all have experienced so much already, whether it be that in your entire life, you've only known the climate crisis. Many of you were trying to figure out how to graduate high school or enter college during the midst of a pandemic. You are a generation that, unlike previous generations, grew up with active shooter drills. Your generation witnessed the crime against George Floyd. You all are not willing to sit passively by. You are not waiting for others to take control of what needs to be solved."
Harris' remarks included several suggestions for how young people might try to effect change, and all of them were to vote.
Harris, who graduated from the historically Black Howard University, invoked the past struggles of Black Americans to exercise their right to vote and lambasted Georgia's 2021 election bill, which is the subject of an ongoing court battle.
"The hypocrisy abounds, because whatever happened to love thy neighbor?" she said. "They pass laws in Georgia that say when you go to vote, if you go to a private college, your school ID will not qualify as ID to vote. Who here goes to a private college? You see what I'm saying? There are people who are intentionally trying to make it more difficult for you to vote."
Harris credited young people with tipping the scales in Georgia's close 2020 race, when President Joe Biden narrowly beat former President Donald Trump by nearly 12,000 votes.
"In 2020, in the height of a pandemic, we had record young voter turnout, record young voter turnout," she said. "And it is because of that turnout that Joe Biden was elected President of the United States and I was elected first Black woman vice president of the United States. Because you voted."
Harris was joined by U.S. Secretary of Education Miguel Cardona and top Georgia Democrats, including Sen. Raphael Warnock and Atlanta Mayor Andre Dickens, who received scattered boos as he took the stage. Some Morehouse students and faculty have been vocal in their opposition to the proposed Atlanta Public Safety Training Center — also known as Cop City — which Dickens supports.
Warnock, whose 2020 and 2022 victories were helped along by young and minority voters, jokingly told the crowd to avoid dating non-voters.
"If somebody wants your phone number, wants to take you out on a date, tell them to write it on the back of their registration card," he said. "We don't even date people who don't vote."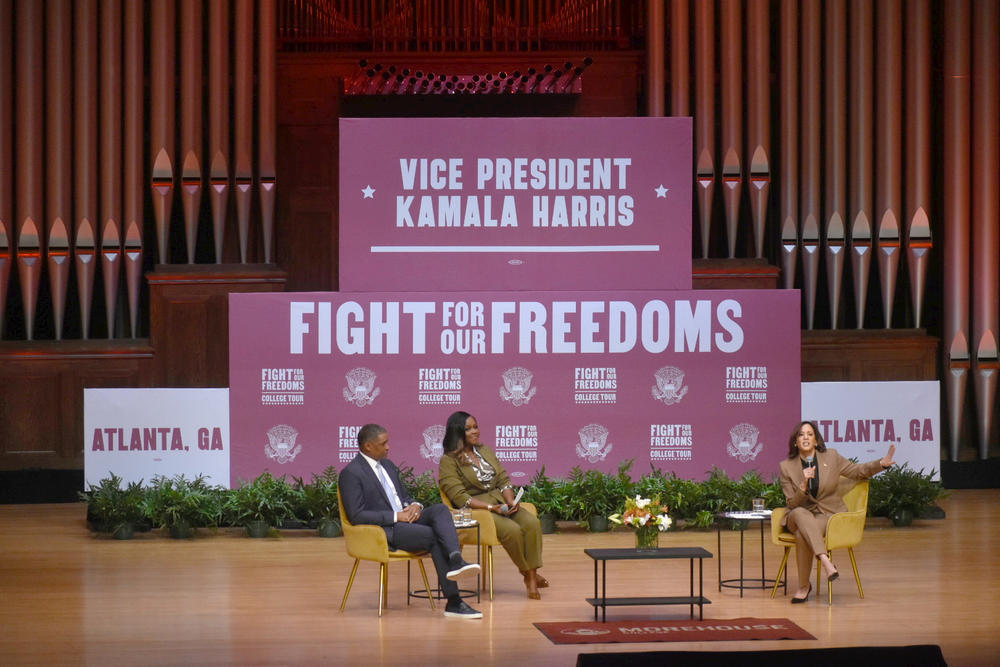 The Democrats are hoping for a repeat of 2020, with Georgia's 16 electoral votes as an appealing prize, but the race is likely to be another close one, and Republicans are hoping that economic malaise with the Biden administration will inspire more voters to pull the R lever in protest.
A Sept. 8-11 Rasmussen poll found that if the election had been held during that time period, Trump, who is the current Republican front runner, would win Georgia by nine points, 47% to 38% for Biden.
Nationwide, the race remains tight, with most polls showing Biden and Trump with about 45% of the vote each, but with more than 400 days left until the election, candidates will likely continue to stump in swing states like Georgia.
This story comes to GPB through a reporting partnership with Georgia Recorder.
Secondary Content
Bottom Content