Section Branding
Header Content
Nursing workforce research center to open at Emory
Primary Content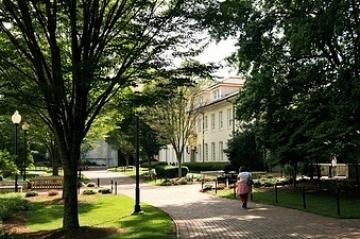 ATLANTA — Emory University and a state nursing organization are joining forces to address Georgia's nursing workforce shortage.
Emory's Nell Hodgson Woodruff School of Nursing and the Georgia Nursing Leadership Coalition announced a new partnership Monday planning to open a center at Emory to research and address nursing workforce challenges and opportunities.
"The situation facing nursing is serious and consequential," Linda McCauley, dean of the Emory School of Nursing, said Monday. "We need consistent data and solutions-minded collaborations to make nursing workforce decisions in this climate."
The COVID-19 pandemic resulted in 100,000 registered nurses leaving the profession, according to a national nursing workforce study conducted last year. About 31% of nurses under age 35 say they intend to leave their position, and 32% are considering resigning, a 2022 American Nurses Foundation survey found.
The new Georgia Nursing Workforce Center will look into nursing industry-related issues including retention, recruitment, educational capacity, and the distribution of nursing workforce resources. The center will work with health care organizations, business partners, state leaders, universities, and community groups to develop policies addressing the need for more nurses.
"A healthy and well nursing workforce is key to a healthy and well Georgia," said Chelsea Hagopian, an assistant clinical professor at Emory who will serve as the center's executive director. "The opportunity for learning and community with this center will help to strengthen and promote a diverse, inclusive, and equity-minded nursing workforce prepared and supported to meet Georgia's health and care needs."
Funding from Emory will support the center, the brainchild of the nursing coalition.
"With the outstanding reputation of Emory and its nationally known workforce researchers, our workforce research and center will be taken to the next level," said Lisa Eichelberger, a member of the coalition's executive committee. "Moving the workforce center to Emory can go a long way to make nursing a rewarding a fulfilling career for greater numbers of Georgia nurses."
This story comes to GPB through a reporting partnership with Capitol Beat News Service.
Secondary Content
Bottom Content