Section Branding
Header Content
Portman looks to reshape Amsterdam Walk along Atlanta BeltLine
Primary Content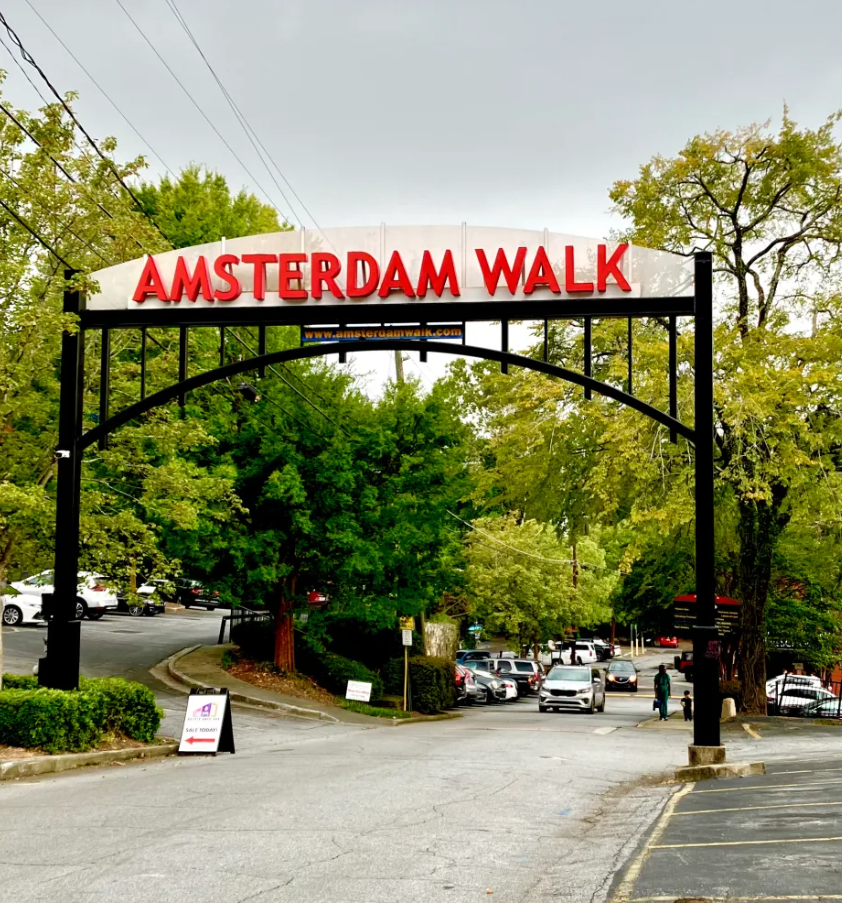 Hundreds of apartments, retail and office space are in the future for Amsterdam Walk, a commercial district that sits along the Atlanta BeltLine in the Virginia-Highland and Morningside neighborhoods.
Portman Holdings plans to redevelop the nine-acre site bordered by Piedmont Park and the Atlanta Botanical Garden with about 900 apartments, 400,000 square feet of office space and 90,000 square feet for retail space, according to its Sept. 8 filing for a Development of Regional Impact with the Atlanta Regional Commission.
Portman will soon seek rezoning for the property that now allows for nearly 1 million square feet of commercial use, said Mike Greene, vice president of development.
"It has never been residential property," he said. "We want to reduce the commercial square footage down significantly to maybe one office building and retail and do the rest of it in residential."
Portman is under contract to buy the roughly nine-acre Amsterdam Walk from Halpern Enterprises, which has owned the property since 1985. Halpern is a partner on the redevelopment.
A few years ago, Halpern announced its plans to "Reimagine Amsterdam Walk" because the retail and entertainment district has its back turned to Piedmont Park and the BeltLine. The company selected Portman to buy and redevelop the site as part of its to create a more walkable and bike-able area with connections to the BeltLine and Piedmont Park.
Portman is also under contract to buy roughly two acres from Atlanta BeltLine Inc. (ABI). The two acres includes the back parking lot of Amsterdam Walk and is adjacent to the BeltLine's planned Northeast Trail along the Carriage Trail through Piedmont Park.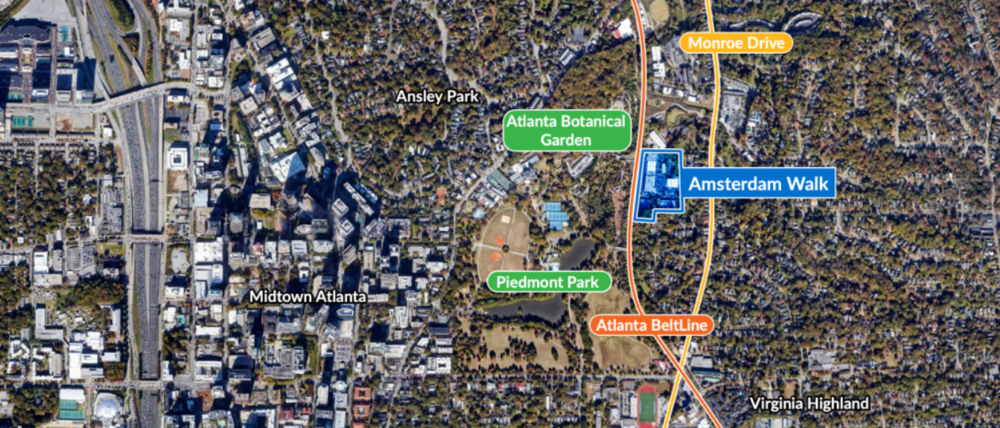 Greene said the ABI contract is contingent on rezoning. As part of Portman's contract with ABI, the company agreed to build 20% of the apartments as affordable rather than the typical 15% developers along the BeltLine provide. The apartments would rent at 80% of the area median income. Today, rent for a one-bedroom at 80% AMI is $1,532.
Portman is also working with Beltline officials to ensure the affordable units remain affordable for 99 years, Greene said. Most affordable units built in the city, even those along the BeltLine, expire after 20 years because of state law on land use restrictions.
"We have a serious problem in the city of affordable units expiring faster than they're being created, so the pool of affordable housing keeps shrinking," Greene said. "The BeltLine attorneys and our attorneys are working together to basically craft the language so we can avoid the 20-year limitation."
The project will have ground-floor retail and commercial space and Portman agreed to provide 12.5% of that space at reduced rates to people who qualify through a BeltLine program, Greene said.
Determining what affordable commercial rates will be is still to be determined and Portman is working with ABI and Invest Atlanta, the city's economic development arm, Greene said.
"What I would say is affordable rent on the BeltLine today is probably $15 to $22 a square foot. And just to give you an idea, I think most new deals are being cut somewhere between $48 to $55 a square foot," Greene said.
"[Affordable commercial] is new territory, but the cooperation between us and the BeltLine and Invest Atlanta is there to figure out essentially where the endgame is to get back to a rent for people who are local, who don't have a lot of assets, and for entrepreneurs that are starting out," he said.
Greene said "nothing is happening fast" on the project, but preliminary plans are to have it completed by 2028. He said Portman promises a "robust and full" conversation with neighborhood groups and the civic stakeholders including ABI, Atlanta Botanical Garden and Piedmont Park Conservancy.
Amsterdam Walk's location is like no other in the city, Greene said. It's at the corner of Virginia-Highland and Morningside, two popular intown neighborhoods, plus its on the BeltLine and near Piedmont Park and the Atlanta Botanical Garden.
"You're in a little pocket that's right on three major civic assets and two fantastic neighborhoods and has great views of Midtown," he said.
"We see Amsterdam Walk as just a phenomenal opportunity, not only to offer mostly residential, and some office that has no other equivalent," he said.
"Then the ground-floor retail around the buildings, the public sphere can be amazing," he said. "It can be like nothing else."
Portman recently announced it was scaling back another BeltLine-adjacent project. The planned mixed-use Ponce & Ponce development along Ponce de Leon Avenue at the Eastside Trail lost a large part of its planned office component, which Portman chalked up to the economy.
This story comes to GPB through a reporting partnership with Rough Draft Atlanta. 
Secondary Content
Bottom Content