Section Branding
Header Content
Lawyer for fired Cobb County teacher says review process was political
Primary Content
LISTEN: GPB's Peter Biello speaks with Craig Goodmark, attorney for fired Cobb County teacher Katie Rinderle.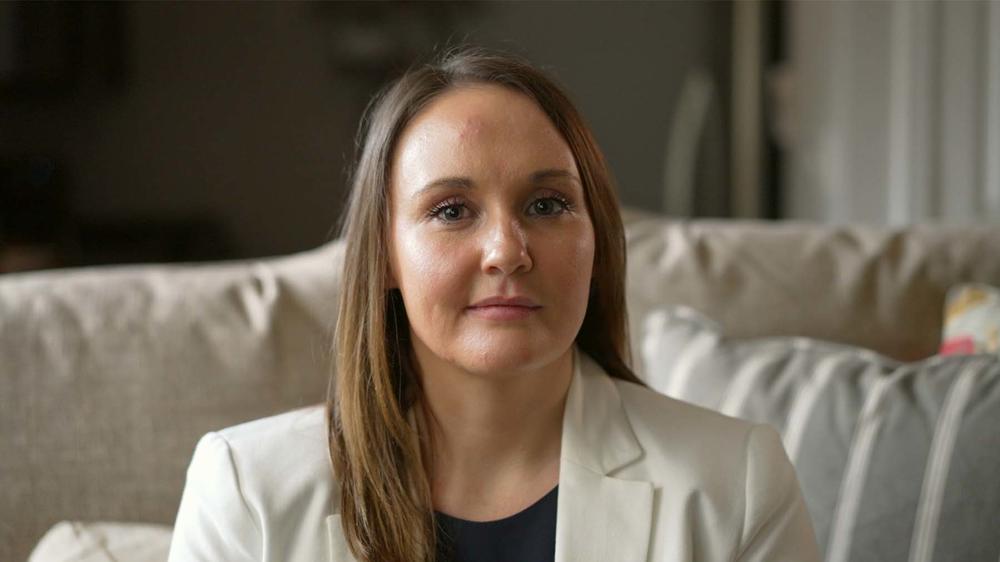 The Cobb County School Board voted 4-3 Thursday to fire Katie Rinderle, the elementary school teacher who was accused of violating Georgia's divisive concepts law. She'd read a book about gender fluidity to her fifth grade class. With this vote, the Board went against the recommendation of a panel that said she should keep her job. Craig Goodmark represented Rinderle as a Georgia Association of Educators attorney. He spoke with GPB's Peter Biello.
Peter Biello: So what does it say to you that this was a close vote on the Cobb County School Board?
Craig Goodmark: So, consistent with some of the other metro counties who have seen kind of a political transition over the last several years, I think Cobb County is politically a lot closer than people think and maybe a lot closer than their leadership wants to believe.
Peter Biello: So this was a political decision, you think?
Craig Goodmark: Absolutely. If you look at the transcript of the two days of trial that we held and then the decision of the tribunal that heard the evidence, the only thing actually that was clear was that Katie really should not have been fired. The allegations that were raised by the school district were unclear. They're using terms that are in the trio of censorship laws passed by the state legislature that have no real meaning. The witnesses that came forward to testify in the hearings had inconsistent, if not incoherent, definitions for what is "controversial," what is "divisive" and what is "sensitive." And at the end of the day, the tribunal that was appointed, handpicked by the superintendent and the board to hear this matter did not think she should be terminated. Turn around just three days later and a board of education that is split down ideological lines, votes to terminate her without any justification and rejecting the two days of hearing that we had.
Peter Biello: Let me ask you a little bit about the terms you just mentioned, the definition of divisive or controversial. I'm wondering why that's the standard, because the law doesn't really mention gender identity, which is the subject in question here. It does mention race, ethnicity, and skin color. How did the law go so far as to include something like gender identity, if it's so narrowly defined in the divisive concepts law?
Craig Goodmark: I think that's a great question and one that I probably can't answer because these terms are without limits. And so that is how something that starts, from the legislature to be seemingly limited to race then is used by an angry parent with a political agenda and an email saying that LGBTQ and queer [are] divisive. And so here we are left with the consequences of that. Combined with House Bill 1084, the divisive concepts law wasn't the only legislation passed. There were other pieces of legislation that operate to censor teachers and to chill discussions about topics like gender, topics like race topics that would be deemed by those that don't want to discuss them as controversial.
Peter Biello: Are you referring to the what's called as the "Parents' Bill of Rights?"
Craig Goodmark: Correct. The Parents' Bill of Rights. There's another law that was protecting the Protecting Minors Act  in Cobb County. And there's more laws to come, I understand. And they're all working together to try to censor teachers, to eliminate discussions in classrooms that are legitimate pedagogical concepts to be discussed. But for some reason, and that reason being people's political agenda, they want them out of the classroom.
Peter Biello: So what message do you think this sends to Georgia teachers?
Craig Goodmark: It's a continuing message, unfortunately. It started in 2022 when the legislature passed these laws, and now it is trickling through the districts where teachers are. And that is: Be afraid, be worried about your jobs. We are going to outsource the concepts in public education to the loudest and angriest who are not in the classroom and whose ultimate goal may not be to educate kids, but it may be to get people elected to further a particular political agenda. And that's concerning.
Peter Biello: Teacher recruitment and shortage is already a challenge here in Georgia. What will the impact on hiring be in some districts as a result of this?
Craig Goodmark: Certainly going to have a very big impact, I think. If I was a teacher coming out of college right now, looking for a job, and I had an opportunity to teach in a state where my future is uncertain, or a teacher in a state where my future is more certain, certainly I'm going to choose the latter. The other issue that you have is (and this is one that's giving me great concern) is that the procedures themselves were ignored by the Board of Education. We had a two-day trial where a teacher's rights to defend her job, because she's tenured, were being presented in that two-day trial. The district did everything they could to get Katie Rinderle fired. They withheld information from the educator. They withheld evidence that was likely exculpatory. And then at the end of the day, when they couldn't get the outcome that they wanted, they simply just fired her and ignored the Fair Dismissal Act altogether. And that's a concern.
Peter Biello: So is there any recourse for Rinderle and any other teacher who might be fired under this law once they get to this point?
Craig Goodmark: For Ms. Rinderle, we're evaluating that the Fair Dismissal Act does grant her the right to appeal to the State Board of Education. She also may have claims that we are going to be evaluating and pursuing if we make that decision.
Peter Biello: We mentioned politics at the beginning of this conversation. Is the State Board of Education also mired in a similar political situation as the Cobb County School Board?
Craig Goodmark: We are in the early days of watching these policies be implemented, and I will be watching closely to see how the state of Georgia reacts to circumstances like this.
Peter Biello: If this happens many more times, does the Georgia Association of Educators have the resources to provide the same kind of defense that Katie Rinderle has had?
Craig Goodmark: Absolutely. The association itself, these organizations are ready. They are here to defend teachers. They're here to ensure that there's honesty in education. And then, along with partners like Southern Poverty Law Center and their national partners at the National Education Association are watching very closely.
GPB reached out to the Cobb County School District for comment and a district spokesperson replied, "The district is pleased that this difficult issue has concluded. We are very serious about keeping our classrooms focused on teaching, learning and opportunities for success for students. The board's decision is reflective of that mission. " The spokesperson continued: "The district provided all information requested by her attorneys consistent with the requirements of the Open Records Act, the Fair Dismissal Act, and as confirmed by the hearing officer, agreed upon by both parties. In total, over 1000 pages of records were produced to this educator and her counsel."
Secondary Content
Bottom Content