Section Branding
Header Content
Legal experts present and future break down Trump's Fulton County indictment
Primary Content
LISTEN: Fulton County is preparing for the arraignment of former President Donald Trump and 18 of his allies in the coming days. GPB's Sarah Kallis spoke to some third-year law students at Georgia State University to get their take on the recent indictments.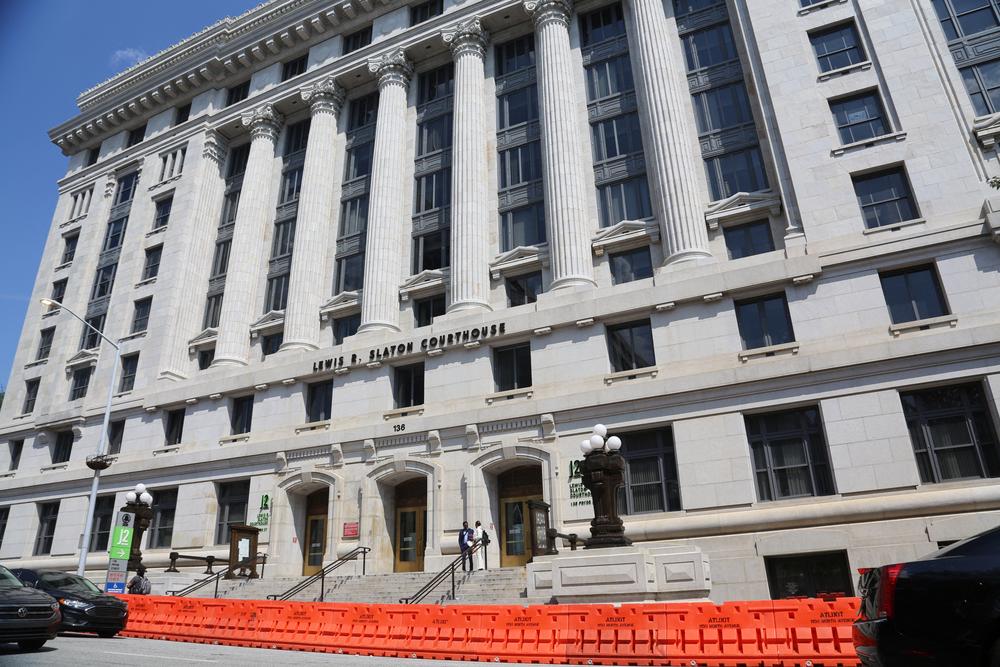 President Donald Trump and 18 of his allies were indicted in Fulton County on Monday for attempting to overturn the results of the 2020 presidential election in Georgia.
States United Democracy Center is a national advocacy group co-founded by former New Jersey Gov. Christine Todd Whitman which focuses on protecting free and fair elections, preventing political violence, promoting truth in elections, and pursuing accountability.
Joanna Lydgate, the organization's CEO, explained some of the nuances of the case.
"The indictments tell a clear story a story about Donald Trump and his allies trying to undermine the will of the American people in an effort to overturn the 2020 presidential election results," Lydgate said in a phone call with GPB Wednesday. "And long after recounts and litigation had confirmed his clear loss Trump and his allies knowingly spread lies about election fraud."
Trump and the other defendants are being charged under a Georgia state law called Racketeer Influence and Corrupt Organizations, or RICO Act. Using the RICO law allows for prosecutors to tie together a group of alleged crimes, former DeKalb County District Attorney Gwen Keyes Flemming said. 
"It allows a prosecutor really to tell the whole story particularly when you have multiple defendants who have done several different actions but all with a common goal — that being some sort of enterprise," Flemming told GPB. 
Fulton County District Attorney Fani Willis said she intends for the trial to move quickly, and for the defendants to be tried together. She suggested March 4 as a trial date, and said she wants the trial to start in the next six months. 
The legal experts said they see no reason why she will not be able to start the trial in six months. 
Former White House aide Mark Meadows, one of the defendants in the case, is seeking to remove the case to federal court, meaning that the case would be tried at the federal level rather than the state level. 
Georgia criminal defense attorney Amy Lee Copeland said that Meadows and some of the other defendants may believe they could benefit from the removal if they could use federal defenses in court. But election laws are within state jurisdiction, she said. 
Copeland also said that she is disappointed that many of the defendants were lawyers themselves.
"As an attorney, it breaks my heart that eight of the 19 defendants are lawyers; that has really bothered me," she said, adding that she believes the defendants crossed ethical lines. 
Norm Eisen, co-chair of States United, said that the Fulton County indictment could be the most important of the indictments against Donald Trump because of the breadth of the charges for what he calls "a full-scale attack on the choice of the people of Georgia."
Legal experts are not the only ones thinking about Trump's latest indictment. The day after it was announced, Georgia's next generation of lawyers headed to class with it on their minds. 
Third-year Georgia State University law student Maya Longacre said the arraignment gives her more faith in the legal system and public transparency.
"I think it sets a good precedent that, you know, our politicians are not above the law," she said. 
Jack Grist, another third-year GSU law student, said while the indictment did not necessarily change how he feels about the future, he does have some concerns.
"Who's going to run for president in the future if they feel like maybe they could be indicted at a later time for skeletons in their closet?" he asked.
Trump and his allies have to surrender in Fulton County by noon Friday, Aug. 25. Fulton Sheriff Pat Labat said that they will be booked in Fulton County Jail and their mugshots will be taken.
Secondary Content
Bottom Content