Section Branding
Header Content
Nonprofit installs solar panels, plants flowers along 18-miles of west GA highway
Primary Content
Editor's note: The Ray C. Anderson Foundation is one of the nonprofits that philanthropically supports the Ledger-Enquirer's climate change reporting position.
In west Georgia, a humble 4-acre piece of land on the shoulder of Interstate 85 is buzzing with bees and soaking up the sun's energy via 2,600 panels of solar power.
This project is the brainchild of The Ray, a nonprofit created by the Ray C. Anderson Foundation. The foundation, established in the early 2010s, honors the legacy of Ray Anderson, an environmentalist and founder of Interface Carpets, headquartered in LaGrange.
The project runs along an 18-mile stretch of highway between LaGrange and West Point. The Ray has inspired similar projects in Maine, Maryland, Pennsylvania, and Florida. Transportation departments across the country and the Federal Highway Administration are learning from right-of-way (ROW) solar in LaGrange.
The Ray is complex: it works to bring transportation and energy partners together and it's an experimental living lab for testing energy, land and transportation ideas. The Ray's work touches on safety, innovation, efficiency, mobility, decarbonization and energy transmission, but its roadside renewables program has generated the most interest nationally.
The Ray executive director Allie Kelly is fixated on combining transportation land and energy needs. She wants to utilize "forgotten" green turf alongside highways and create clean energy.
Over the past half-century of highway development, DOT agencies have left land next to highways unused.
"Georgia alone has 19,000 suitable acres for right-of-way solar installation," Kelly said. "This is empty land that the public owns. Using that land for solar is simple and elegant."
In 2018, The Ray brought together the Georgia Public Service Commission, Georgia Power, Georgia DOT, Electric Power Research Institute, the Federal Highway Administration (FHWA) and the University of Georgia to work together to launch the project.
Solar arrays along highways were constructed in Oregon and Massachusetts prior to The Ray installation in LaGrange in 2019. But The Ray is unique: multiple agencies collaborated on the one-megawatt project to incorporate native plants, creating a meadow of pollinator gardens, and inviting endangered bees to pollinate beneath the panels, a first in the U.S. solar industry.
But it wasn't easy.
"It was like crawling over broken glass to get [the project] done at times," Kelly said.
"The project nearly died and had to be resuscitated, because the Federal Highway Administration did not have a unified vision."
National Highway Land Management Impact
In 2020, The Ray solar array project started to deliver energy to Georgia Power's grid. One year later, the Federal Highway Administration suggested using ROW solar and vegetation management as strategies to combat energy security needs while reducing greenhouse gas emissions.
"Our pain developed a national plan for the FHWA to create consistency and conformity of how it would treat these projects," Kelly said.
Maine DOT wanted to combine transportation, land use and roadside renewables to meet its "lead by example initiatives" set out by Gov. Janet Mills in 2019.
"[ROW solar in Maine] caught on and that has been a direct result from The Ray," said Laura Rogers, deputy director of The Ray.
Three DOT solar projects in Augusta, Maine in collaboration with Central Maine Power will generate nearly eight megawatts of energy, enough to power 1,850 Mainer homes and reduce state electricity costs by $5.5 million over the next 20 years.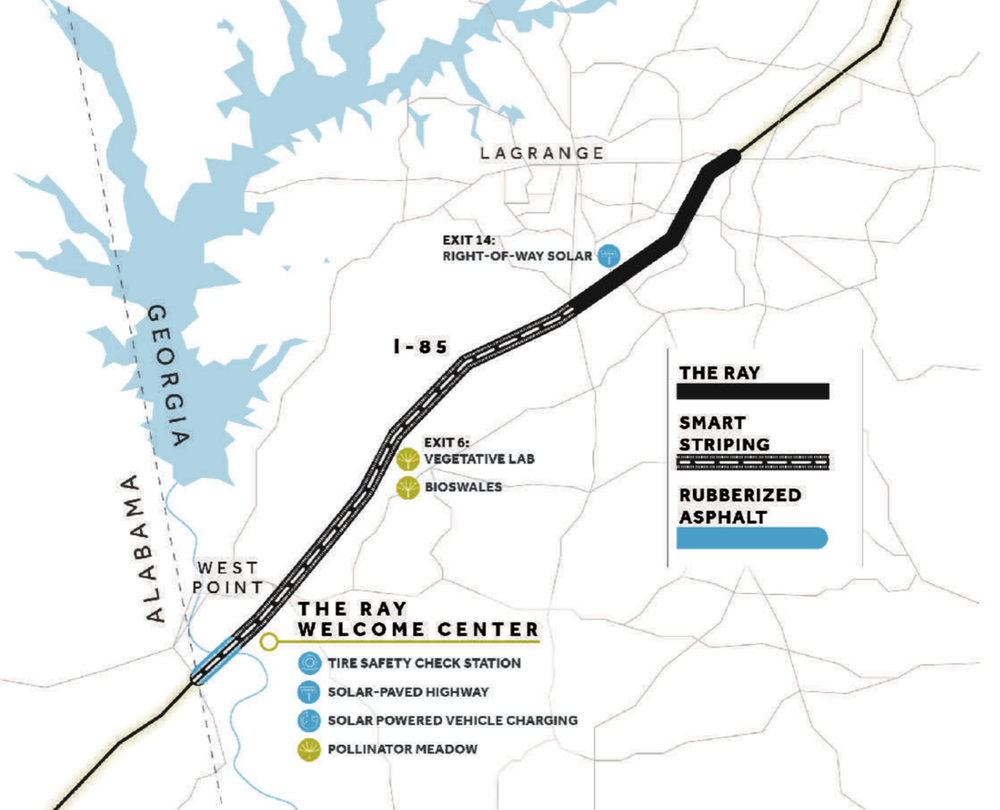 When the project is complete, it will reduce greenhouse gas emissions by 8 million pounds per year. That is equivalent to 13 barrels of oil.
"Three other states have asked us about this program," Gardner said. "I tell them it's a lot of work but it's worth it. We're getting lease payments from the solar developer as part of the deal and we don't have to maintain the areas."
These are spaces that would otherwise be green turf that needs to be mowed, costing DOT's money and maintenance.
Instead of expenses, Maine DOT is receiving $56,000 a year to lease the 15 acres of property to the solar developer, Synergy.
Inspired by The Ray, Maine DOT required pollinator plants when they sent out their request to bidders.
Life under the arrays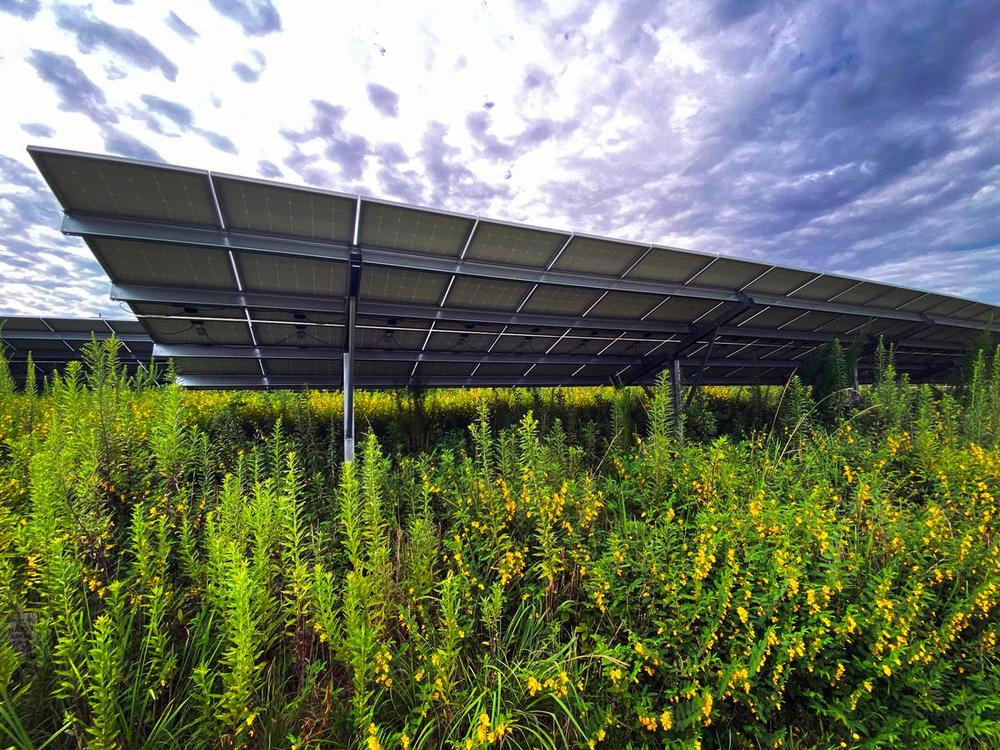 Georgia Native Plant Society executive director Nikki Belmonte praised The Ray's decision to incorporate native plants.
"This is a really fantastic plant," she said, referring to the partridge pea that was abundant and sprawling below the arrays at exit 14 in LaGrange.
The bright, attractive, yellow flowers were abundant with bees bouncing from flower to flower when the Ledger-Enquirer went to visit the area.
"A lot of thought was put into this," Belmonte said. "It's a great plant for sprawling meadows. It's adaptive. They are good for erosion solutions and because they are in the pea family, they fix nitrogen and help mend the soil."
The nectar and pollen are food sources for native bees which, according to Belmonte, are the "most important pollinators in the U.S."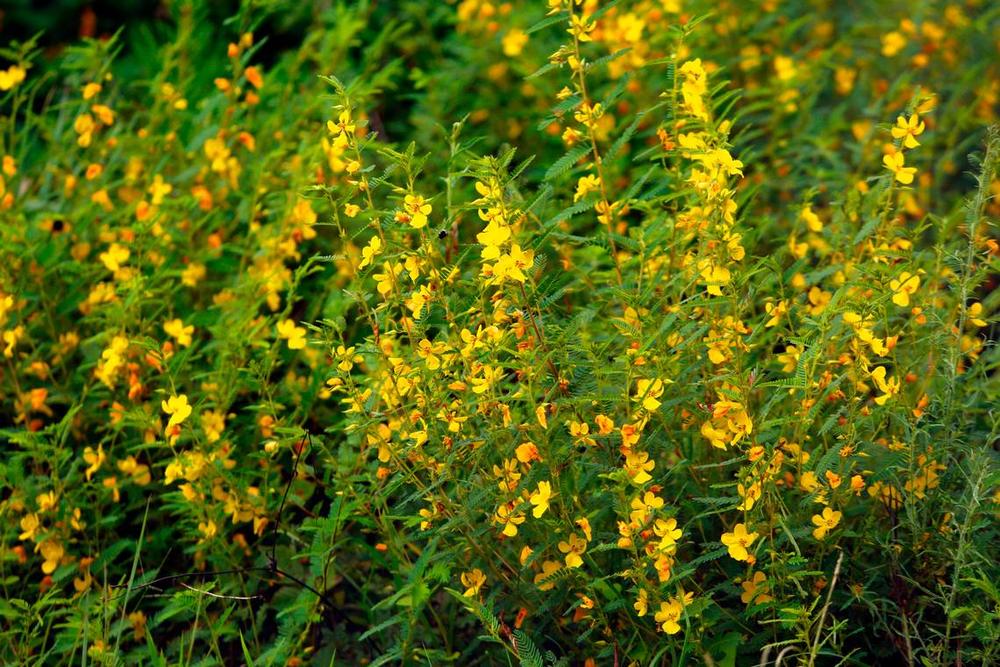 The Ray team intentionally planted only half of the solar plot with the pollinator plants and left the other half as turf. Interim results show 84% of the seeds that were planted were detected by 2021, and 72% of the seed species were flowering. Native bee populations were significantly higher in the pollinator plot than in the turf plot, according to Rogers.
In all, Milkweed, butterfly weed, Verbena, Black-eyed Susan, and Indian blanket were also planted.
The Ray also incorporated 8 miles of bioswales throughout the 18-mile stretch of highway. This is essentially a vegetated, concentrated area to absorb water runoff. Trees planted in the middle of the highway are near the Kia plant in LaGrange.
"The Ray has popularized these notions of ROW for wind, solar, vegetation management," said Wishnia. "They've shown that states can actually generate profit from their mobility system by having solar in the right-of-way. It's encouraged the national conversation as to how we ought to be using land that both boosts community outcomes and improves mobility."
Why not more highway solar in Georgia?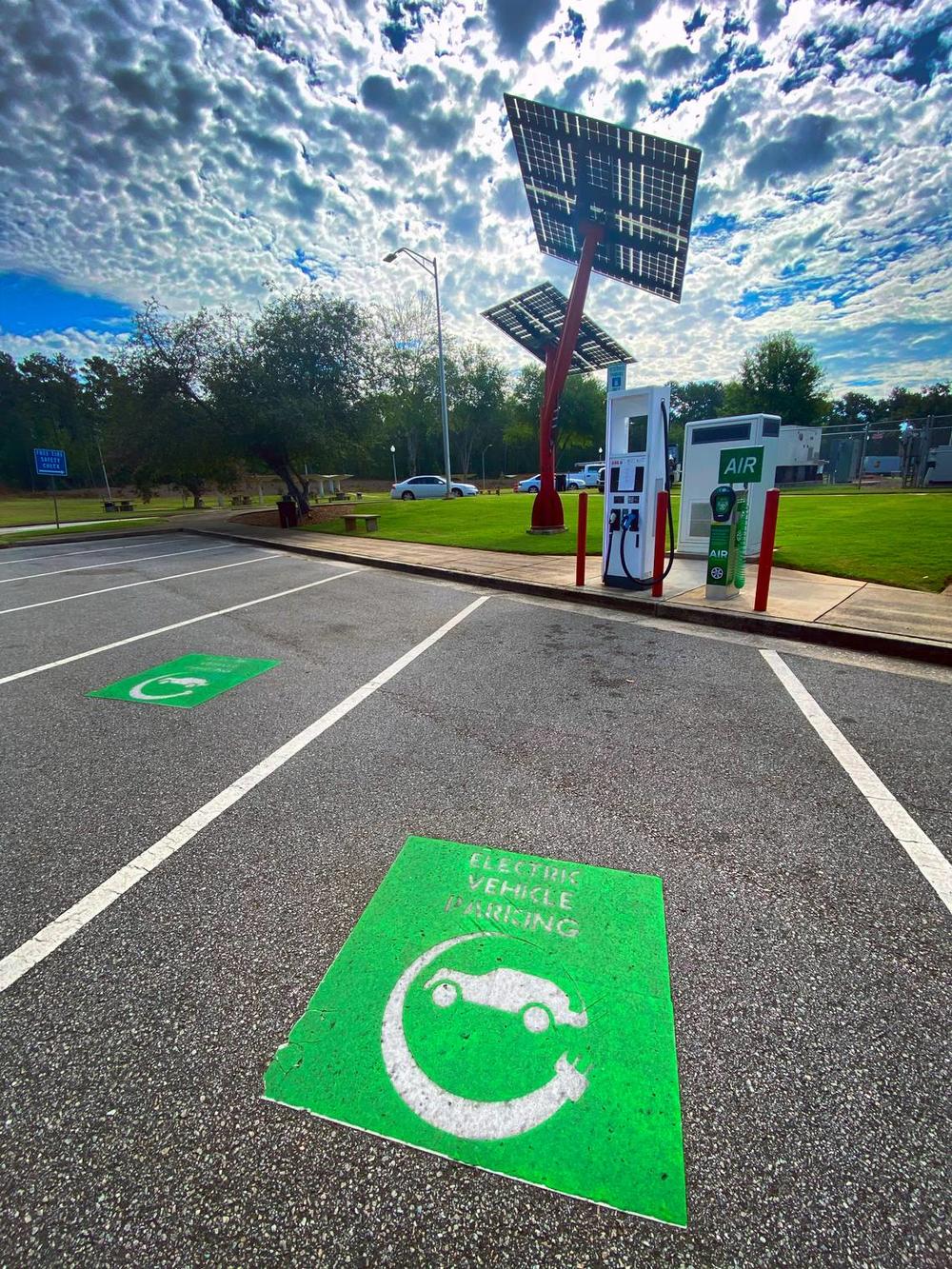 ROW Solar has not extended beyond the gates of the 4-acre plot off exit 14 in LaGrange. Kelly suggests this is due to a lack of awareness that such technology and collaborations are possible and that they produce long-term benefits.
John Hibbard, director of operations at GDOT, was one of the collaborators who worked closely with The Ray for several years.
"There is potential applicability to a project like this beyond that location, statewide," he said, adding that a project like this has to make sense for the power companies. "We are willing to talk with power companies. It's at their expense and needs to fit [their needs]."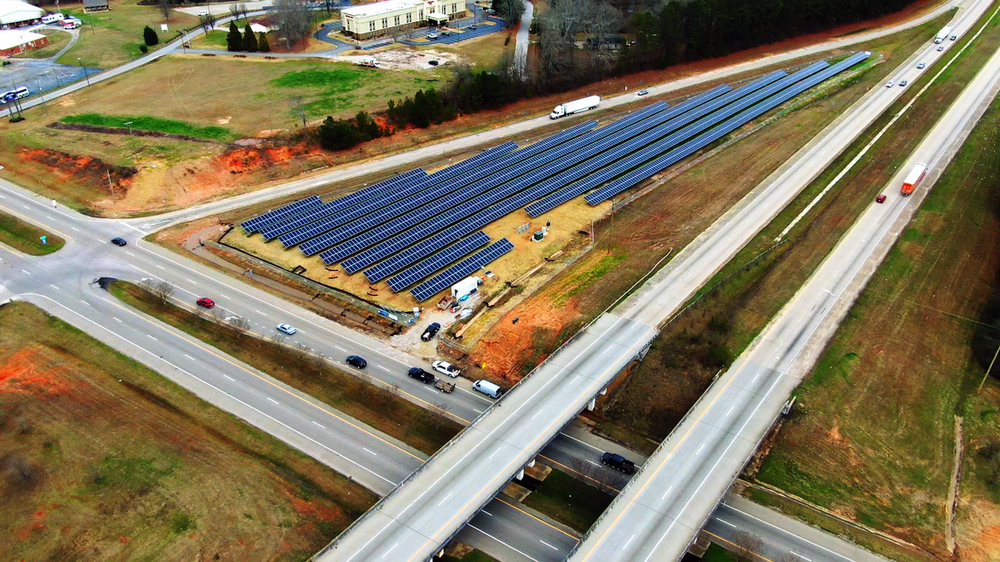 While GDOT is open to moving forward with more ROW solar projects, the initial spark of interest needs to come from solar developers.
"Specific locations are up to the developers and the best projects are selected," Georgia Power spokesperson Kelly Richardson wrote in an email to the L-E. "The company implements PSC-approved renewable energy expansion."
In 2015, The Ray installed its first pilot project: an EV charging station powered by attached solar panels at the Georgia State Welcome Center in West Point.
"Everyone thought we were nuts, thought we were crazy, that it was random," Kelly said.
In March, the Biden administration announced it would fund $2.5 billion to add to the $5 billion that support the president's plan to install chargers every 50 miles along interstate highways.
"The transportation sector is now intertwined with the energy sector," Kelly said.
This story comes to GPB through a reporting partnership with the Ledger-Equirer.
Secondary Content
Bottom Content