WATCH LIVE | GHSA Football Class A Division I Championship: Swainsboro vs. Prince Avenue Christian
Section Branding
Header Content
Beep self-driving shuttle will take passengers from Cobb Galleria to The Battery
Primary Content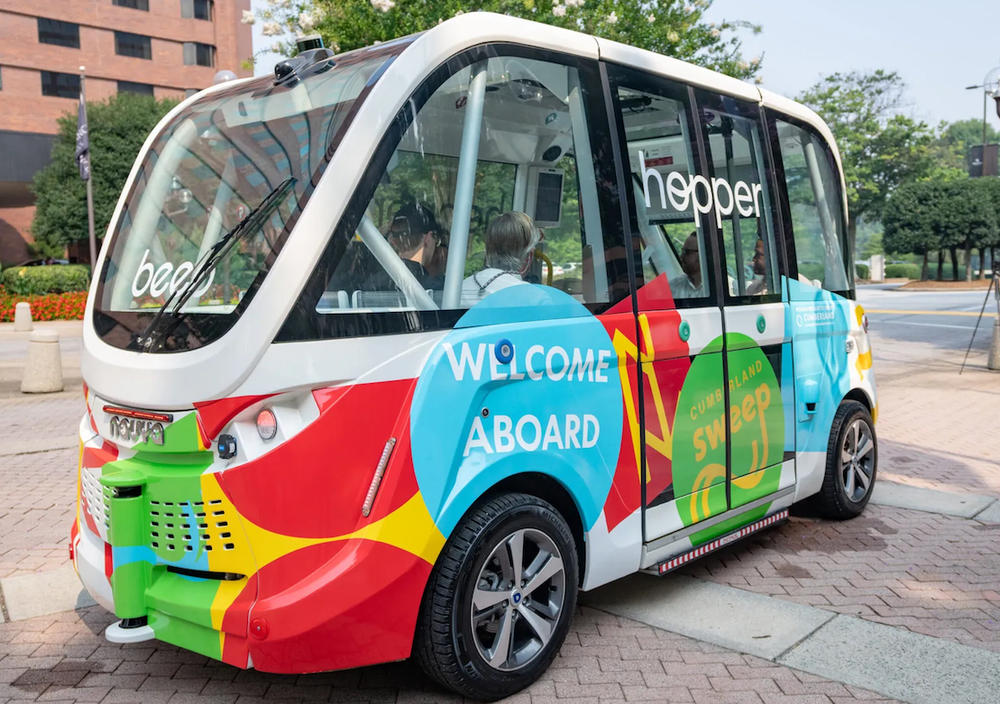 The Cumberland Community Improvement District has partnered with shuttle service Beep to test a self-driving — or autonomous — route connecting the Cobb Galleria to The Battery.
During the pilot program, the Cumberland Hopper autonomous shuttle will operate along two designated routes, connecting key destinations as part of a "major mobility project" in development by the Cumberland CID called the Cumberland Sweep. 
According to a press release, the eight-month pilot program will connect visitors, residents, and the community to destinations around Cobb Galleria and to The Battery.
The complimentary pilot program will launch on July 25 and will operate through March 2024.
The pilot program's duration will provide the CID the data collection, performance evaluation, and community feedback to further define and develop the long-term Cumberland Sweep mobility strategy which will be implemented over the next several years. 
The Sweep is a 3-mile plus corridor of dedicated walking and biking lanes strategically designed to connect key destinations throughout the core of the Cumberland CID. 
With the Cumberland Sweep, the business community, residents, and visitors can effortlessly traverse the Cumberland area, accessing prominent locations such as The Battery Atlanta, Truist Park, Cumberland Mall, Cobb Galleria Centre, Cobb Energy Performing Arts Centre, and the Chattahoochee River National Recreation Area (CRNRA), reducing carbon emissions and improved traffic flow.
"We are excited to partner with Beep, a leader in autonomous mobility, to bring the Cumberland Hopper autonomous shuttle pilot program to the Cumberland CID," said Kim Menefee, Executive Director of the Cumberland CID. "By embracing Beep's cutting-edge solutions, we are providing our community with a sustainable and convenient transportation option that prioritizes connectivity and safety. The Cumberland Hopper presented by the Cumberland CID represents our commitment to innovation and progress, and we look forward to the positive impact it will have on our district."
This story comes to GPB through a reporting partnership with Rough Draft Atlanta. 
Secondary Content
Bottom Content