Section Branding
Header Content
Savannah DA slams Georgia's new prosecutor oversight board as 'dangerous' to criminal justice reform
Primary Content
LISTEN: The district attorney in Savannah's Chatham County is denouncing the state's new Prosecuting Attorneys Qualifications Commission, which is tasked with investigating complaints of alleged prosecutorial misconduct. GPB's Benjamin Payne reports.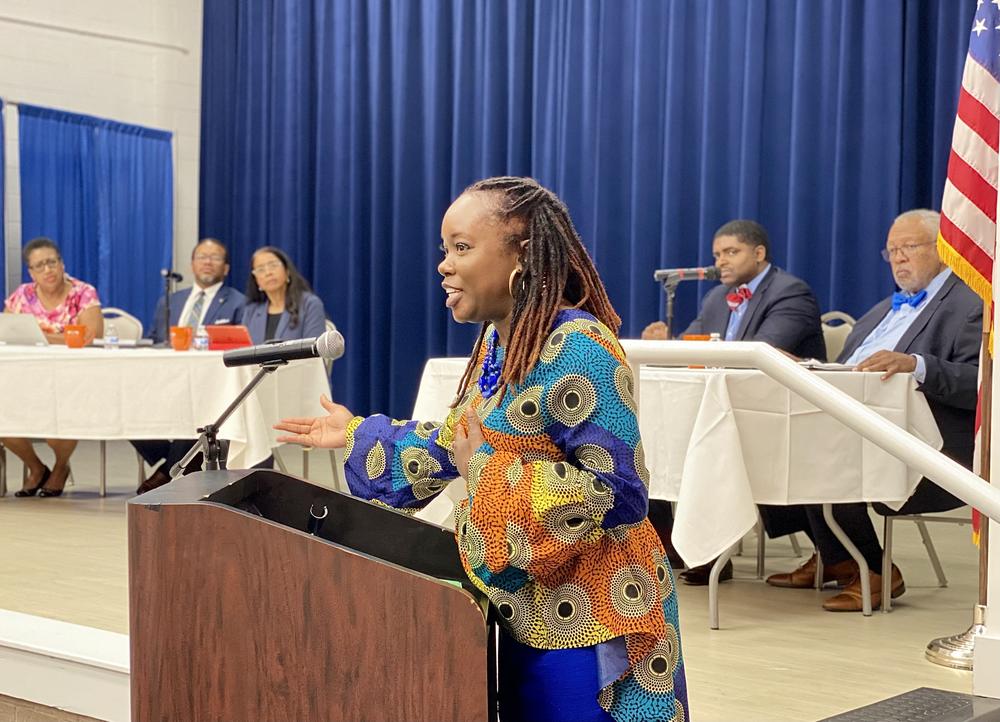 Chatham County District Attorney Shalena Cook Jones on Friday criticized a newly formed state commission empowered with investigating and disciplining locally elected prosecutors across Georgia.
In the Democrat's first remarks regarding the Prosecuting Attorneys Qualifications Commission since its members were due to begin their terms in July, Jones criticized the PAQC and the legislation behind it — signed into law in May by Republican Gov. Brian Kemp at the Chatham County Sheriff's Office — as government overreach.
"The prosecutorial oversight bill is so dangerous to criminal justice reform and progressive — what people call progressive — prosecution. I'm not a progressive prosecutor; I'm a smart prosecutor," said Jones, drawing applause during a roundtable discussion of legal issues hosted by the Georgia Legislative Black Caucus at Savannah State University. "Let's do what makes sense with the resources that we have, particularly in this post-COVID era."
Jones has been the subject of criticism herself — including by Savannah Mayor Van Johnson, a Democrat — for dropping investigations into officer-involved shootings in Chatham County without notifying the public.
Elected in 2020, Jones has faced a severe staffing shortage within her office, as well as a backlog of cases caused in part by the COVID-19 pandemic's temporary freeze on court proceedings.
Passed largely along party lines with Republican support and Democratic opposition, Senate Bill 92 established the PAQC to investigate and adjudicate complaints against district attorneys, whom it can discipline up to and including removal from office.
When the bill passed in March, lead sponsor Sen. Randy Robertson (R-Cataula) said it extended oversight that law enforcement already had to district attorneys and solicitors general.
"I spent over 30 years in the criminal justice system. I welcome oversight in the criminal justice system," Robertson said. "I welcome it. I want the individuals in the criminal justice system to be held to the same standard that I was when I was there. I want the standards to be increased. We see riots and we see people running all over the place, saying the justice system isn't fair and that people are able to do whatever they want."
Commissioners were set to begin their terms in July ahead of an Oct. 1 start date for receiving complaints. However, only five of the PAQC's eight members had been announced as of publication, including three attorneys and two judges appointed by Kemp and Georgia House of Representatives Speaker Jon Burns (R-Newington). The remaining members are to be appointed by Republican Lt. Gov. Burt Jones and the Georgia Senate Committee on Assignments.
"Not only is [SB 92] dangerous because we have the people who are writing these laws who are not lawyers and know nothing about prosecuting cases," Jones said, "the problem is even more so that when you use your legislative authority as a weapon to target people rather than targeting problems, our whole community is at risk."
Contrary to Jones's claim, two of the Georgia lawmakers who sponsored SB 92 are practicing attorneys: Sen. John Kennedy (R-Macon) and Sen. Bill Cowsert (R-Athens). Additionally, bills are often written with the assistance of lawyers from the nonpartisan Office of Legislative Counsel.
Although SB 92 states that the PAQC cannot receive complaints about prosecutors' conduct that occurred before July 1, it makes an exception for "a continuous pattern of conduct" that predated the law taking effect.
As an example of a case that Jones said her office could not dismiss because of the commission's oversight, she discussed a homeless man with a history of shoplifting charged with felony theft before Jones took office.
"He goes to a gas station to buy two sodas, two bags of chips," Jones said. "He leaves $1.94 on the counter because that's what he has. The balance is $2.04. This is a case that's a felony from 2018 that I don't have the resources to prosecute four years later. But now, I'm not at liberty to dismiss it as a function of my discretion because I have to worry about an oversight committee who will pick apart every decision that I have ever made."
Secondary Content
Bottom Content