Section Branding
Header Content
Savannah's Talmadge Bridge subject of public comment period, as state seeks to raise it for ships
Primary Content
LISTEN: Georgia transportation officials are asking for public input on their proposal to heighten a busy bridge near the Port of Savannah. GPB's Benjamin Payne reports.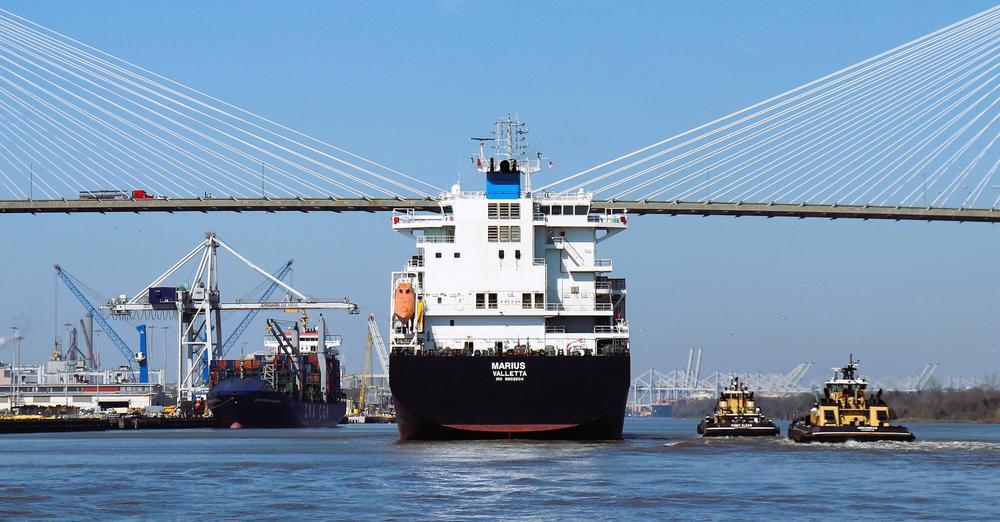 The Georgia Department of Transportation is seeking public comment on its proposal to raise Savannah's Talmadge Memorial Bridge in an effort to accommodate larger cargo ships underneath.
Spanning a stretch of the Savannah River just downstream of the city's bustling port, the bridge's current clearance of 185 feet — roughly the height of the Leaning Tower of Pisa — is not tall enough to accommodate the shipping industry's next generation of vessels.
But because of potential environmental impacts — such as to a nearby forested area of Hutchinson Island — GDOT is required to solicit public input on the project, which can be provided through an online form until July 27.
"It can have an impact on what that final product looks like," GDOT spokesperson Kyle Collins said of input on the project, which would entail shortening the bridge's cables and conducting major maintenance. "Potentially, folks know something we don't."
For the thousands of drivers who cross the bridge every day between Georgia and South Carolina, altering the Talmadge could eventually cause major traffic disruptions, even as the bridge is expected to remain largely open to vehicles during the project.
"In the coming years, there will have to be some closures on either side of the road to administer and complete that major maintenance," said Collins, whose agency estimates that the Talmadge serves an average of more than 20,000 vehicles daily.
As an alternative to the online form, the public can submit comment by emailing GDOT project manager Ron Nelson at ronelson@dot.ga.gov or by mailing the agency at the following address:
Georgia Department of Transportation
Attention: Eric Duff, State Environmental Administrator
600 West Peachtree Street NE, 16th Floor
Atlanta, GA 30308
GDOT plans to publish a comment response letter to the project's webpage in late August.
Secondary Content
Bottom Content