Section Branding
Header Content
Judge gave Glynn cop who slept with informants clean record
Primary Content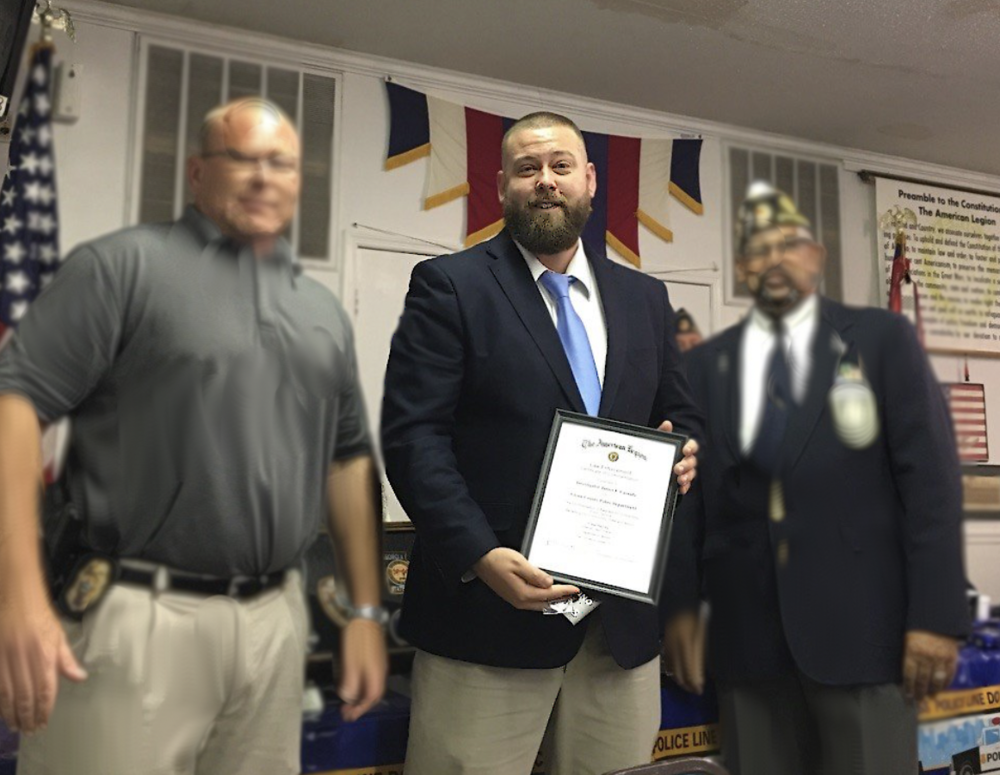 Jake Shore, The Current
A Glynn County Superior Court judge has wiped clean the criminal record of a county police officer who used drugs and had sexual relationships with confidential informants as he was operating as a member of a now disbanded elite anti-drug unit.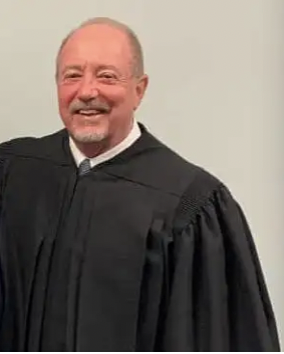 The officer, James T. Cassada, 42, of North Carolina, was sentenced in 2019 to ten years of probation under the First Offender Act and agreed to testify against other members of his anti-narcotics unit and police chief. He pleaded guilty to charges of breaking his oath of office by having sexual relationships with at least two informants and impeding the arrest of one of them.
In May, the judge, Anthony Harrison, ended Cassada's probation six years early, allowing Cassada to take advantage of the first-time offender status, according to previously unreported court documents. As a result, the former police officer's misconduct will now be hidden from most standard background checks.
Cassada, a former member of the the Glynn/Brunswick Narcotics Enforcement Team (GBNET), was eligible for protection of his criminal record under Georgia's First Offender Act, which is intended to give felons a chance to carry on with their lives after serving their sentences. First offenders are considered "exonerated of guilt" and their crimes are restricted from state criminal records, according to the law. 
Reforms in 2015 expanded access to the First Offender Act, so that the "folks who are poor, who get assigned a public defender, whose cases are often handled quick and easy and nobody's paying attention" can get the benefits of first offender law, according to Doug Ammar, executive director of the Georgia Justice Project.
But the fresh start for Cassada and two other GBNET officers who received first offender status by Harrison raises questions about disparities in who gets to be a first-time offender.
Between 2011 and 2019, approximately 10% of the more than 300 defendants where Cassada was the lead investigator received First Offender Act status, according to a review of cases by The Current. 
While Cassada is now considered exonerated of guilt, his agreement to testify against former Police Chief John Powell and Powell's chief of staff are still in place, according to current Brunswick-area district attorney Keith Higgins. 
Cassada did not immediately respond to a request for comment. His lawyer, Jason Clark, also did not return requests for comment from his client. 
'Discretion of the court'
The record-restricting provisions of Georgia's first offender law were triggered when Harrison, who sits on the bench in the Brunswick Judicial Circuit, ended Cassada's probation early. 
Cassada became eligible for ending probation early due to a criminal justice reform law enacted in 2021, completely separate from his status as a first offender. The reform was put in place to rein in Georgia's sky-high number of people on probation. 
The new standard for getting off probation in Georgia requires that a convicted person commits no new felonies during three years of probation nor violates the terms of probation. It also requires that all restitution be paid off. Cassada reached that point last summer, and the state's Department of Community Services recommended to Harrison to end Cassada's probation. 
When notified about the request, DA Higgins said his prosecutors asked for a court hearing to discuss the matter instead of letting the probation lapse automatically. Higgins said he wanted Harrison, who approved the original plea deal, to make the final determination. "It's the discretion of the court," Higgins said.
Despite several requests by The Current, the Glynn County Clerk of Superior Court declined to provide notice of his early probation termination hearing.
After Harrison signed off on Cassada's early probation termination, Glynn County's Clerk of Court sealed his records from the public, despite a 2016 change in the first-offender law that stipulates such records can only be sealed at a lawyer's request. 
When The Current sent a legal notice to request the release of Cassada's documents, Clerk of Court Ron Adams complied. He said he and his staff were unaware the law had changed and would amend the way they handle first-offender cases.
Improper relationships
Cassada's misdeeds were known among his fellow officers in the Glynn County Police Department for at least two years before he became the subject of a formal investigation. 
In the presence of several GCPD officers, the girlfriend of one of Cassada's confidential informants in November 2017 accused Cassada of infidelity and having relationships with informants, according to a judge's order from a 2019 court case, which first brought Cassada's actions into the public eye.
Two of Cassada's supervisors were told several times by other officers, as well as Cassada's wife, about his improper relationships with confidential informants, according to the court documents. Neither reported the incidents nor recommended Cassada be investigated. 
In December 2017, Cassada received treatment for alcohol addiction and depression at a rehabilitation center in Jacksonville, Fla. 
His supervisors knew of this treatment, but no one kept a written record, according to court documents. 
In January 2018, Cassada returned to work with no restrictions on cases he worked on or his contact with confidential informants. 
The following month, a large drug operation code-named "Déjà Vu" was underway. Cassada intervened to protect one of his confidential informants from being arrested, according to court records. 
In January 2019, another officer from the Brunswick force learned of Cassada's sexual relationship with an informant and reported it up the chain of command. 
Chief Powell later said he called the Georgia Bureau of Investigation to investigate and initiated an internal affairs investigation. Chief Powell disbanded it a month later.
Who gets to be a first offender?
After his July 2019 guilty plea, Cassada surrendered his Georgia law enforcement certification and paid $1,975 in fines, according to police documents. As a result, Cassada is barred from working as a police officer in Georgia. 
However, Cassada's first-offender status now means that his record is concealed from routine background checks by law enforcement agencies in other states. The only suggestion of his past misconduct is an entry on his Georgia police certification record showing that he surrendered his badge.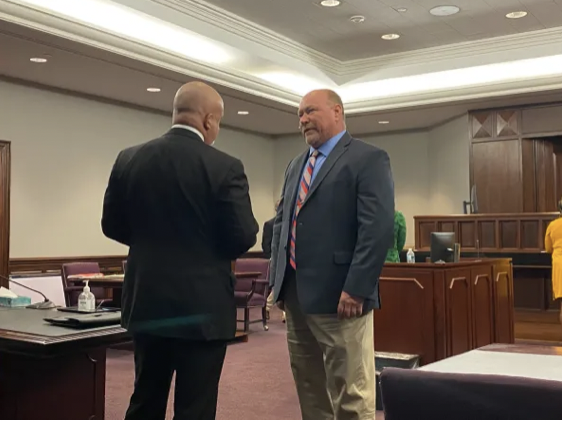 The perks of first-offender status have been enjoyed by many former Georgia law enforcement officers guilty of malfeasance.
Cassada's supervisors, David Haney and David Hassler, received first offender status from Harrison in March on charges they violated their oaths of office by covering up Cassada's misdeeds.
In 2012, a Camden County probate judge accused of arranging kickbacks through false invoices and enriching friends pleaded guilty and was considered a first time offender. 
Clayton County Sheriff Victor Hill was allowed to clear his record as a first offender after he pleaded guilty to accidentally shooting someone while practicing police maneuvers in 2015. Hill is now serving time in federal prison after he was accused of brutal treatment of six jailed people. 
Last year, former Paulding County district attorney Dick Donovan pleaded guilty after he was indicted for lying on an affidavit about sexually harassing an employee. He was also granted first offender status.
Not so fortunate
While some law enforcement personnel and officials are afforded leniency by judges, less well-placed residents in Glynn County are not so fortunate. 
At the site of a community center which was once Brunswick's first public school for Black children, 150 residents gathered last November seeking legal help to restrict disclosure of their criminal records.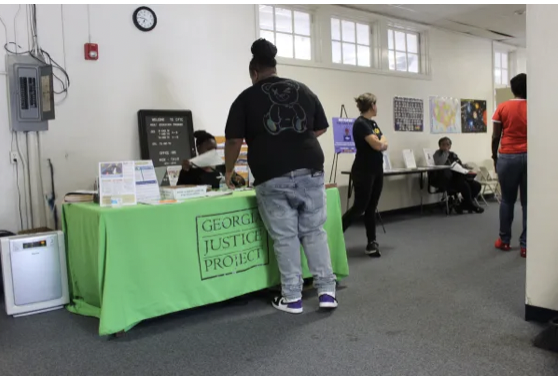 Criminal records for low-level crimes or even a charge that's been dismissed is sometimes a lifelong obstacle for people seeking jobs or housing, according to the Georgia Justice Project, which hosted the law clinic at the old Risley School. 
Dina, a Brunswick single mother and special education teacher, told The Current about one bad day in 2021, during which a verbal altercation over payment at a nail salon led her to receive her first-ever criminal charge: simple battery. She shared her experience on the condition her last name not be used. 
When Dina appeared in court, the judge offered her a choice of going on probation or paying a fine. She opted to pay the $540 fine. Only at the legal clinic a year later did she learn she was eligible for first-offender status.
"Here is where I was informed about first offender," Dina said, "(Georgia Justice Project) asked me if I was asked about that at court, and I wasn't." 
Caitlin Philippo contributed reporting to this story.
This story comes to GPB through a reporting partnership with The Current. 
Secondary Content
Bottom Content