Section Branding
Header Content
Unplug Chatham County's voting machines, activists demand
Primary Content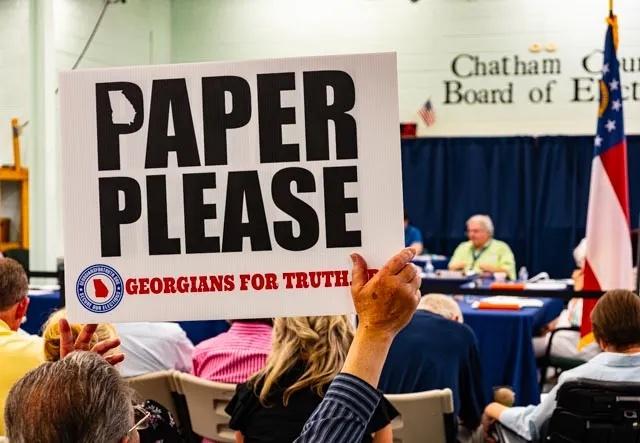 Craig Nelson, The Current
In a sign of tumult to come in next year's elections in Georgia, more than a dozen Chatham County voters took the lectern at a meeting of the county's board of elections yesterday to demand it scrap the county's voting machines and replace them with paper ballots before next year's elections.
One-by-one, they took their allotted three minutes to demand that the five-member board abandon the county's voting machines and replace them with paper ballots.
"There are a sizable number of people in this room — in this country — who feel the system is insecure," said Dr. Stephen Herman of Savannah. "If we can't trust our votes, we are toast in this country."
Thomas Grooms, an Air Force veteran, was more direct when his turn at the lectern came. "You know in your hearts the system is crooked," he told board members, his index finger jabbing the air at them.
The pleas of the petitioners for paper ballots came to nothing. Only the state legislature can change the voting system, board chairman Thomas M. Mahoney III said after the meeting.
"They've come to the wrong venue," Mahoney said. "We're required by code to use the state's system."
Before Mahoney opened the floor to public comment, activist Deborah Broderick counseled the roughly 50 people seated in metal chairs waiting to voice their displeasure with the Dominion voting system against "blowing up."  
But blow up the meeting did, when Mahoney ordered police officers to remove activist Beth Majeroni from the room after she refused his demand during her three minutes at the podium to stop discussing grand jury matters related to her pursuit of precinct voting records from last year's elections.
Two officers carried her out of the premises by her hands and feet, the mobile phones of other attendees recording every second. Majeroni later said she had violated no rules governing the secrecy of grand jury deliberations.
This story comes to GPB through a reporting partnership with The Current.
Secondary Content
Bottom Content