Section Branding
Header Content
Taxpayer dollars at work: What your U.S. senators from Georgia are doing for the week ending June 30
Primary Content
This summer, GPB News Democracy intern Ambria Burton is following the activities of U.S. Sens. Jon Ossoff and Raphael Warnock.
Each week on Fridays, we'll run down a list of activities that follow your dollars back to communities in Georgia.
This week, Ossoff and Warnock delivered funds for the state related to fire safety, rural broadband expansion, Atlanta BeltLine construction, Middle Georgia infrastructure projects and a clean energy footprint at Georgia State University.
Fire safety
Ossoff and Warnock are delivering funds to nine Georgia cities and counties to promote fire safety and guarantee protection for families throughout Georgia.
The funding, available through the Federal Assistance to Firefighters Grant program, "provides funding to upgrade equipment, upgrade or purchase new vehicles, train firefighters, and more," per a June 26 press release statement.
The nine cities/counties include:
DeKalb County
City of Statesboro
City of Monroe
City of Wrens
City of Garden City
Bulloch County Board of Commissioners
Atkinson County Board of Commissioners
County of Tattnall
McDuffie County Board of Commissioners
Broadband investment
On Monday, Warnock announced that Georgia's broadband expansion efforts would receive a $1.3 billion investment under the federal Bipartisan Infrastructure Law funding.
The funding comes from the Broadband Equity, Access, and Deployment Program, which, according to a June 26 press release, "works to expand broadband and strengthen access to affordable, high-speed internet across our state, particularly for the estimated 15% of Georgians who currently lack reliable broadband access."
Warnock said broadband funding was made possible to Georgians through more accurate broadband mapping. 
"This federal investment means life gets easier for hundreds of thousands of Georgians and provides the tools and infrastructure our communities need to be competitive in the 21st century," Warnock said. "You need a broadband connection to do just about anything. You can't even farm without a broadband connection."
Once received, the Georgia Technology Authority will distribute the funding to local Georgia contractors.
Atlanta BeltLine
Ossoff and Warnock, with U.S. Rep. Nikema Williams (GA-05), announced $25 million in federal funding to speed up construction for the Atlanta BeltLine through the Bipartisan Infrastructure Law.
The fund guarantees that expansion continues and facilities are upgraded along the BeltLine by expanding Segment 3 and Connector Trails 1-3 of the BeltLine's Northeast Trail.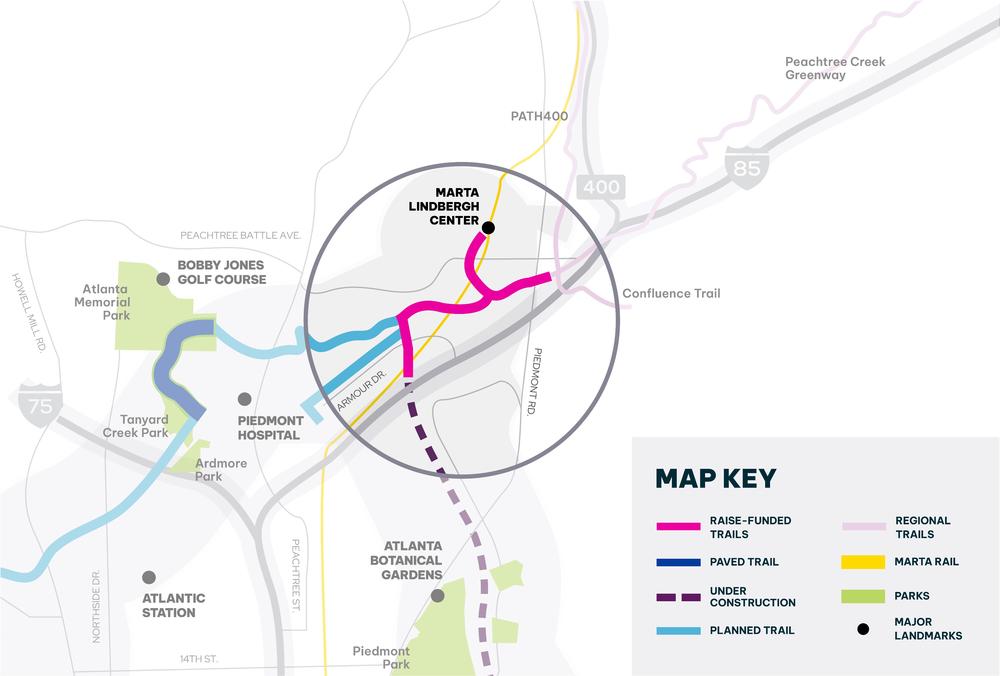 Funding will help construct "a 2.2-mile network of multi-use trails in northeast Atlanta between the Armour/Ottley and Lindbergh areas," as mentioned in a June 27 press release. "This will be the first time the Atlanta BeltLine trail will connect to a MARTA transit station at Lindbergh Center, fulfilling its vision to connect with the region's larger transportation network."
Funding also provides safety upgrades such as new bridge structures, ADA-accessible ramps, crosswalks and signals, lights and security cameras, stormwater infrastructure and landscaping.
"The BeltLine is a transformative Metro Atlanta infrastructure project to upgrade the quality of life and spur equitable development across the region," Ossoff said in the release. "Imagine families walking and biking, restaurants, retail, small businesses, green spaces, and trail connectivity across Metro Atlanta. This is a huge step forward toward that vision."
Middle Georgia
Ossoff and Warnock are granting Baldwin County an investment of $4.9 million after securing bipartisan funding for infrastructure projects across Middle Georgia that will improve connectivity in rural Georgia communities.
In Baldwin County, the funding will go to the Oconee Heights Streetscape and Safety Improvements Project, dedicated to adding pedestrian pathways and sidewalk connections for better community connectivity.
Per a June 27 press release: "This investment will also help install over 200 new solar-powered lighting fixtures alongside approximately 3,000 feet of new sidewalk throughout the Oconee Heights neighborhood. Additionally, the grant will replace three failing culverts in the community."
GSU clean energy footprint
Ossoff and Warnock announced Tuesday that federal funding would grant $22.2 million to switch Georgia State University's buses from diesel-powered engines to an all-electric fleet. The transition will improve GSU's clean energy footprint. 
As a June 27 press release stated, "An electric bus fleet would lower long-term maintenance costs for the university, enabling them to prioritize spending on supporting students."
"This will help improve air quality, noise pollution, and overall quality of life for students and local Atlantans," Warnock said.
The funding comes under the Bipartisan Infrastructure Law's Low or No Emissions grant program administered by the Federal Transit Administration.
Secondary Content
Bottom Content