Section Branding
Header Content
Protesters carry on under the shadow of Georgia's domestic terrorism law
Primary Content
LISTEN: Some protesters say the state's domestic terrorism law is being used to silence opponents of Atlanta's planned public safety training facility. GPB's Peter Biello reports.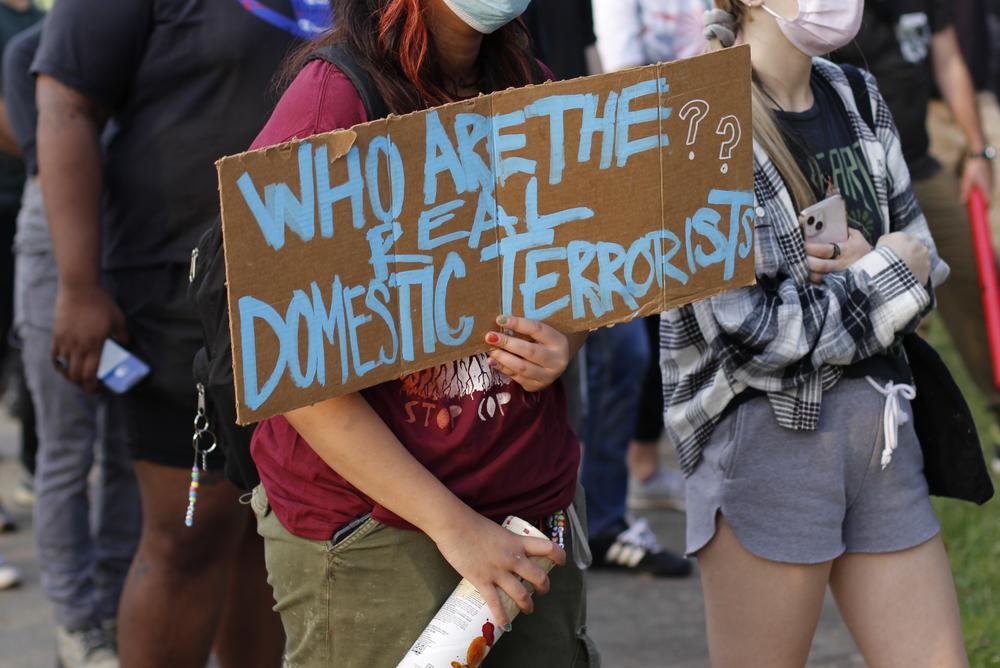 Priscilla Grim lives in New York City now, but she was born in Atlanta's Northside Hospital. She has Georgia roots and says she loves this area. 
"And when I heard the call to camp in the woods to literally save the trees, who wouldn't answer that if you love nature and know how important it is for us on this planet?"
That call came from opponents of the proposed public safety training center who'd been camping in the South River Forest for months. She joined them, and was there in March when a peaceful concert took a turn. Some protesters, many wearing black, chased police, threw rocks and Molotov cocktails and set fire to construction equipment.
On the advice of her lawyer, Grim won't share many details of her experience, but she remembers the moment.
"I was arrested with a gun to my head," she said. 
And then she was charged with domestic terrorism. Grim spent a month in the DeKalb County Jail before being released on bond.
She says the charges are ridiculous.
"Nobody is a domestic terrorist," she says. "Even if people did throw rocks, that's not terrorism. Is that terrorism? I mean, honestly, is it?"
Scholars and politicians have spent decades debating what terrorism is. Georgia's law captures a common area of agreement: murder meant to scare people into behaving differently. But it also includes something more subtle: the destruction of "critical infrastructure" to advance a belief. 
And the law leaves room for prosecutors to argue whether something qualifies as "critical infrastructure."
That bothered former state Rep. Bob Trammell and other Democrats when Republicans passed it more than five years ago.
"The definition of critical infrastructure was certainly a central piece of the objection that we had because it was so expansive that it could be used to capture almost anything," he said.
A similar domestic terrorism bill under consideration in Oregon narrowly defines "critical infrastructure" as things like utilities, data centers, and public roads. 
Republican state Sen. Bill Cowsert, who pushed for Georgia's law, didn't respond to our request for comment. The Georgia Bureau of Investigation, which charged Priscilla Grim and other protesters with domestic terrorism, and the DeKalb County DA's office also declined before handing the prosecution of the cases to the office of Georgia Attorney General Chris Carr. 
"My team and I have worked diligently to reach a consensus with the Attorney General's Office on charging decisions in these cases," said DeKalb District Attorney Sherry Boston.  "At this point, I have decided it is best that we allow them to move forward with the charges they feel are warranted."
Prosecutors could have brought other charges, said David Byman, professor of security studies at Georgetown University. But he said these charges are a powerful tool for prosecutors.
"It's a harder sell to a jury to say, 'Find this person innocent' if terrorism is floating in the air," he said. 
Meanwhile, protests continue under the law's shadow. 
Outside DeKalb County government offices in Decatur this spring, protesters gathered for a sit-in. Mariana Satterly of Atlanta was among them.
"If you look around, you see sweet signs, a banjo," they said. "Someone brought coffee. It's a nice morning, so the risk feels a little bit less."
Less, but not zero. Satterly said they're aware of police officers watching them nearby. They say these domestic terrorism charges are an obscene overstep.
"That's a certain kind of law enforcement," Satterly said. "And it looks more like intimidation and repression. It's textbook intimidation and repression."
For other protesters, however, the law changes nothing. Kendall Berry lives in Atlanta.
"It doesn't really factor it too much other than I think it made me want to do it more just because we're clearly not domestic terrorists," she said. "And I would like for people to see that."
But even being accused of domestic terrorism has consequences. Priscilla Grim lost her job at Fordham University. She said she's now looking for a new one.
"I have more time on my hands and I can be an activist and hopefully a writer."
Grim is raising money to fight the charges, which she said is "slow going and frustrating." It's unclear when she'll be back in court. If convicted, she could spend years in prison. 
Secondary Content
Bottom Content