Section Branding
Header Content
New historical marker in Savannah honors first Black woman to serve on Republican National Committee
Primary Content
Velma Maia Thomas Fann is intent on making sure one woman's name is not lost to the history of Black civil rights in Georgia and across the country: Mamie George Williams.
For nearly 20 years, Atlanta-based historian and author Fann has researched the storied life of Williams, a Savannah native who helped register 40,000 Black women in Georgia to vote, shortly after the 19th Amendment to the U.S. Constitution was passed in 1920.
A new historical marker installed at Savannah's Dixon Park in late May is a testament to Fann's dedication.
"How do you condense [Williams'] life of service into 300 or so words?" Thomas asked, reflecting on the challenge of distilling decadeslong activism into the tight constraints set by the Georgia Historical Society, which administers the state's marker program. "I struggled with this. I struggled with what to highlight and what to leave out. Which words to capitalize. I struggled with language. Mamie lived at a time when we were 'colored,' 'Negro' and worse."
Despite discrimination and hatred hurled Williams' way, in 1924 she became the first Black woman to sit on the Republican National Committee. Later that same year, Williams became the first woman to speak on the floor of the Republican National Convention.
"When she held her own meetings, she said the Republican Party has to look like everybody; so, she had men, women, white and Black in her delegation," Thomas said at a May 25 dedication ceremony at the park, just south of downtown Savannah. "She lived on this street. So, we thought we'd put this here so that Mamie could watch over it and hold this as a sacred spot."
That sacred spot was shortly unveiled when a representative from the Georgia Historical Society lifted a heavy fabric cover off the marker, to the raucous applause of local residents excited to read its text in full:
Mamie George Williams, a lifelong resident of Savannah, lived and worked near here. A political and civic leader, Williams volunteered for many organizations, including the Red Cross, the Girl Scouts, and the National Association of Colored Women's Clubs. A suffragist, she organized voter campaigns and registered African-American women to vote following passage of the 19th Amendment. Nonetheless, African Americans were denied full voting rights, due to Jim Crow laws. In 1924, Williams became the first woman from Georgia and the first African-American woman in the nation to serve on the Republican National Committee. A community leader, she led fundraising efforts for a home in Macon for African-American girls and served as vice president of Carver State Bank. She worked with the African-American Girl Scouts, financially assisting with establishing their Log Cabin Camp in Hancock County.
Earlier that same day, Thomas emceed a separate gathering just across the street honoring Williams at Carnegie Library, a historic branch founded by and for Black residents, when racial segregation was the way of life in Savannah and across the South. There, she reflected on Williams' influence.
"Just a little bit about the library: the Women's Suffrage Club of Chatham County was organized here [on] June 13, 1919," Thomas said in front of a packed community room of attendees. "And Mamie George Williams attended several of the meetings. So, we have a lot going on here and a lot to be thankful for about his tremendous and wonderful branch."
Also taking to the podium was Chassidy Malloy: "As of two days ago, I am the first African American president of the League of Women Voters of Coastal Georgia," she said before a cheering audience. "I can certainly acknowledge Mamie for her contributions in the past for getting us to this point today."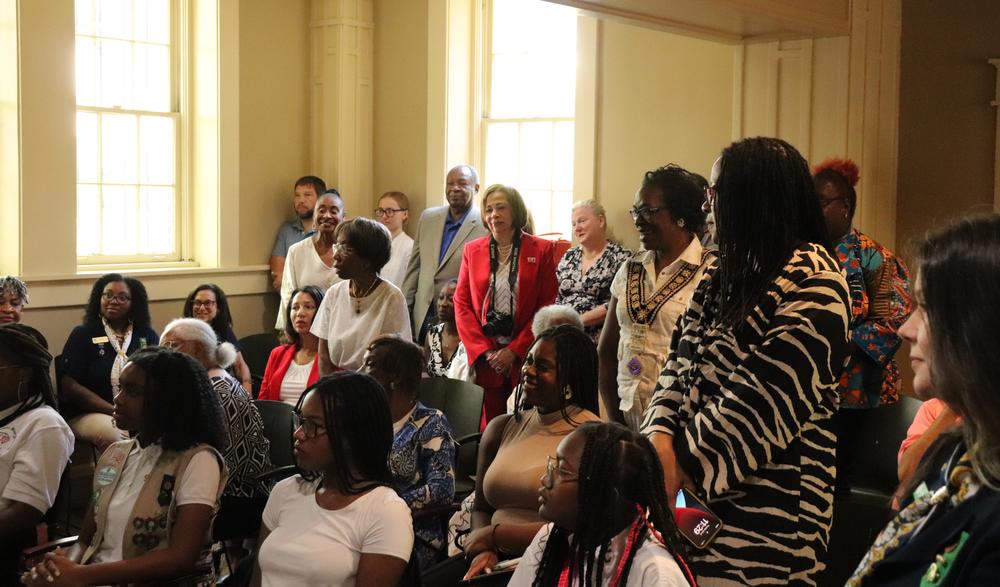 Williams' power as a political organizer ran aground during what historians call the Lily White Movement, an effort by white Republicans to oust African Americans from the party — especially from positions of power.
And so it was that Williams' meteoric rise within the GOP came crashing down, as she and other Black senior members were ousted from party leadership in 1932.
But although Williams' national influence came to an abrupt end, her activism for voting rights endures, said Shirley Jackson, publisher of the historically Black newspaper The Savannah Tribune.
"Understand who she is — who she is, not who she was," Jackson said at the library. "If Mamie did it during the times when she was alive, with all of the obstacles and the roadblocks and everything that was in her path, what does that say to us today? We have those same obstacles, roadblocks in our paths today. If Mamie did it, we can do it."
Secondary Content
Bottom Content