Section Branding
Header Content
Some in Georgia GOP seek purity test as Trump appears at convention in aftermath of indictment
Hero Image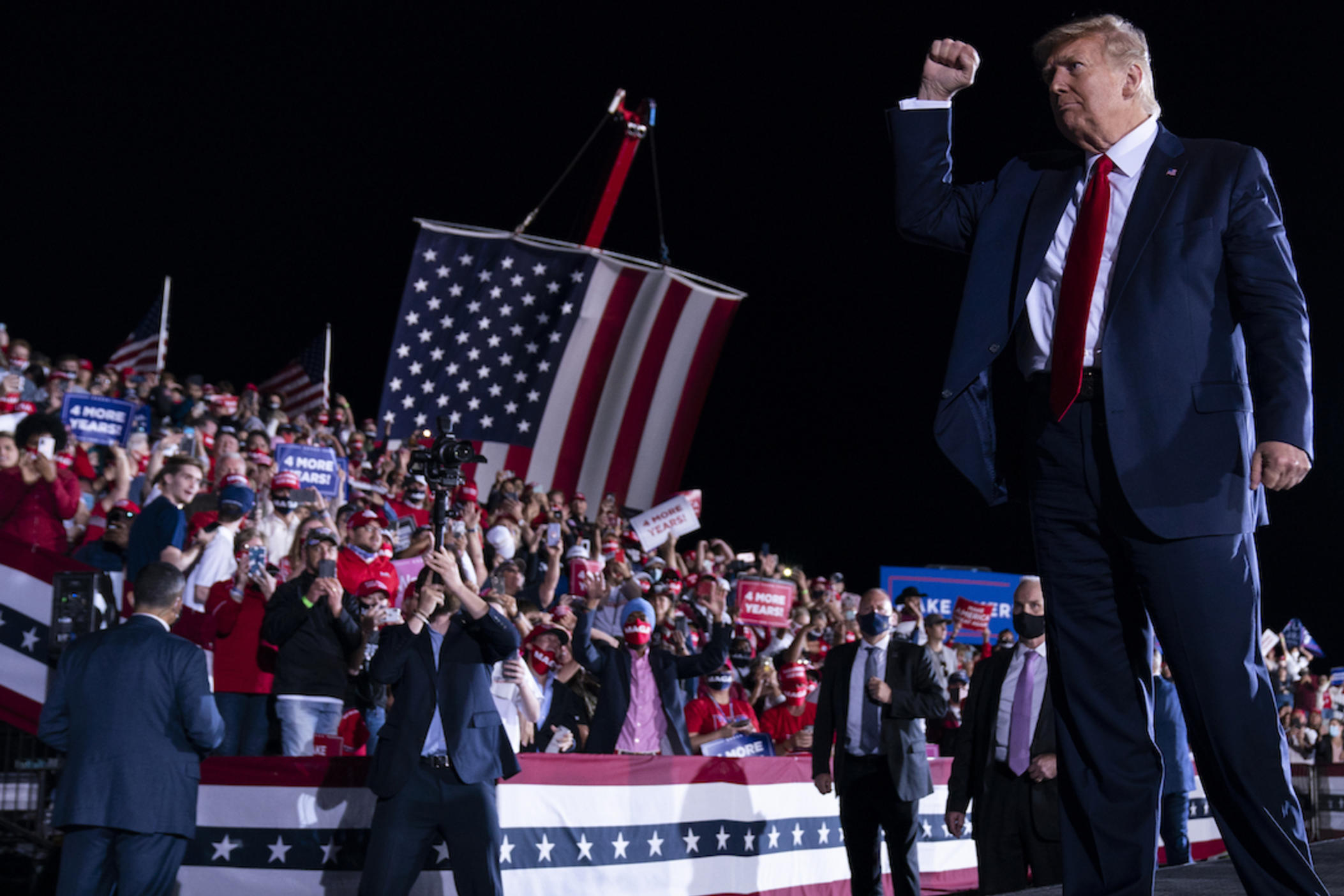 Primary Content
Georgia's state Republican convention gets underway Friday with Donald Trump still expected on Saturday, even as a right-wing party faction seeks to punish GOP officials it considers ideological traitors by banning them from future primary election ballots.
Trump could feed an air of vengeance after announcing Thursday that he's been indicted on charges of mishandling classified documents, overshadowing party business and speakers including Republican presidential candidates Asa Hutchinson and Vivek Ramaswamy.
The proposal to ban candidates could be used to penalize elected Republican leaders including Gov. Brian Kemp or Secretary of State Brad Raffensperger, who crossed Trump by refusing the then-president's demands to overturn his loss in the 2020 election. It also could be used against candidates who show insufficient purity on abortion or taxes.
Kemp, Raffensperger and some other officials are skipping the two-day gathering in Columbus.
The proposals could be squelched, with opponents saying primary election voters should decide who's fit to be a Republican. While ideological purists try to move Republicans relentlessly to the right, pragmatists say that's a strategy to lose general elections in battleground Georgia.
Jack Kingston, a former Georgia congressman who ran unsuccessfully for Senate in 2014, said it's "bull" for any Republicans to presume to set boundaries for the party.
"These things never work," he said of party purity attempts. "And it's just foolish, because you can't grow the party without getting at least some moderates that wouldn't meet some people's definition of a good Republican."
Saturday will be Trump's first visit to Georgia since March 2022, when he was backing candidates challenging Kemp and other Republicans. Most of Trump's picks lost in their primaries. One who was nominated, Senate candidate Herschel Walker, was plagued by scandal and lost a runoff election to Democratic Sen. Raphael Warnock.
Trump said he faces a court appearance in Florida next week in the documents case as he continues to be under investigation elsewhere, including Georgia. An Atlanta-based prosecutor, Fulton County District Attorney Fani Willis, is investigating whether Trump illegally interfered in the 2020 election and has suggested charging decisions will come in August.
But Trump's legal troubles hide another Georgia legacy: the wedge he drove between Kemp and the state party. Trump had endorsed Kemp in the Georgian's successful run for governor in 2018, but their relationship was already souring when Kemp spurned Trump's call to overturn President Joe Biden's narrow victory.
Kemp, Republican Attorney General Chris Carr and others have faulted outgoing state party Chairman David Shafer, who faces his own post-2020 legal jeopardy, saying Shafer sided with Trump and undermined Republican incumbents in 2022. They are boycotting the convention.
Kemp is trying to project national influence to lead Republicans away from Trump, arguing grievance and a backward focus on the 2020 election will repel voters. But the belief someone stole the election from Trump in Georgia, despite a mountain of evidence to the contrary, has driven a new wave of activists now taking control of Georgia's party.
A decision to grant a speaking slot to Arizona's Kari Lake, a staunch Trump backer who continues to deny she lost her governor's race last year, is symbolic of the unbending support for the stolen election assertion. Lake will appear in place of former Vice President Mike Pence, also running for president, who canceled a Friday speech at the convention.
Kemp has stopped being subtle about attacking Trump, even as polls show Trump the leader for the 2024 nomination.
"Taking our country back from Joe Biden does not start with congratulating North Korea's murderous dictator," Kemp tweeted June 2, joining Republican presidential hopefuls in criticizing Trump for congratulating North Korea's Kim Jong Un over the country's appointment to the World Health Organization board.
The candidates to succeed Shafer say they're going to try to paper over Georgia's divides, betting the desire to defeat Biden in 2024 can act as glue.
"The goal here is not to take shots at people. The goal here is to get Republicans elected," said Josh McKoon, a former state senator who is running for chairman.
But those seeking to enforce adherence to Republican ideals say the party needs to be more than a cheerleader.
"Why do we allow people to run under the Republican banners who betray our principles?" Alex Johnson, president of the right-wing Georgia Republican Assembly, asked Wednesday during an online talk show.
Johnson's plan would let the state convention vote to ban individuals from the Republican primary ballot in future years. There is no standard proposed for what merits a ban, although Johnson and fellow GRA members say bans should be used against officials flouting the party platform.
"If they're afraid of being removed from the ballot as a Republican, they're going to act a lot better," Johnson said.
Such a move would likely be challenged under Georgia law, which says parties can't block primary candidates who meet "procedural rules" and sign a party loyalty oath. Johnson and others argue that U.S. Supreme Court decisions guaranteeing freedom of political association override any legal obstacles.
But Debbie Dooley, an activist who has fought Kemp, said "it's wrong for a handful of people to decide who can run as a Republican."
"I think that the Republican voters in the Republican primary area should be the ones to determine who the GOP nominee is," Dooley said.
If successful, the rule could erode the ability of Kemp and others to end-run the party. A recent state law allows Kemp and some other officials to raise unlimited sums of money and coordinate with campaigns, formerly key party functions. Kemp retained his political operation after his reelection and formed a federal political action committee to influence races for Congress and president.
Kingston said the party's core identity — small-government conservatism and a distaste for central authority — necessarily breeds such fights.
GOP icon Ronald Reagan challenged President Gerald Ford in a bruising 1976 primary. Georgia's 1988 state convention dissolved amid fighting among Pat Robertson and George H.W. Bush supporters. Tea Party-era delegates in 2011 booed Gov. Nathan Deal and rejected his choice for party leader in the same way Kemp was booed at the 2021 convention over the 2020 election.
And then came Trump.
"We all saw Trump win as the ultimate outsider to Washington," Kingston said, "but we've had that anti-establishment part of the party for a long time."
Able to laugh about it now, Kingston felt the stinging reality himself in his failed Senate bid. As a 22-year veteran of Congress, "I had a 100% rating from every conservative group," from abortion opponents to deficit hawks and anti-tax groups. But he lost a primary to then-business executive David Perdue "because I became 'the Washington guy.'"
"There's just no compromise with some of these people," Kingston said.
Secondary Content
Bottom Content