WATCH LIVE | Former First Lady Rosalynn Carter's Carter Center Departure Ceremony and Tribute Service at Glenn Memorial Church at Emory University
Section Branding
Header Content
What to expect this weekend as Trump, Georgia Republicans converge on downtown Columbus
Primary Content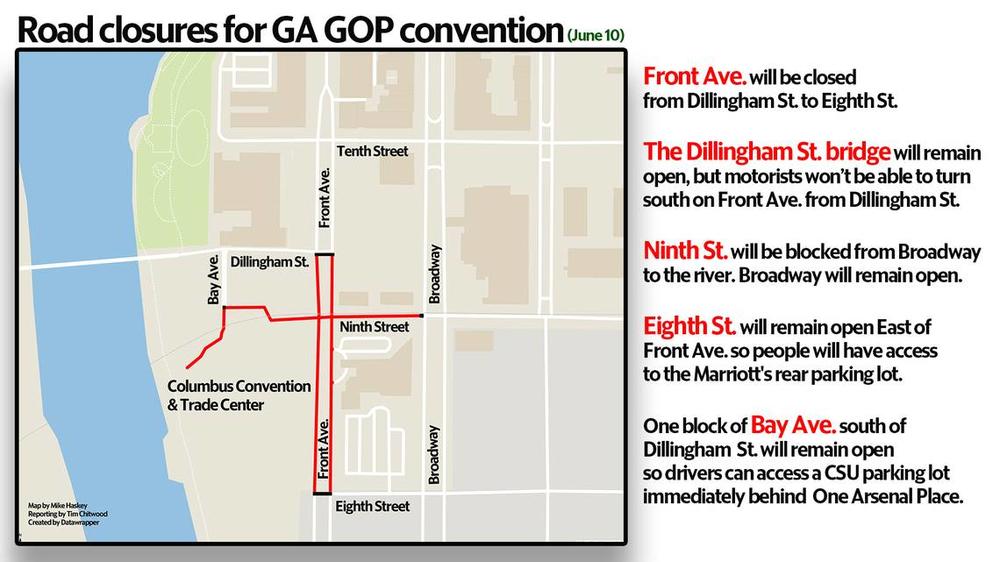 Some downtown blocks will be off-limits to the general public, Columbus' whitewater rafters won't land in Georgia, and former President Donald Trump's security will be a top priority, for a few hours.
That's the outlook Saturday for Georgia's Republican Convention, which if not for Trump's visit would be just another state party convention in Columbus. The city has hosted others, including the Democratic Party convention last year and the Republican gathering in 2012, at the Columbus Civic Center.
Up to 3,600 delegates, alternates and guests are expected this weekend at the Columbus Convention and Trade Center, said former Muscogee County party chairman Alton Russell, who's excited about showing off Columbus.
The 2012 convention was not considered a big success, he said, as the Civic Center site was so far from restaurants and hotels that delegates felt they had to drive to get around.
"It just wasn't our best effort," Russell said.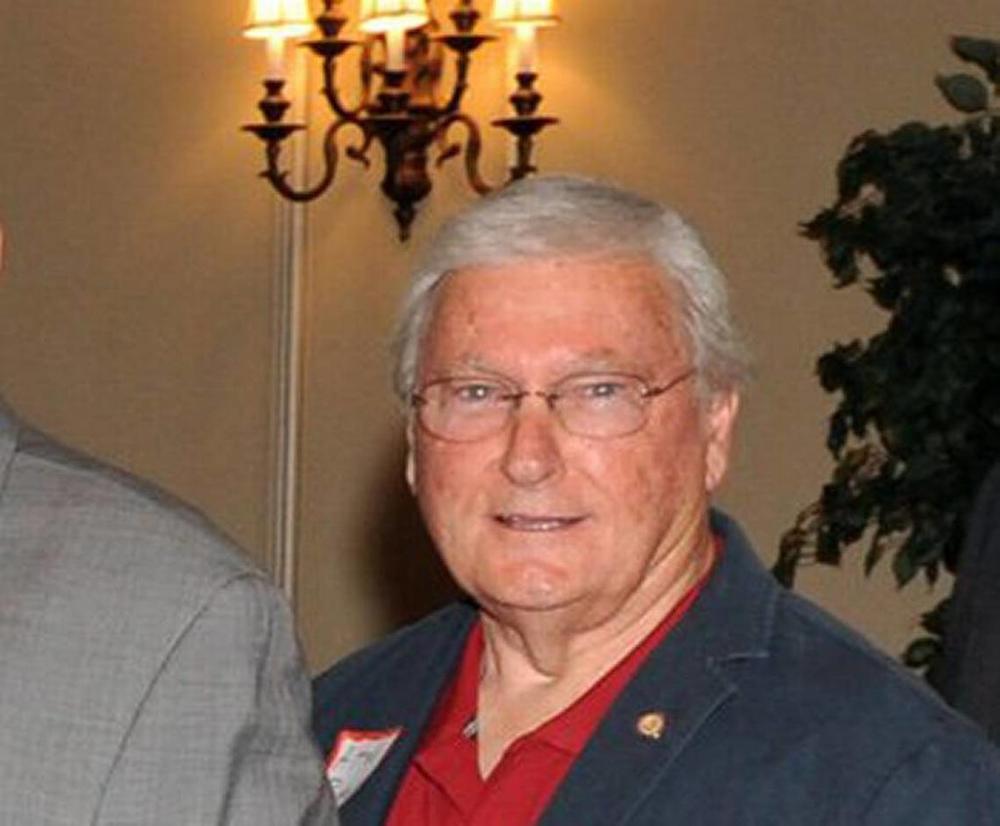 The Trade Center at 801 Front Ave. will be different, he said.
"People are going to be able to walk everywhere," Russell said.
And city leaders want people to know that outside a restricted area around the Trade Center, which will be off-limits to all but delegates, workers and others authorized to enter, downtown will be open for business, this weekend, and it expects a lot of business to come.
"All of the other businesses will be open as usual," said Ed Wolverton, president of the Uptown Columbus nonprofit that promotes downtown commerce.
Mayor Skip Henderson said the city expects about 5,000 visitors from around the country to converge on downtown, as people involved in next week's Miss Georgia Pageant come in to start preparing for that event.
Wolverton emphasized that all downtown parking garages will remain open and free, with only the Trade Center parking deck charging $10. Restaurants should be busy, but not overwhelmed "en masse" by convention delegates, as the event includes some meals, he said.
Kari Lake, who ran for governor of Arizona, is to speak at a sold-out, 800-seat banquet Friday night, and former Arkansas Gov. Asa Hutchinson is to address a Saturday morning breakfast, Russell said.
HERE COMES TRUMP
Trump is expected to arrive at 1 p.m. Saturday at Flightways Columbus, 3250 W. Britt David Road, according to a news release from his campaign.
His visit will be brief, as he's expected to travel to Greensboro, North Carolina, that same day, arriving there at 5:35 p.m. for the North Carolina Republican State Convention.
Here he will have a police escort, as he travels to and from downtown, but otherwise the Secret Service is responsible for his protection, authorities said. Russell said Trump's route from the airport has not been disclosed, for security reasons.
Besides escorting the former president, Columbus police will be in charge of managing traffic, blocking streets, and guarding the restricted area around the Trade Center, said Deputy Police Chief Clyde Dent.
Hayley Tillery, executive director of the Trade Center, said the Muscogee County Sheriff's Office will handle security inside the venue, with local agencies coordinating with the Secret Service.
Both Henderson and Dent noted that the security plan could change, depending on the circumstances.
"It's kind of a fluid deal," the mayor said.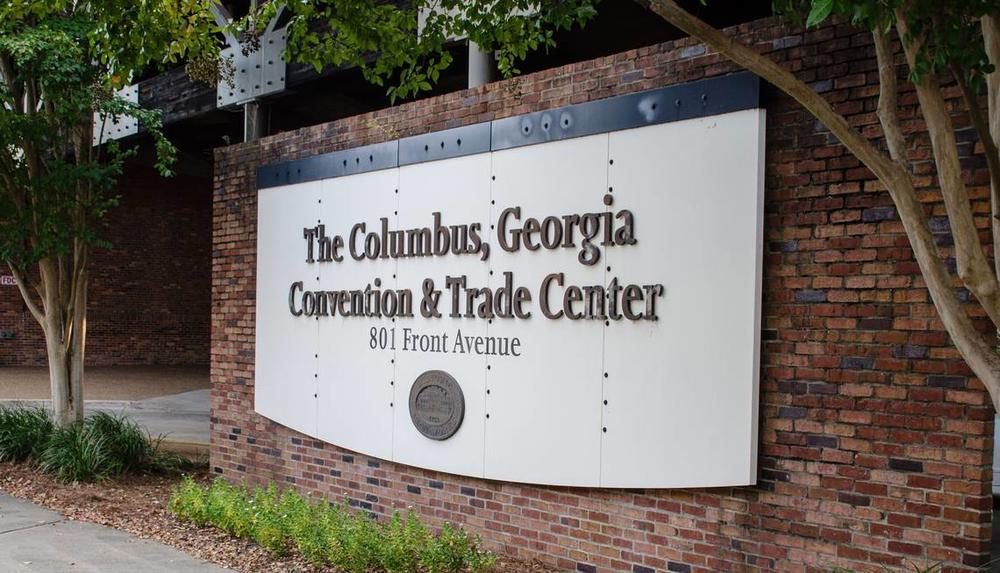 WHAT'S BLOCKED OFF?
The restricted area Saturday will stretch roughly from Front Avenue to the Chattahoochee River between Eighth Street and Dillingham Street.
Also blocked off will be the west end of Ninth Street from Broadway, Dent said.
Broadway will remain open, and so will Eighth Street, so guests can get to the Marriott's rear parking lot, he said. The hotel's main entrance is within the restricted area.
The restrictions mean not only that streets are blocked to motorists, but also to pedestrians, Dent said. The Chattahoochee RiverWalk directly behind the Trade Center also will be off-limits, as will the Trade Center boat ramp off Bay Avenue.
One block of Bay Avenue south of Dillingham Street will remain open so drivers can access a Columbus State University parking lot immediately behind One Arsenal Place, said Stephen Morse, assistant vice president of university operations.
Parking there will cost $10, and only those authorized to enter the restricted convention area will be allowed to venture farther south, he said. An access road running under a railroad bridge between Bay and Front Avenue will be closed there, he said.
Chance Corbett, Columbus' director of homeland security and emergency management, said the closures are expected to begin at 4 a.m. Saturday, and end when the convention's over. The event could run late, he said.
Dent asked everyone who's not going to the convention to avoid the restricted zone Saturday.
"There's not going to be any way to get through there," he said, adding downtown otherwise remains unchanged: ""Everything north of Ninth Street, that's going to be as usual."
The boat ramp behind the Trade Center is where rafters on Columbus' 2.5-mile whitewater course typically disembark. Because it will be unavailable Saturday, they will use a take-out across the Chattahoochee River in Alabama, by the Phenix City amphitheater, said Dan Gilbert, owner of outfitter Whitewater Express.
Gilbert was pleased with the prospect of fresh customers flooding in.
"Tell Mr. Trump to come on over and we'll take him rafting," he said.
His business is up 12% over last year, and 92% of his clients travel an hour or more to get here, he said. "Saturdays through the summer are our peak times," he said.
The Trade Center boat ramp also is where Columbus Fire and Emergency Medical Services crews launch to rescue anyone in distress on the river. Fire Marshal John Shull said they have other places to launch, but still will use the ramp if they have to.
"If we need that to protect life, we will use it," he said.
Like other public safety agencies, his department also has prepared for the influx of visitors, he said: Inspectors have checked the convention site's fire-prevention systems and evacuation plans, and checked all the public parking garages as well.
Otherwise his agency remains ready for any emergencies that may result from a sudden influx of people concentrated in one place, he said: "Our goal doesn't change a whole lot," he said. "We prepare for the worst."
THE PUBLIC PRICE
Marshaling public safety resources for weekend duty will have a price, though no one had an immediate estimate.
"This will involve some overtime," said Dent, the deputy police chief, who would not divulge how many police officers will be needed.
Mayor Henderson said such costs are the price of doing business, as a convention destination: "That's part of providing public safety."
The city similarly has staged for other possible emergencies, with no publicity, he added: "Nobody ever really knows about it."
Joseph Brannan of Columbus, the state Republican Party treasurer, said delegates paid a $110 registration free, for the convention, and assume that helps cover the venue's security costs.
Both he and Russell said part of Columbus' appeal is that lodging here typically is less costly.
The average Republican delegate is not a "high-dollar" bigwig, and Columbus makes a good fit for those who don't have a lot of money to spend, Brannan said.
Russell believes delegates will be impressed with the city's progress.
"I'm ready," he said. "We ought to put our best foot forward." 
This story comes to GPB through a reporting partnership with Ledger-Inquirer.
Secondary Content
Bottom Content