Section Branding
Header Content
Rosalynn Carter worked decades to reduce the stigma of mental illness. Here's a timeline
Primary Content
Rosalynn Carter, the wife of former President Jimmy Carter and a longtime mental health advocate and humanitarian, died on Nov. 19, 2023. She was 96. The former first lady worked for decades to promote the dignity and self-worth for people living with mental illnesses.
Mrs. Carter was the nation's leading mental health advocate for more than half a century — first in the Georgia governor's mansion, then in the White House and later at the Carter Center.
"One in 10 older Americans have dementia, a condition that affects overall mental health," a May 2023 statement from the Carter family said, after announcing Mrs. Carter had dementia. "We recognize, as she did more than half a century ago, that stigma is often a barrier that keeps individuals and their families from seeking and getting much-needed support.
"We hope sharing our family's news will increase important conversations at kitchen tables and in doctor's offices around the country."
Mrs. Carter's efforts made her an incomparable advocate during her lifetime, whether building houses for Habitat for Humanity or fighting guinea worm or advocating on behalf of people living with mental illness.
Here are a few of Mrs. Carter's achievements: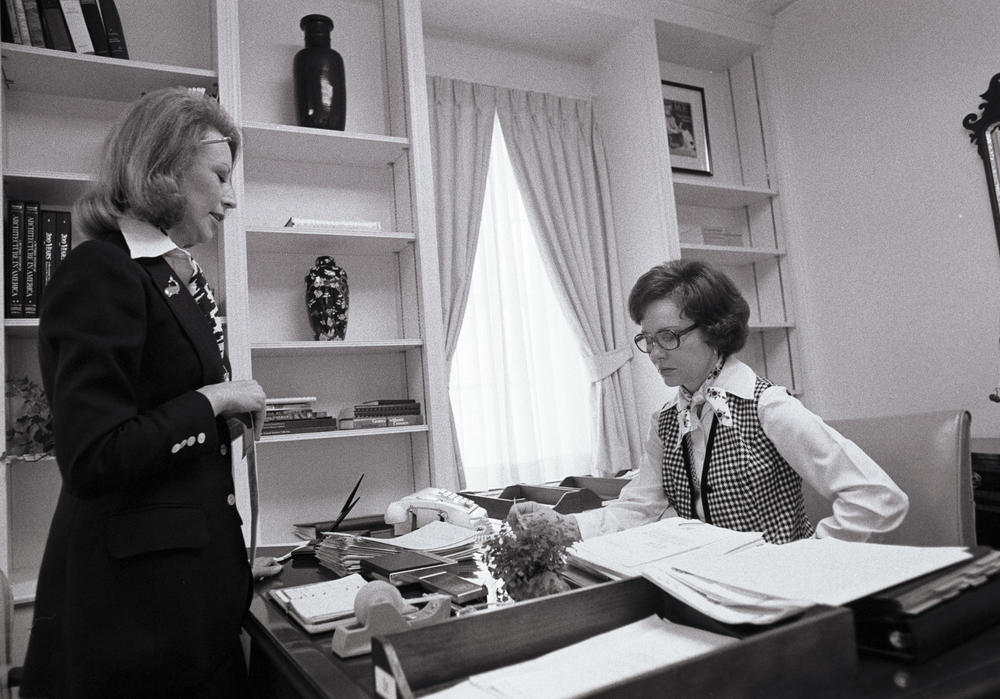 1977: Expanding the role of first lady during and after the White House
A mother of four, she was the first to establish an official 'Office of the First Lady' in the East Wing of the White House in 1977, and the first to hire a chief of staff with a rank and salary commensurate with that of other White House staff. When the Carter Center was established in 1982, she contributed to its areas of focus, including mental health, peace and democracy, women's rights and eradicating diseases.
1980: Advocating to reduce the stigma of mental health 
For over 50 years, Mrs. Carter worked to promote the dignity and self-worth for people living with mental illnesses. She was a member of the Governor's Commission to Improve Services to the Mentally and Emotionally Handicapped when Jimmy Carter was governor of Georgia. As active honorary chair of the President's Commission on Mental Health during her time in the White House, she helped bring about passage of the Mental Health Systems Act of 1980. At The Carter Center, she created the Center's Mental Health Program and established a Mental Health Task Force.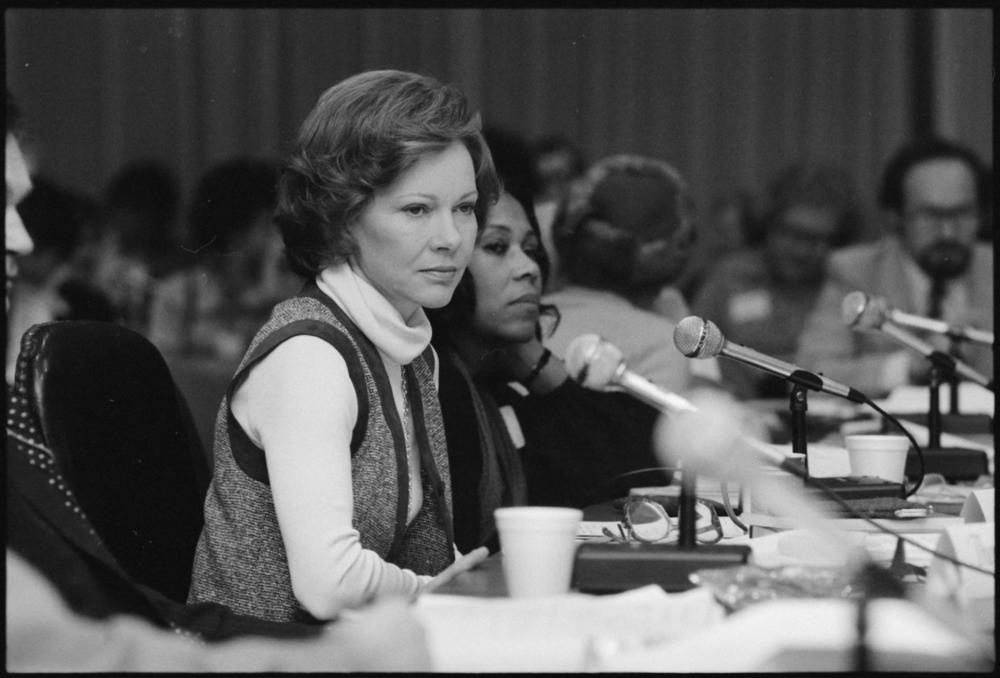 1982: Co-founding the Carter Center with Jimmy Carter
The Atlanta-based Carter Center has helped to improve the quality of life for people in more than 80 countries. The Center, in partnership with Emory University, is committed to advancing human rights and alleviating unnecessary human suffering.
 
1987: Founding the Rosalynn Carter Institute for Caregivers
As the founder of the Rosalynn Carter Institute for Caregivers in 1987, Mrs. Carter often noted that there are only four kinds of people in this world: those who have been caregivers; those who are currently caregivers, those who will be caregivers, and those who will need caregivers.
The Carter Center's May 30 announcement about Mrs. Carter's dementia mentioned caregiving:
"The universality of caregiving is clear in our family, and we are experiencing the joy and the challenges of this journey. We do not expect to comment further and ask for understanding for our family and for everyone across the country serving in a caregiver role."
1995: Founding the Rosalynn Carter Georgia Mental Health Forum
The forum, established in 1995, is held each May to address a timely mental health policy issue facing the state.
1996: Founding the Rosalynn Carter Fellowships for Mental Health Journalism
Hundreds of journalists have participated in the program, which was founded in 1996 by the former first lady to give journalists the resources they need to report on mental health — one of the world's most underreported health issues — and to help dismantle through storytelling the stigma that millions of people face every day.
2001: Recognition for supporting women's rights
Born on the seventh anniversary of the ratification of the 19th Amendment, Mrs. Carter has always been a fervent supporter of women's rights and, along with former first lady Betty Ford, was a vocal leader in the fight to pass the Equal Rights Amendment. In recognition of her tireless fight for mental health and unwavering dedication to improving the lives of others, she was inducted into the National Women's Hall of Fame in 2001, becoming only the third first lady ever inducted, joining Abigail Adams and Eleanor Roosevelt.
2007: Advocating in Washington, D.C.
On July 10, 2007, Rosalynn Carter testified before a U.S. House of Representatives subcommittee in favor of the Wellstone Domenici Mental Health Parity and Addiction Equity Act, calling for mental illnesses to be covered by insurance on par with physical illnesses. Mrs. Carter's active leadership in the field of mental health has helped bring this topic to national prominence as a vital component of overall health and wellness.
2019: Hosting the Rosalynn Carter Georgia Mental Health Forum at age 91
Mrs. Carter spoke at the 24th annual Rosalynn Carter Georgia Mental Health Forum at the Carter Center in Atlanta in May 2019. This year's forum was held May 18 at the Carter Center, although Mrs. Carter was unable to attend.
Secondary Content
Bottom Content