WATCH LIVE | Former First Lady Rosalynn Carter's Carter Center Departure Ceremony and Tribute Service at Glenn Memorial Church at Emory University
Section Branding
Header Content
The joy of color with artist Kevin Bongang
Primary Content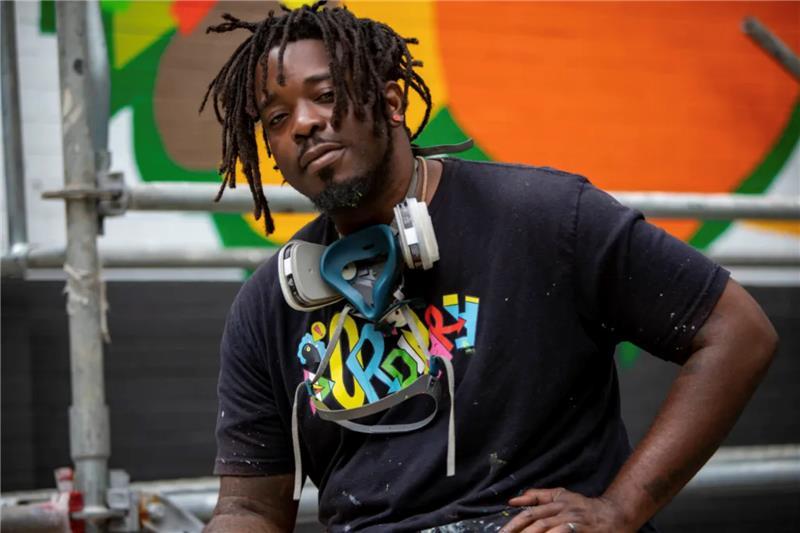 This morning, under a gray sky that was threatening to rain, I pulled up to the Shake Shack on Howell Mill Road. An artist stood atop the scaffolding on the side of the building, his outfit, hair, and beard splattered with paint. The mural behind him depicts a burger, a peach, ATL, a music note, and a french fry. Painted in bright oranges, greens, and yellows, the mural has transformed what was once a plain white brick wall into a vibrant work of art. This is the work of artist Kevin Bongang.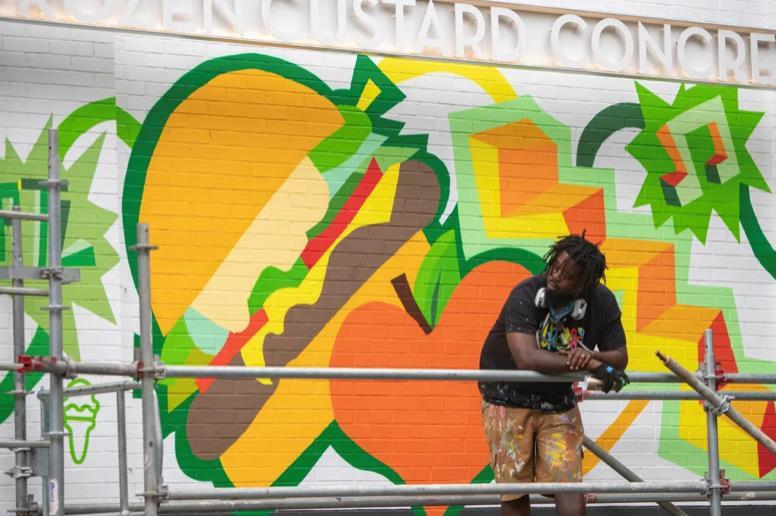 Bongang is known for his bright, colorful, and playful murals. Bongang was born in Cameroon, west-central Africa and he lived there until his family moved to Savannah, Ga., when he was 12 years old. As a young boy he loved cartoons like Looney Tunes and was heavily influenced by the colors, animations, and the fonts they used in the shows he saw on television. During his college years, Bongang discovered artists such as Picasso, who was inspired by African masks. Studying art history heightened Bongang's interests and learning about artists such as Picasso and Kandinsky informed his artistic process. Bongang also cites contemporary graffiti writers and cartoons like SpongeBob SquarePants as part of his inspiration. "That's kind of how it all comes together," said Bongang.
Bongang's work has a lighthearted beachy vibe that can be traced back to his childhood spent walking along the beaches of Limbe, the seaside city in Cameroon where his mother grew up. "As a kid I have memories of going down to the ocean and watching fishermen leaving in the morning and returning in the evening. I think I naturally lean in on those colors." 
It was his father's job that brought Bongang and his family stateside, first to South Carolina where his father finished his doctorate degree at the University of South Carolina, and later to Savannah where he secured a tenured job at Savannah State University. Bongang was surrounded by art growing up and attended Savannah Arts Academy, an arts-focused high school, before enrolling in the Atlanta College of Art. During his sophomore year of college the school shuttered and he transferred along with many of his classmates and teachers to Savannah College of Art and Design in Atlanta. There he studied illustration and later got his Masters Degree in Illustration and Printmaking from SCAD as well. 
"It definitely helped with creating structure and some kind of discipline," said Bongang, who is still in touch with many of the artists he went to school with at SCAD. During his college years he focused on his studies and developed his own personal style which has carried his creative career to this day. "I would say my art is a color exploration — an abstract color exploration in shapes and characters," said Bongang. His compositions feature layered imagery and whimsical renditions of birds, with references to African art and masks popping up in many of his designs.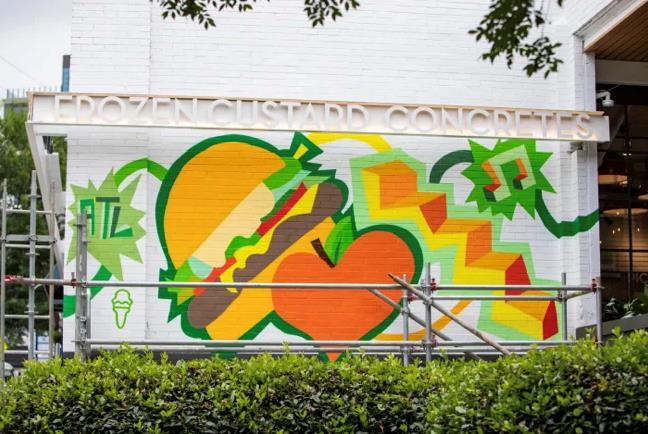 The text elements in Bongang's work serve as a sort of equalizing force for viewers. "I found myself being more drawn to abstraction and bringing in the layering processes of printmaking. My work tends to be very layered to the point where I almost felt like the imagery I was seeing nobody could really see. You know, people walk up and they see different things," explained Bongang. "The text was kind of a foundation; even if you didn't get the art you could take away something positive from the work."
With phrases like "take off," "dream big," "soar high," and "leave your mark," the works convey positivity and the childlike joy that Bongang personifies. 
Today, Bongang paints murals, canvases, and works as a graphic designer for brands across the Southeast. One such partnership with Jamba Juice may be familiar to locals as the mural graces the exterior of their food truck that sits alongside the Eastside BeltLine. While originally his artwork was mostly black and white and featured a considerably darker tone, he has experienced a shift in his mindset that has led to him embracing brighter and more playful colors.
"Art is more than therapeutic, it's almost an escape for me," said Bongang. "Being in this world where there's no rules and whatever I create is right. You know what I'm saying? Everything is my decision. Being able to play with colors and see how the different colors look next to each other kind of excites me."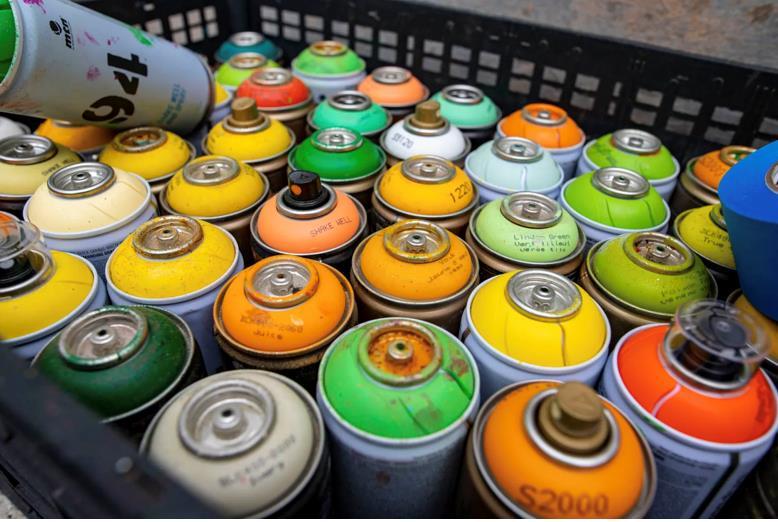 Color is very important to Bongang, and he discussed the social constructs that have at times challenged his use of colors like pink. Believe it or not there was a time when he would have considered pink to be too feminine for him to wear or paint with. It was when he started to really examine his feelings about colors that he was able to break down some of those stigmas. Bongang's work often features the color pink, and he says he has experienced very little pushback on his palette choices. 
"I almost see color as emotion. When I talk about wearing my emotions on my sleeve, if I'm feeling happy a yellow shirt feels right," said Bongang with a laugh. "For me, color has been my therapy. What I would say for the future generation… I started thinking about 'what do I think about when I think about pink?' I think about my mom, all these nurturing women in my life, so why not embrace it?"
These days Bongang lives in Brunswick on the Georgia coast, but his artwork brings him to Atlanta often as well as cities across the Southeast and as far away as California. For a while he lived in Nashville and one of his most popular murals advertising Mountain Dew can still be seen near the Nissan Stadium. He has worked with brands including Google, Starbucks, Jamba Juice, Shake Shack, and MARTA. Bongang is currently working on a permanent installation in the children's area of the St. Simon's Library as well as a solo show at the Brunswick Library, and he hopes to find more opportunities for public art in Atlanta, such as along the Atlanta BeltLine and Living Walls in particular. He dreams of working with musicians he admires and respects such as Outkast for murals in the city. 
"Atlanta is very outspoken, it's about being loud and bold. That's right along with what I'm about — anything that is loud, bright, and bold." 
This story comes to GPB through a reporting partnership with Rough Draft Atlanta.
Secondary Content
Bottom Content