Section Branding
Header Content
Hundreds speak against police training center at city council meeting
Primary Content
LISTEN: Hundreds of residents showed up at an Atlanta City Council meeting Monday to voice their opposition to a plan to allocate $30 million to build a police training center that protesters call "Cop City." GPB's Amanda Andrews explains.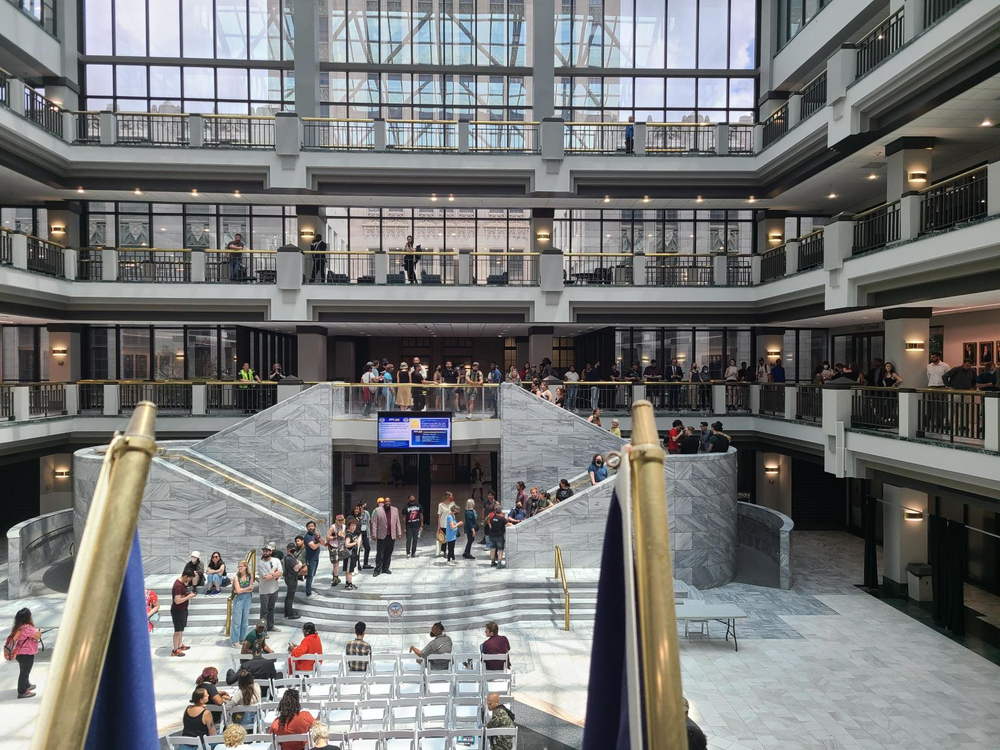 Nearly 300 residents attended an Atlanta City Council on Monday to speak out against a plan to allocate over $30 million to build the police training center. Public comment lasted over 7 hours.
Opposition to the facility has been growing since the shooting death of environmental activist Manuel Paez Teran during a forest raid by law enforcement in January near the site of the training center.
Solutions Not Punishments Collaborative is an Atlanta-based organization focused on creating safe communities though alternatives to policing. Executive Director Toni Michelle Williams said she attended the City Council meeting to encourage people to rethink what public safety means in Atlanta.
"I would come to this city and envision a place where I would be able to be my free self, my most authentic self, my most visible self," Williams said. "And I can't do that with more police around."
For many residents, this was not their first time speaking to the council about their opposition to the police training center. On Sept. 8, 2021, City Council voted 10 to 4 to approve the training center after 17 hours of virtual public comment largely opposed to it.
Sheheen Rana lives in unincorporated DeKalb County, and spoke at the meeting. She said it's frustrating feeling unheard by the city.
"Unincorporated DeKalb residents do not get to vote for the mayor," Rana said. "We do not get to vote for a lot of City Council members. And yet they build things in our neighborhood. They do things in our neighborhood without us having a voice in it. And then they say, 'No, the people want this.'"
After public comment, Councilmember Dustin Hillis introduced the ordinance to allocate funding to the police training center. The legislation will go before the City Council finance committee and could receive a final vote June 5.
Secondary Content
Bottom Content