Section Branding
Header Content
Starbucks workers protest delayed union negotiations
Primary Content
LISTEN: GPB's Amanda Andrews explains why Starbucks union workers are rallying in Atlanta.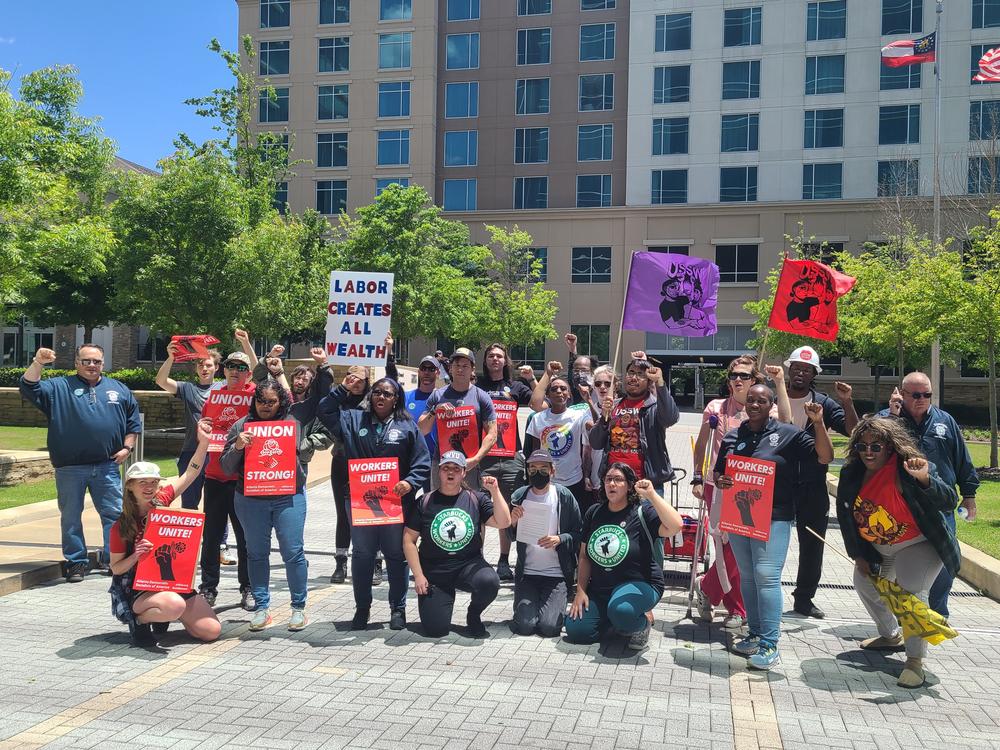 Unionized Starbucks workers from across the state rallied at the company's regional corporate office in Atlanta to hand over a list of demands for better working conditions.
Starbucks Workers United is the barista union. Members in Georgia are demanding $20 hourly pay, health insurance coverage, guaranteed hours, and a safe environment for those in non-union stores to organize.
Atlanta Starbucks worker Amanda Rivera said this is about advocating for workers' rights.
"We would much rather be in the store making coffee and being able to go home and live our lives," she said. "But instead, we have to be outside in the rain, in the wind and, y'know, in the blazing sun because Starbucks will not legally come to the table — which they are legally obliged to do."
Georgia locations with unions include Atlanta, Alpharetta and Augusta. Edgar Garcia-Lopez works at a Starbucks in Atlanta. He said one problem he wants to see changed is pay increases going to new employees but not the longtime staff.
"I have a friend who works at Starbucks and they're still making, I think, $13 or $12 [per hour] and I'm making $15," Garcia Lopez said. "Which is like a huge difference, especially because, you have to pay rent and all this other stuff."
A spokesperson for Starbucks clarified to GPB that the company pays hourly workers an average wage of $17.50 per hour, with a wage floor for U.S. workers at $15 per hour.
Starbucks and Starbucks Workers United are currently involved in a dispute over whether union members can attend bargaining virtually (i.e. via Zoom).
In the year since Georgia workers have unionized, Starbucks said that the company and Starbucks Workers United "have not reached any tentative agreements related to specific proposals."
According to Starbucks Workers United, more than 300 stores across the country are unionized.
Correction
An earlier version of this story did not include Starbucks' average wage range and details about bargaining with Starbucks Workers United.
Secondary Content
Bottom Content