Section Branding
Header Content
Savannah State leader resigning amid declining enrollment
Primary Content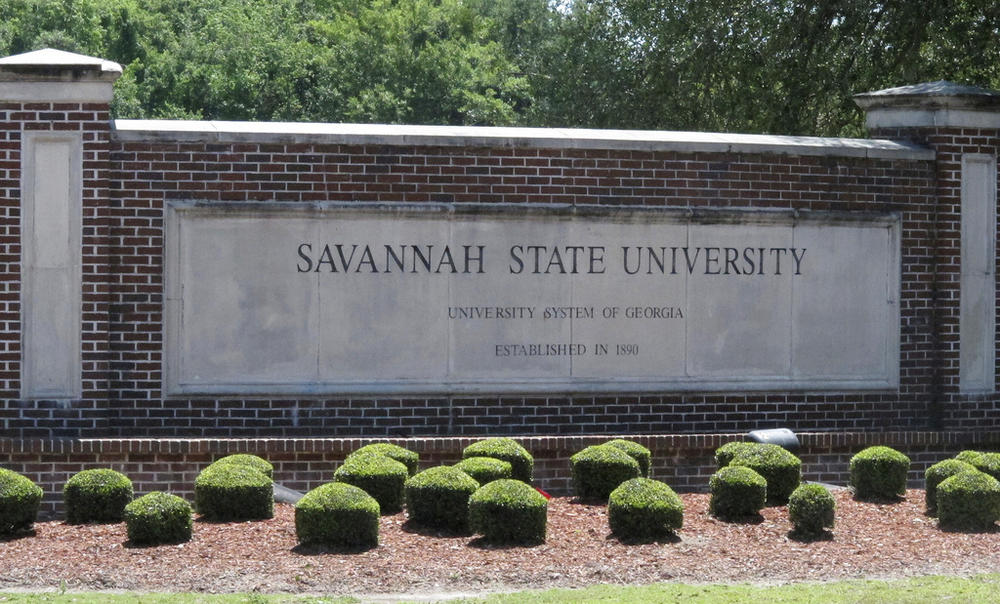 The president of Georgia's oldest historically Black public university is resigning amid employee layoffs sparked by declining enrollment and a faculty revolt against a top administrator.
Savannah State University President Kimberly Ballard-Washington announced Thursday that she would step down on June 30. The school on Friday announced it was laying off 27 employees on the same day, which is the last day of the state budget year.
Student numbers are shrinking, which in turn drags down the amount of state aid that Savannah State gets, because aid is generally driven by enrollment.
Ballard-Washington wrote in a letter to faculty, students and staff that she was stepping down due to "personal issues."
She'll be replaced by Cynthia Robinson Alexander, who will become interim president on July 1, University System of Georgia Chancellor Sonny Perdue announced. Alexander is currently the system's associate vice chancellor for finance.
Perdue didn't say how or when regents might name a permanent replacement, and system spokesperson Kristina Torres declined to comment further on Monday. Torres didn't say if the Board of Regents or Perdue asked Ballard-Washington to resign.
Ballard-Washington was a longtime lawyer for the University System of Georgia and the University of Georgia before regents sent her to take charge of Savannah State in 2019. In recent months, the campus has been roiled by a reorganization plan that eliminates majors in English, history, environmental science and Africana studies. Documents obtained last year by the Savannah Morning News show the cuts could save $900,000.
Ballard-Washington told WTOC-TV that in addition to the program cuts, the university may close some buildings to reduce utility costs. The university has ended some faculty contracts and is freezing hiring for vacant positions.
"It tugs at your heartstrings when you want to make a difference, but you can't make the difference that you want to make," she told WTOC-TV Friday. "I think I moved the needle a bit, but the needle needs to be moved further and I'm stepping aside so someone else can come and do that."
Savannah State's finances have been up and down in recent years. In the 2022 budget year, the school eked out a $71,000 cash gain, financial statements show, but that was bolstered by a one-time injection of $11 million in federal coronavirus aid. Savannah State saw cash fall by $3.4 million in 2021, after increasing by $3.5 million in 2020.
Enrollment at Savannah State, which used to hover just under 5,000 students, has fallen for six straight years, and was only 2,962 in fall of 2022, down 40% from 2016.
Other regional universities in Georgia have seen enrollment declines, but not as steep. The seven other universities that regents consider to be in the same class as Savannah State saw overall enrollment fall 6% from 2016 until 2022. Fort Valley State University, another historically Black school in Georgia, saw enrollment fall 3% since 2016.
State appropriations to public universities are based on a two-year lag in enrollment data, which means Savannah State is looking at several years of declines in state aid even if enrollment turns around soon.
Ballard-Washington has also been dogged by faculty discontent with one of her top lieutenants. Faculty in the university's College of Liberal Arts and Sciences voted "no confidence" in Dean David Marshall's leadership in March.
That vote is nonbinding, but the Savannah Morning News reported that system officials met with Marshall and professors last week, planning a report that will recommend whether Marshall should remain in his position.
Ballard-Washington has said she supports due process for Marshall and that the faculty complaints lack specifics. Part of the discontent involves the suspension of academic programs and questions of whether faculty can work from home, while other complaints say Marshall has belittled and abused professors. Marshall has denied misconduct.
Secondary Content
Bottom Content