Section Branding
Header Content
A look at how many Georgia football players were selected in the NFL Draft
Primary Content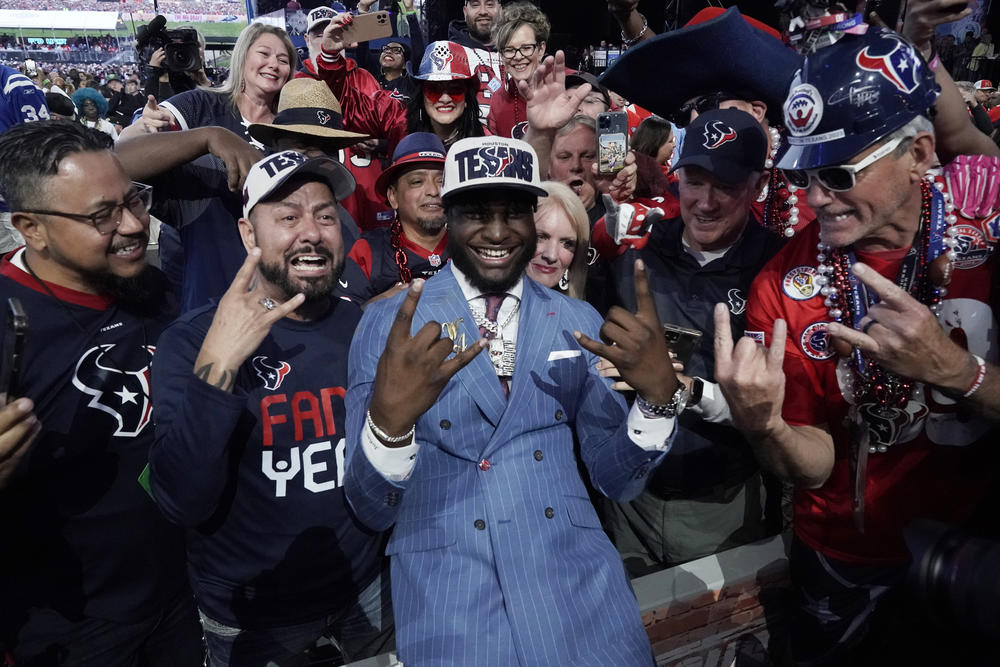 "With the first pick in the 2023 NFL Draft..." 
Those are the words NFL Commissioner Roger Goodell starts each one of these yearly gatherings so all fans of the league's 32 franchises can restart their optimism over a new season that is still a few months away.
But for fans of college and high school football in the state of Georgia, the draft turns into a yearly affirmation of the talent on hand. A Georgian wasn't quite the first pick, but fans of football here didn't have to wait long for their first taste of impact. 
The Houston Texans traded up to the No. 3 overall spot to select Dutchtown High School and University of Alabama defensive end Will Anderson.
Anderson would be one of 259 players taken, 25 overall from Georgia's high school ranks — almost 10% of the entire haul. 
GPB's resident recruiting guru and draftnik, Matt Stewart, gets full credit for that math.  
Here's the high school breakdown that shows the breadth and depth of the No. 3 state in the country that sends players to the next level. Each school had at least one former player selected in the NFL Draft:
North Clayton  
South Gwinnett  
Peachtree Ridge (2) 
Ola  
Brookwood  
Grayson (2)
Hapeville Charter  
Brunswick  
Calhoun 
Archer (2)
Pierce County 
Colquitt County  
Lee County  
Marietta  
Sandy Creek  
North Gwinnett (2)
Callaway  
Dutchtown  
Dalton  
Lithonia  
Hillgrove  
Those last four schools mentioned had alumni taken in the first round: Dutchtown's Anderson; running back Jahmyr Gibbs from Dalton High went 12th overall to the Detroit Lions; Lithonia's (and University of Georgia's) offensive tackle Broderick Jones is headed to the Pittsburgh Steelers, and Hillgrove's Myles Murphy went 28th to the Kansas City Chiefs.  
To carry your sample sizes further: 10 of the 25 overall came from Gwinnett County alone — North Gwinnett, Archer, Grayson and South Gwinnett.
From a college perspective, UGA tied its SEC counterpart in Tuscaloosa, Alabama with 10 players taken over the draft weekend. Georgia Tech had a player taken and Kennesaw State got to see its piece of history as defensive end Travis Bell was selected as the first-ever Owl selection as the first pick in Round 7, 218th overall.
Not to be outdone, Georgia Military College in Milledgeville had two of its former junior college standouts taken, both in Round 3: Louisville's YaYa Diaby and Tennessee's Byron Young went to the Tampa Bay Buccaneers and the Los Angeles Rams, respectively.
UGA had its 10 follow up last year's NFL Draft seven-round record of 15 players selected. The Philadelphia Eagles alone selected three Georgia Bulldogs players: DE Jalen Carter, linebacker Nolan Smith, and cornerback Kelee Ringo. That makes five Bulldogs having made their way to Philly in the last two drafts.  
The Steelers and Rams also took multiple players from Athens as Darnell Washington joins Jones in Pittsburgh and Los Angeles took quarterback Stetson Bennett and offensive lineman Warren McClendon.  
For Georgia high school and college players who weren't drafted, hope is not lost: Their next step is to get phone calls to attend rookie training camps as undrafted free agents. The opportunity to follow their progress will come in very short order — 32 times over. 
Secondary Content
Bottom Content