Section Branding
Header Content
Hartsfield-Jackson to target new international routes with incentives
Primary Content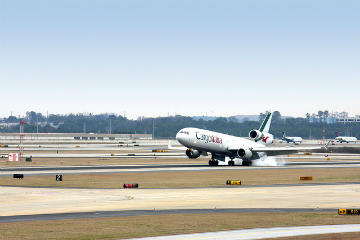 Atlanta's Hartsfield-Jackson International Airport is trying to lure back international flights.
That's because while domestic travel largely has recovered from pandemic lows, international flights at Hartsfield-Jackson are still down 11% from 2019 numbers, according to industry analytics firm Cirium.
The airport now is starting a program to offer airlines financial incentives for new international routes.
Cirium spokesman Mike Arnot says routes and carriers that Hartsfield-Jackson especially might want to target include Play Airlines for Reykjavik, Iceland; Porter Airlines for Toronto and Japan Airlines for Tokyo.
"Delta used to fly a fair amount of flights to Tokyo-Narita," Arnot said. "They're trying to attract service now that Delta has not returned those flights."
The airport's highest incentives target new African and Asian routes.
If an airline hasn't served Hartsfield-Jackson over the past 12 months and establishes a year-round, nonstop service to an African or Asian city not currently served by the airport, it will receive $500,000.
"Incentives can absolutely work," Arnot said. "And the reason they work is the economic impact of a single international flight can be huge."
The airport has 69 international routes this month, according to a Hartsfield-Jackson spokesperson.
Atlanta-based Delta Air Lines recently restarted or added new service to seven destinations, including Cape Town, South Africa; Cozumel, Mexico, and Edinburgh, Scotland.
"This is the last piece to come back from the pandemic," said Joe Miller, Delta's Vice President of Airport Operations.  "The key for us here in Atlanta is continued expansion of international. That will be our engine of growth here."
In addition to passenger service, the incentives also seek to attract new international cargo service.
The cargo incentives target Asia and South America.
Secondary Content
Bottom Content