Section Branding
Header Content
Tybee Island preps for unpermitted 'Peach Fest,' explores legal options for limiting future access
Primary Content
LISTEN: Following last weekend's much larger than expected "Orange Crush" spring break gathering, Tybee Island's mayor is vowing an increased police presence for an anticipated follow-up event. GPB's Benjamin Payne reports.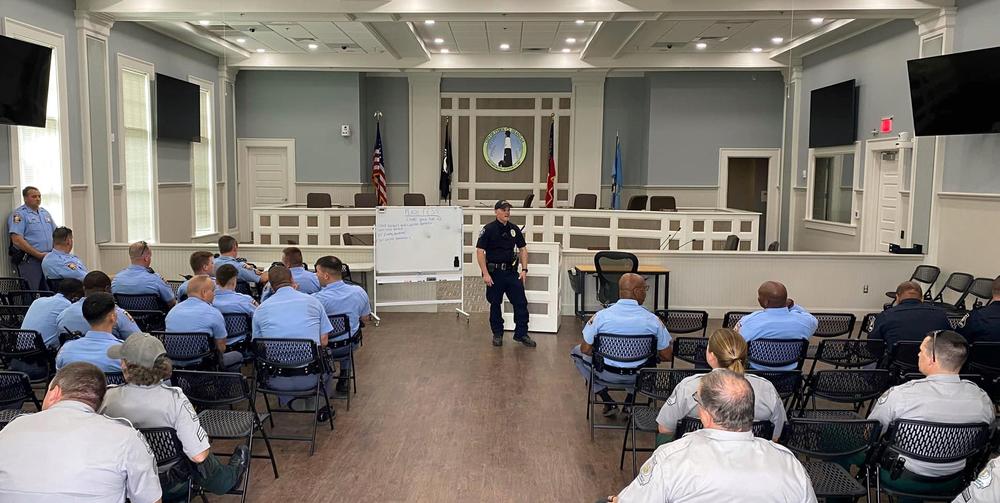 Just days after an estimated 40,000 to 50,000 people descended on Tybee Island during the popular spring break gathering known as Orange Crush, the coastal community is bracing for a potential second round of partiers this weekend for another unpermitted event in what is being promoted on social media as "Peach Fest."
Tybee Island Mayor Shirley Sessions said that there will be a larger police presence than the roughly 75 officers and code enforcement personnel who patrolled during Orange Crush last weekend.
"It was very, very lacking," Sessions said. "We're not going to be caught short this time."
Sessions said that city staff had used estimates from Tybee's most recent Orange Crush in 2019 — which she said drew between 7,000 and 10,000 people — to inform staffing levels for last weekend.
"I think that we can no longer afford to look at the past to predict the future," she said.
In addition to the added police presence this weekend, the city plans to mobilize more emergency responders, including its fire department. On Friday morning, Tybee Island Police Lt. Emory Randolph met with what the police department described as a "large contingent" of officers from the Georgia State Patrol, the Department of Natural Resources and the Motor Carrier Compliance Division.
"Some people will probably think we're doing too much," Sessions said. "I don't think so. This is a problem bigger than Tybee now. This has extended into our neighboring communities because of the traffic and because there were parties going on in Savannah and the Chatham County area."
The Chatham County Police Department said that it would increase its staffing this weekend for traffic control and emergency response on U.S. Highway 80 — the only roadway which leads into and out of Tybee Island — as well as on nearby Wilmington Island and Talahi Island.
Sessions said that Tybee Island city attorneys are "looking into what we can do to have better control" over how many people can access the island for future events — a move she acknowledged would be legally challenging.
"Because we receive beach renourishment funding, thankfully, from our federal government, the beach is a public beach," Sessions said. "We've been told that we can't stop people from coming here."
"The fact is we have a certain amount of infrastructure, we have a certain amount of parking, and at some point, the island is saturated," she added. "We're a 3-mile[-long] island. And when there is an overage — and I use that term loosely — of vehicles and people in those vehicles, it really is not good for our island, is not good for the resources that we have to provide for our citizens, for our residents, and for our businesses and for our visitors."
The city has scheduled a moderated town hall on Thursday, May 4, to discuss "large-scale, often unpermitted events." The meeting is scheduled to begin at 6:30 p.m. inside city council chambers at 78 Van Horn Ave.
Secondary Content
Bottom Content