Section Branding
Header Content
From septic to sewer: How critical infrastructure helps transform a Middle Georgia town
Hero Image
Primary Content
McIntyre, a small city in Wilkinson County 30 miles east of Macon, broke ground Monday on a new public sewer system that's been years in the making. 
The new sewer system will cost around $20 million. State and federal funding will cover 85% of the cost, including $6.3 million earmarked by U.S. Sens. Jon Ossoff and Raphael Warnock last year. Additional money was awarded from the United States Department of Agriculture and the Georgia Environmental Finance Authority's Septic-to-Sewer program. 
Warnock and Ossoff joined city and county leaders at McIntyre City Hall on Monday to commemorate the start of construction on the sewer system. 
"Quite honestly, projects like this, which mean so much to this community, are why I put up with politics," Warnock said at the event.  
New pipes, lift stations and a wastewater treatment plant will be constructed and installed over a two-year period, said Meg Mbugua from RINDT engineers. 
The city's school system, which currently relies on a pond septic system, is planned to be the first facility to get connected. 
"Today has been a long day coming," McIntyre Mayor Vicki Horne said. "This project has faced roadblocks, challenging hurdles and unforeseen diversions." 
The new project comes after years of local attempts to establish an even bigger system. A community assessment from 2006 lists a proposed joint sewer system project to serve McIntyre, Irwinton and Toomsboro, with a projected cost of $13 million. But that project fell through.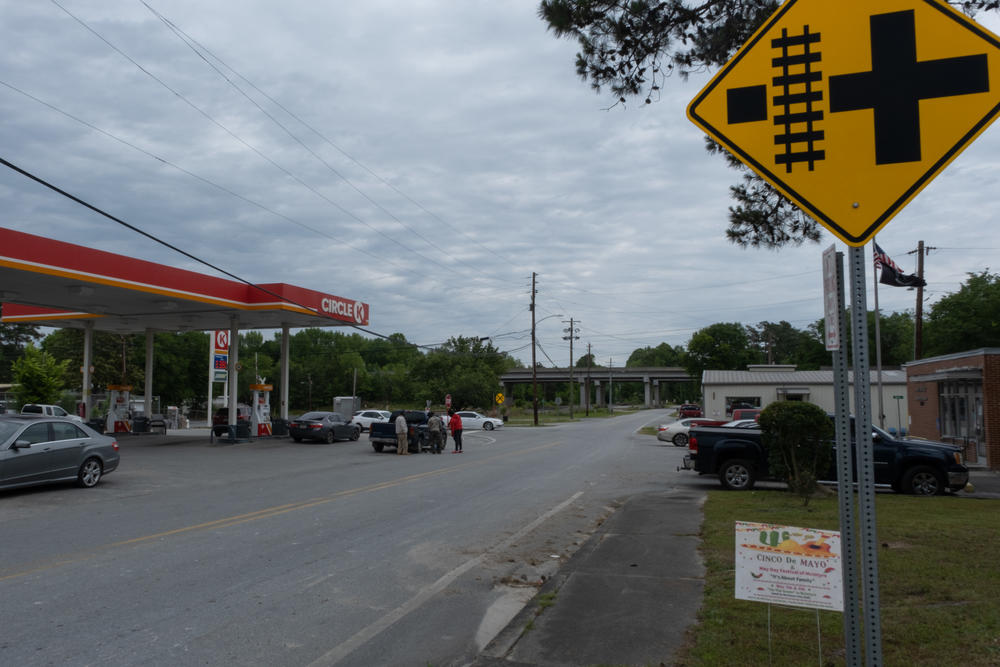 Gloria Scott Jackson was raised in McIntyre. She says she hopes the new infrastructure will attract more business to the area. 
"The kids need jobs," Scott Jackson said. "We need some places like, you know … Restaurants, grocery stores, cause we don't have a grocery store."
Over 34% of the people in McIntyre live below the poverty line. The community has largely relied on clay mining and other utilities for jobs. 
McIntyre is the third city in the county to install a sewer system. 
Why now?
When septic systems overflow, it can create environmental and public health risks. Those overflows becomes more likely with age. County leaders said most of McIntyre's residential and commercial septic systems are outdated and need constant repairs. 
Eugene Moore, a city council member in McIntyre, has lived in town since the 1960s. 
"The house I live in is close to 100 years old," Moore said. "And the septic system was that old, too.
Moore, who's had problems with his own septic system, said it's not uncommon for people to pay thousands of dollars on repairs, depending on the damage. 
"Septic tanks do work when they are installed right and when they're maintained," Mbugua said. "But you can't have it for 50, 60 years and do little to no maintenance and think it's going to work right."
Tina Davis is the environmental health specialist for Wilkinson County, with the Department of Public Health. DPH is in charge of monitoring and setting regulations for septic systems in the state. 
"A lot of older properties, we don't even have records for," Davis said, often because they were built too long ago or without regard for updated regulations. 
Without complete records, it's hard to know how many septic systems in McIntyre are up to code. 
Documents filed by the health department point to historic issues in the area, including a failing septic system at the Wilkinson County Law Enforcement Center reported in 2010, just 12 years after it was installed.
"As you are aware, the city of McIntyre and the surrounding communities are in desperate need of a Public Sewer System," a letter to Mbugua from the Wilkinson County Health Department reads, documenting the investigated violations. 
Other issues reported, such as discharge of sewage into ditches due to malfunctioning systems and drain lines that were too short, have likely been repaired since then, Mbugua said. 
But Davis points to environmental factors that put the aging infrastructure at a higher risk of failing. 
"When we have rains over there, since McIntyre is more low-lying than the surrounding area, all the water drains into McIntyre and sits there, so it floods the septic system out," Davis said. 
Compared to neighboring Irwinton, the county seat, McIntyre is at almost half the elevation in some areas. Heavier rains often means people have to get their septic tanks pumped. Research indicates that chance becomes more likely with increasingly unpredictable weather.   
McIntyre's soil also poses problems for the aging infrastructure. The city is historically known for its kaolin mining industry, the soft clay used to make porcelain and other products. But layers of clay underground can cause poor drainage and absorption, essential for treating wastewater in septic tanks. 
Though the new sewer system will solve all these problems, waiting for it has come at a cost. 
Moore said he's seen businesses come and go, such as the city's only drugstore. He describes several buildings that are dilapidated or empty. Besides the Subway in McIntyre, there's just one sit-down restaurant, in nearby Irwinton.
Moore thinks that's in part because of septic tanks.   
"You can't get a permit to build anything down here because of the septic system," Moore said. That's because regulations for septic tanks and drain fields mean new construction requires more land than it would if there was access to a sewer line — plus businesses would have to commit to costs for installation and upkeep of a septic system. 
But Moore, like other county leaders, is hopeful the new project is worth the effort. 
"We're delighted that it's finally happening," Moore said.
Secondary Content
Bottom Content