Section Branding
Header Content
Emory, Georgia Tech students camp out on campus in opposition to so-called 'Cop City'
Primary Content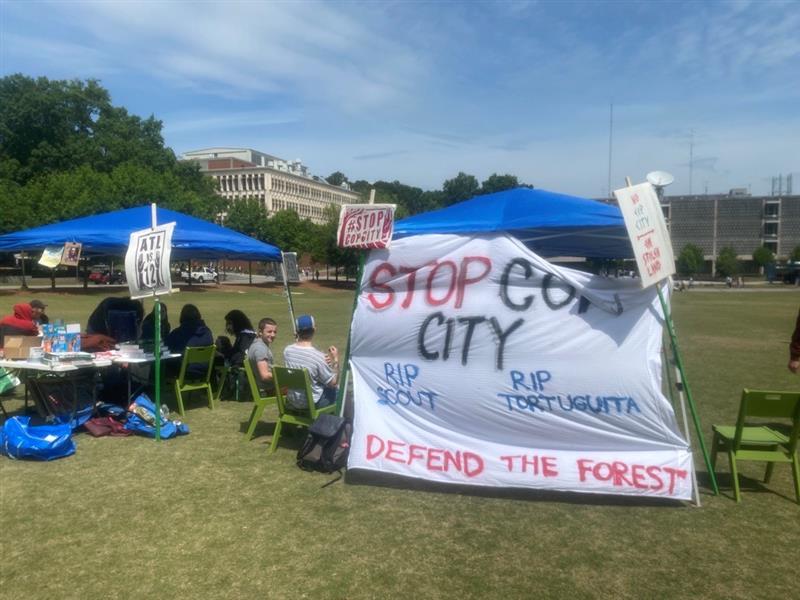 Students at Emory and Georgia Tech in Atlanta staged a day of action on Tuesday to protest the construction of the new Atlanta police training center in a DeKalb County park.
The student activists are asking their universities to cut ties with organizations related to the training facility, including the Atlanta Police Department.
Activists at Georgia Tech camped out for over 24 hours before campus police removed them early Wednesday, they said. Those at Emory were removed by police in the early hours Tuesday.
Jonissy Kadima, an Emory freshman who helped to organize the event, spoke of the encounter.
"When I saw the glaring headlights of the battalion of police cars that surrounded our quad, I felt unsafe," she said. "I felt scared. I felt ignored. And I thought that there had been a grave disservice committed against us and our fellow classmates. But despite the ugliness that unfolded last night, I'm truly inspired by our resolve and our potential. And what occurred last night is not simply an example of the violence, but also of all that we can achieve."
Emory is a private university, so it was easier for campus police to ask students to leave than at Georgia Tech, a public university.
Santana Afton, a mathematics Ph.D. student at Georgia Tech, said that the activists were recreating a gathering space that used to be in the South River Forest, before officials closed it to visitors. At Georgia Tech, students under canopies were playing music and cooking. 
Afton said it is important for Atlanta students to be activists.
 "These university institutions are one of the many channels of lifeblood into these institutions of militarism, imprisonment and policing," Afton said. "If we can really understand that these universities are really giving life to these institutions, then students have to be the population that they can really stop those channels and to create create institutions that are actually life giving instead of life taking."
Jaanaki Radhakrishnan, an Emory freshman and organizer, agreed.
"This is a matter of not just our futures, but the futures of everyone around us," she said.
Emory University released a statement regarding the student protest:
"While we are steadfast supporters of the rights of free speech and peaceful assembly, we also hold members of our community accountable to our code of conduct, local ordinances, and the law while taking steps to ensure their safety. About 20 students pitched tents on the Quad Monday night, which is not permitted. After a couple of hours, Emory Police calmly asked the students to vacate the area and explained that if they did not do so, the next step would be arrest. Students complied with the request and left the Quad."
Secondary Content
Bottom Content