Section Branding
Header Content
Voting rights groups target line relief ban in Georgia election law changes
Primary Content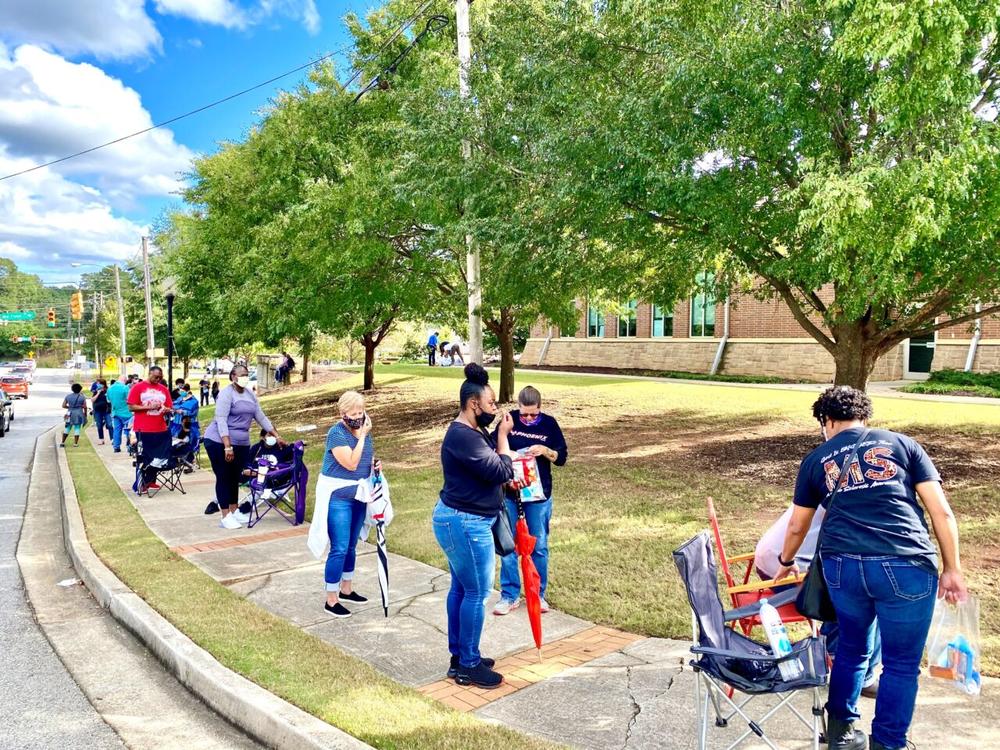 ATLANTA — Voting rights groups are going to federal court to block part of a law the General Assembly passed two years ago prohibiting volunteers from providing food and water to voters waiting in long lines at the polls.
Groups including the Southern Poverty Law Center and the American Civil Liberties Union of Georgia are seeking a preliminary injunction as part of a broader lawsuit that challenges changes to state election law Gov. Brian Kemp and Republican legislative leaders pushed through the General Assembly along party lines.
Senate Bill 202 requires voters seeking to cast absentee ballots to show a photo ID, a provision that already applied to in-person voting. The law also limits the number of absentee ballot drop boxes and prohibits non-poll workers from handing out food and drinks within 150 feet of voters standing in line.
"There can be no reason for denying food or water to people in long polling lines, other than trying to prevent them from exercising their freedom to vote," Poy Winichakul, senior staff attorney for voting rights with the Southern Poverty Law Center, said Monday. "These barriers to voting must be removed so all Georgians can have a voice to advocate for their communities in the crucial 2024 elections."
"Our clients used to be able to offer a bottle of water or a snack to voters waiting in long lines at the polls," added Rahul Garabadu, senior voting rights staff attorney at the ACLU of Georgia. "We're now asking the court to strike down the unlawful provisions of the ban so that our clients can provide crucial support to voters across our state."
The bill's supporters justified banning non-poll workers from handing out food and drinks to voters in line at polling locations as a way to prevent campaign volunteers from seeking to influence voters within an area that is legally off limits to campaigning.
Civil rights groups sought to block the line relief ban before last year's elections. But a federal judge denied the motion last August, arguing changing election laws close to an election would confuse voters.
However, the ruling only applied to last year's elections, leaving the door open for the law's opponents to seek court relief before next year's voting.
This story comes to GPB through a reporting partnership with Capitol Beat News Service.
Secondary Content
Bottom Content