Section Branding
Header Content
Antisemitic, anti-transgender flyers found in East Atlanta neighborhoods
Primary Content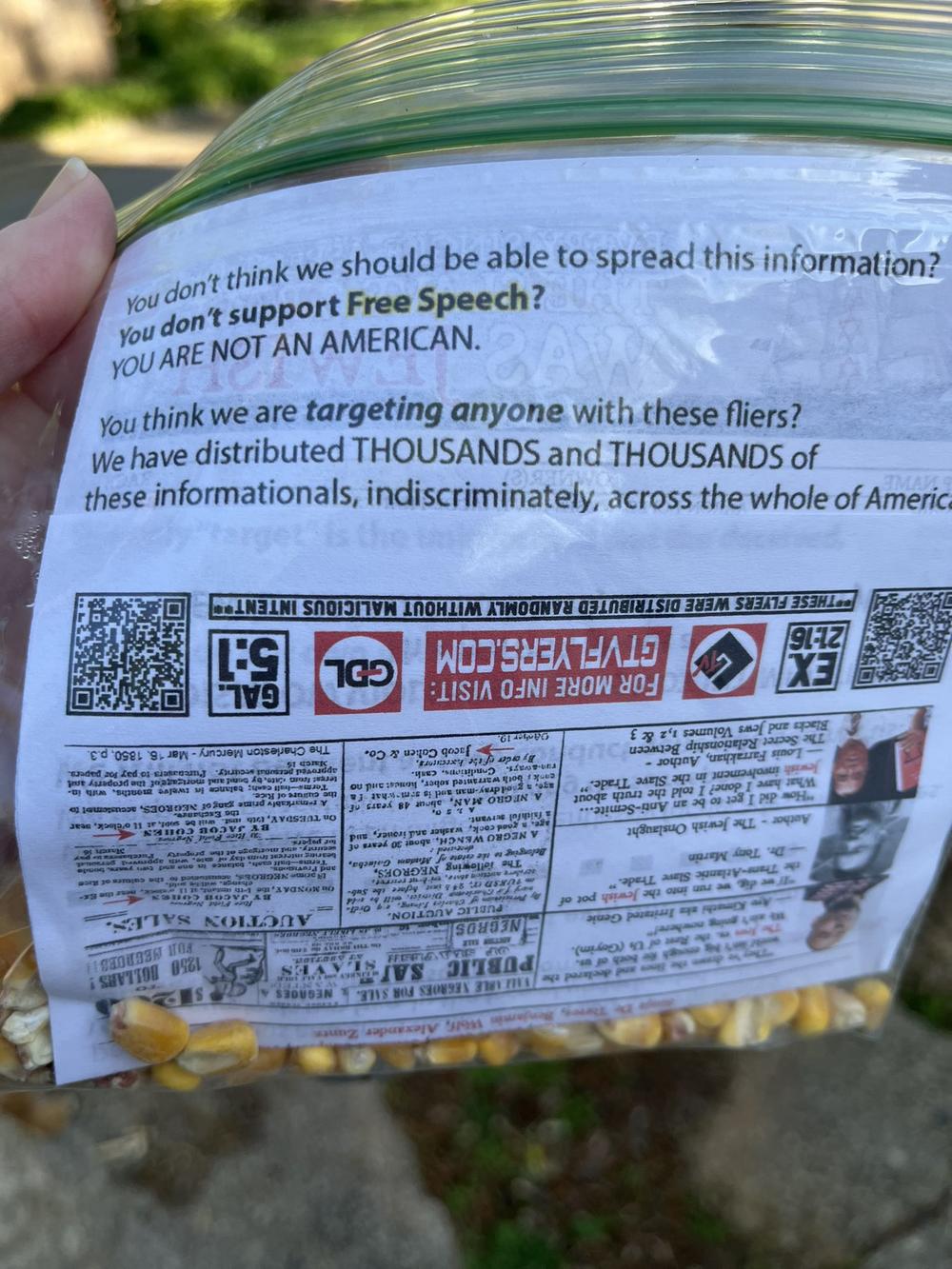 Residents in the Lake Claire, Candler Park, and Kirkwood neighborhoods discovered antisemitic and anti-transgender flyers on their sidewalks and driveways seemingly distributed late Saturday evening, April 22. 
Walking home from her neighbor's house Saturday evening around midnight, a woman was shocked to find the flyers on Lake Claire streets.
A few streets away, a neighbor was walking her dog early Sunday morning when she saw the same small plastic bags, weighted with corn, containing printed flyers with tropes about Jewish people and transphobia.
Flyers were found along Palifox Drive, Harold Avenue, and Hardendorf Avenue. 
Atlanta Police Department spokesman Officer Anthony Grant said Zone 6 command was aware of the flyers, and sent this statement to Rough Draft: 
The Atlanta Police Department has been made aware of antisemitic flyers found in the East Atlanta area. Our Homeland Security Unit was quickly notified and is investigating. At this time, we are not aware of any criminal acts related to the flyers. However, their distribution has led to a heightened level of awareness throughout our department and we have increased patrols around where the flyers were found. Anyone who may have observed or received one of these flyers is asked to notify us. You can report it by contacting your local precinct, calling our non-emergency line at 404-658-6666, by calling 911 or by calling Crime Stoppers. Information can be submitted anonymously to the Crime Stoppers Atlanta tip line at 404-577-TIPS (8477) or online at www.StopCrimeAtl.org.
Rep. Saira Draper (House Dist. 90) told Rough Draft she stands in support of the Jewish and transgender communities. 
"I am appalled and disgusted to learn that antisemitic and anti-transgender flyers were left on the driveways of homes in my district last night. This incident violates the personal security and well-being of our community members, and I'm calling on local law enforcement to investigate swiftly and hold those responsible to account.

This is not an isolated incident of hate. In fact, the group behind these flyers proudly claims it has distributed thousands of pieces of its propaganda throughout Georgia.

As a state legislator, I can't help but view this incident and our legislative policy choices as related. During the 2023 legislative session, the Georgia General Assembly failed to pass proposed legislation to curb rising rates of antisemitism. Concurrently, the General Assembly prioritized the passage of legislation that discriminates against and harms transgender children and their families. There is a direct line between these policy decisions and creating an environment that emboldens hate groups and normalizes discriminatory rhetoric. It's not enough for leaders to say they don't tolerate hate; our policy agenda must do the same."
Draper added, "I stand in solidarity with the Jewish community, the transgender community, and with anyone who has been targeted by hate and ignorance."
Draper laster posted on Twitter that she had heard from constituents in Candler Park and Kirkwood who had also found the fliers. 
Atlanta City Councilmember Lilliana Bakhtiari, who represents the area, released a statement on Monday calling the fliers "repugnant."
"Early yesterday, several neighbors within District 5 and the surrounding area awoke to repugnant anti-Semitic and anti-transgender fliers anonymously delivered to their doorstep.

"Since this act of hate first came to light, my Office has been in regular communication with the Atlanta Police Department's Homeland Security Unit as well as leaders within the impacted communities, and I will continue to extend myself — and my platform — as a resource to any person targeted on the basis of exclusion.

"In a City Too Busy to Hate, this vile propaganda has no place in the City of Atlanta. Ours is a safe, inclusive, and welcoming community, and these efforts to intimidate will not be tolerated."
LGBTQ advocacy group Georgia Equality called the flyers "fear-mongering rhetoric" was part of a larger effort by "extremist politicians" who spread disinformation and false claims of grooming and sexualizing children. 
"Make no mistake, all of this fear-mongering rhetoric directly correlates to an increase in violence against the LGBTQ community and — more specifically — the transgender community. Already in April, two Black transgender women, Ashley Burton and Koko Williams, have been murdered in Atlanta. While extremist politicians seek to capitalize on divisions and sow hate against the LGBTQ community, transgender Georgians are paying the consequences."
A report by the Anti-Defamation League shows a 63% increase in antisemitism in Georgia, which became part of the debate over a hate crime bill during the 2023 legislative session. The bill did not pass. 
Similar antisemitic flyers were distributed in neighborhoods in Sandy Springs and Dunwoody back in February. 
This story comes to GPB through a reporting partnership with Rough Draft Atlanta.
Secondary Content
Bottom Content