Section Branding
Header Content
New Columbus housing development will provide access to healthcare for residents
Primary Content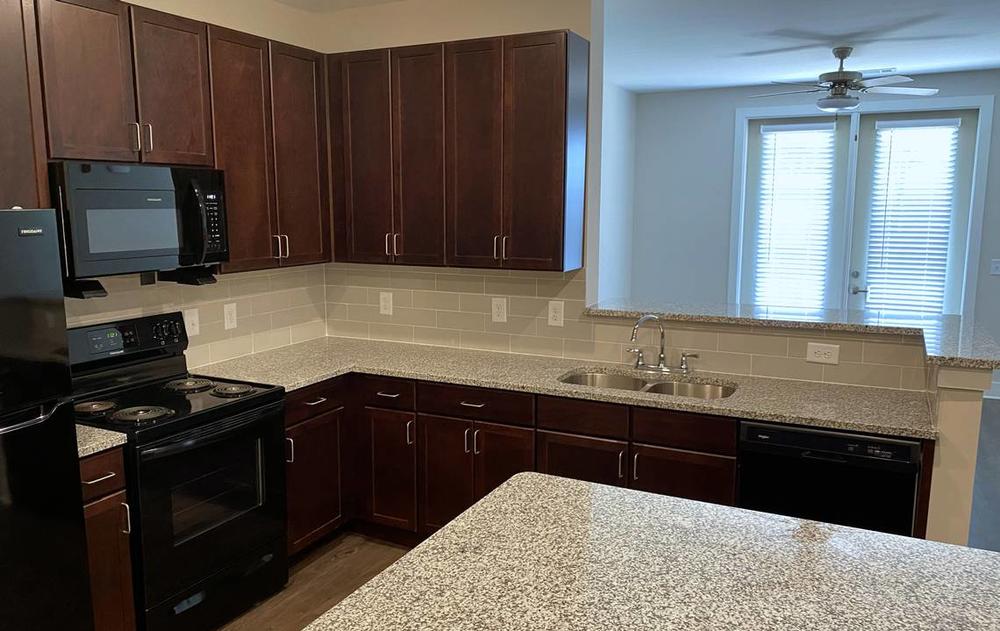 A new $30 million mixed-income housing development opened in Columbus Tuesday that is the first phase of revitalizing the Louis T. Chase Homes and will provide access to preventive healthcare services for its residents.
The Banks at Mill Village features 102 units and offers amenities that include a community room, fitness center, onsite laundry, business center, playground, dog park and community garden. There are one- to three-bedroom apartment homes available with fully equipped kitchens, energy efficient appliances and views of the Columbus Riverwalk.
MercyMed, a medical center with a mission to treat all individuals whether or not they have insurance, is partnering with Mercer University School of Medicine to staff an on-site health clinic. Residents of the community and existing MercyMed patients will have access to primary care including preventative dental, behavioral health and wellness services.
Of the 102 units available, 21 remain available, said Marla Cardona, who works in the leasing office. The community has four buildings with 91 affordable units and 11 market rate units. A one-bedroom market-rate apartment will run between $895 to $910, Cardona said, and rent for a two-bedroom will cost about $1,075.
Residents of the Chase homes had the opportunity to get units in the Banks at Mill Village, she said, and a handful of the residents have returned.
Brandy Underwood and her daughter, Faith, moved into their apartment about a month ago. The development provided a great opportunity for the family, she told the Ledger-Enquirer, so she applied for a unit over the summer.
"It was just a blessing," Underwood said. "My daughter and I were living in a motel before we moved here."
When the two moved into the home, Underwood and her daughter were happy about the beauty of the units and the amenities. Faith, 7, enjoyed the availability of the playground.
"I'm lucky enough to be on the back side, and so my backyard is the river," Underwood said. "And that's definitely my favorite part."
Construction of the property has been in the works for several years, said Lisa Walters, CEO of the Housing Authority of Columbus, Georgia (HACG).
"It's been a wonderful experience for the residents and the community as a whole for the Mill District," Walters said. "We hope that this development here is a catalyst for additional growth in the Mill District area."
Funding for the development came from an allocation of federal and state Low Income Housing Tax Credits from the Georgia Department of Community Affairs in November 2019, along with HACG Moving to Work funds, a private construction loan, deferred developer fees and funding from the City of Columbus. '
Columbia Residential, an integrated real estate development and management company, has partnered with the HACG to help develop, fund and manage the property, said Carmen Chubb, president of Columbia Residential.
The company will continue working on-site with the property management team for the first year, she said.
"We generally only get involved (with a project) when what we're doing is going to transform housing for the community," Chubb said.
The fact that Banks at Mill Village is focused on healthy housing with its partnership with MercyMed and economic mobility made it an ideal project to get involved with, she said.
One of the reasons that made this project important was because the original Louis T. Chase homes were too close to a power station and the railroad tracks, Walters said.
"We were hoping to move it farther away from that area to make it safer for the residents," Walters said.
Another new Banks resident, Marion Bass, was excited about his new home because it was handicapped accessible and he has access to MercyMed. Finding housing in Columbus to accommodate his disability has been difficult, he said, but now that he is living at Banks he feels more optimistic about his living arrangements and healthcare.
"They did all they could do here," Bass said. "And I was like, 'Oh, my goodness.' I'm in a good spot."
He is now closer to his specialists, restaurants and grocery stores, he said, and his close family members are happy that he now has the care he needs and safe housing.
"This is housing that is available to the residents of Columbus," Chubb said. "And the development, the design, is all taken into consideration the historic character of the Mill District."
This story comes to GPB through a reporting partnership with Ledger-Inquirer.
Secondary Content
Bottom Content