WATCH LIVE | GHSA Football Class A Division I Championship: Swainsboro vs. Prince Avenue Christian, At 4 P.M.
Section Branding
Header Content
'We're here to compete': Georgia State launches student-run record label
Primary Content
LISTEN: GPB's Amanda Andrews reports on Georgia State University's School of Music and its MTM Standard label.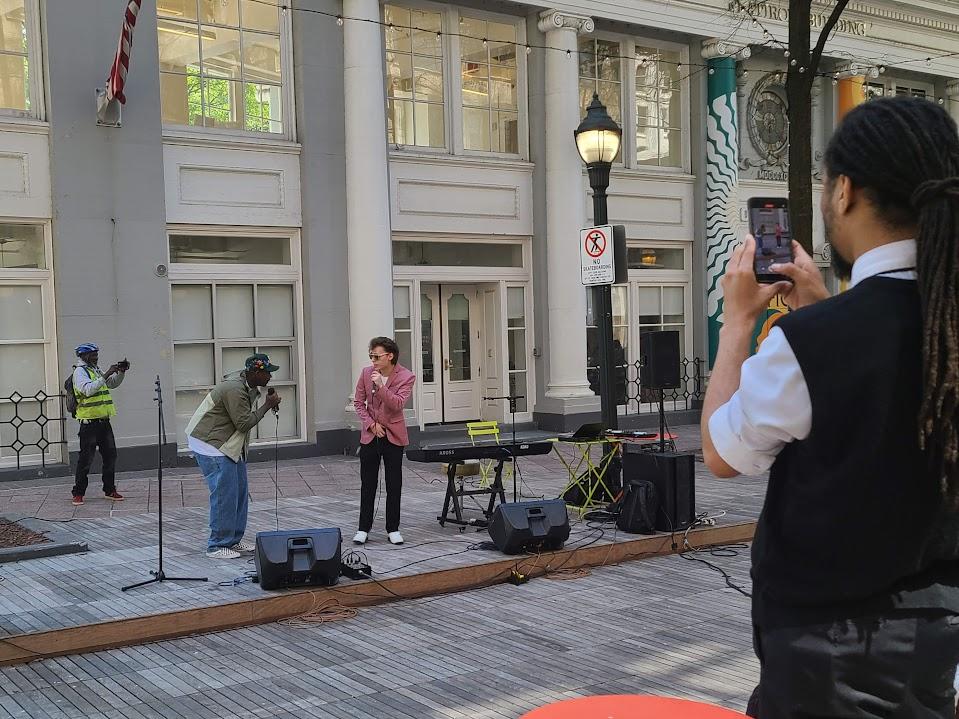 On Thursday afternoons in downtown Atlanta, the usual sounds of cars and buses are being interrupted by live music. That's because Georgia State University's student-run music label, MTM Standard, recently began a series of weekly outdoor concerts to showcase its artists.
GSU senior Noah Holland said performing on Broad Street near prominent Atlanta landmarks is surreal.
"It's kind of like a dream come true," Holland said. "I remember when I first came to Atlanta four years ago, and I was kind of a starry-eyed kid from the Midwest with the whole rock star dream. And now I perform downtown Atlanta, right in the center by Five Points on Peachtree and Auburn Avenue, which is like super-historical."
MTM Standard, a new venture this semester at the university, was created using funding from GSU's Research Innovation and Scholarly Excellence challenge. The goal of the label is to support the musical talent on campus and give students in the school of music experience in the music industry before graduation.
So far, the program has attracted many students with big dreams, like Omar Ruiz, better known as Dreilu.
"Of course I want to be recognized with my music, but I feel like more than that, I want to be the person who creates the music industry in my country Ecuador," he said.
The MTM label name is taken from the university's code for classes in the School of Music, such as "MTM 3010: Intro to Music Industry." It also stands for "make the music, manage the music, and move the music" — which are all services the label offers.
GSU sophomore Noa Freeman, who goes by Noa on stage, learned from her parents who work in Atlanta's music industry. Noa said the label has a lot to offer her as an artist.
"They have this thing where they're able to send songs to managers and CEOs to where they can put it on movies and TV shows and stuff like that," she said. "So they'll help with that, 'cause I have no access to that."
Another MTM artist, Simon Huaman, better known as 40iv, has been creating electronic music as a DJ on his own. He said the label opens up opportunities for him to have a platform.
"It really gave me the opportunity to finally take what I had and take it to the next level," he said. "You know, having that distribution and having that marketing, having that experience and having a team of people that are working together and figuring out different things to put your music out there."
School of Music professors Al Thrash and Ben Yonas guide students through the ins and outs of the music industry. Yonas said MTM Standard goes beyond what students learn in textbooks.
"You have students who, like I said earlier, have been studying in production, [but] maybe haven't been part of the rollout of a release or, you know, overseen a campaign or the build of all the content marketing that one needs to be successful in music," he said.
Now students like Owen Reece are doing the work.
"I've done more hands-on things in the past four or five, six months than I've done in my entire life," he said.
Reece said it doesn't feel like work. It's a passion, and he's glad to get this foundation now through working on GSU's concert series.
"It's definitely a learning process, but I think it's one that, like I said earlier, if we didn't do it now, it would have been much later and we would have been worse off," Reece said. "So I'm glad we're doing it now. And yeah, I think today is like a good stepping stone to what's eventually going to be larger events and productions."
Preparing students for careers with larger productions is the goal. Thrash said the label's work was never just a school assignment.
"We're here to compete," he said. "You know, we want playlisting. We want to get Grammy-nominated for some of these releases because our artists, our student artists, are making some incredible music and we want to share it with the world — the way that Sony or Columbia or any other major label would do so."
This fall, more students will get out of the books and into the music industry with a new course. Yonas and Thrash will co-teach record label operations as a capstone for students in the music production and music business programs.
The most recent MTM Standard artist updates, events, and music releases can be found on the label's website and Instagram. 
Secondary Content
Bottom Content