Section Branding
Header Content
'School spirit' sneakers: how one nonprofit fulfilled a wish for a Valdosta student
Primary Content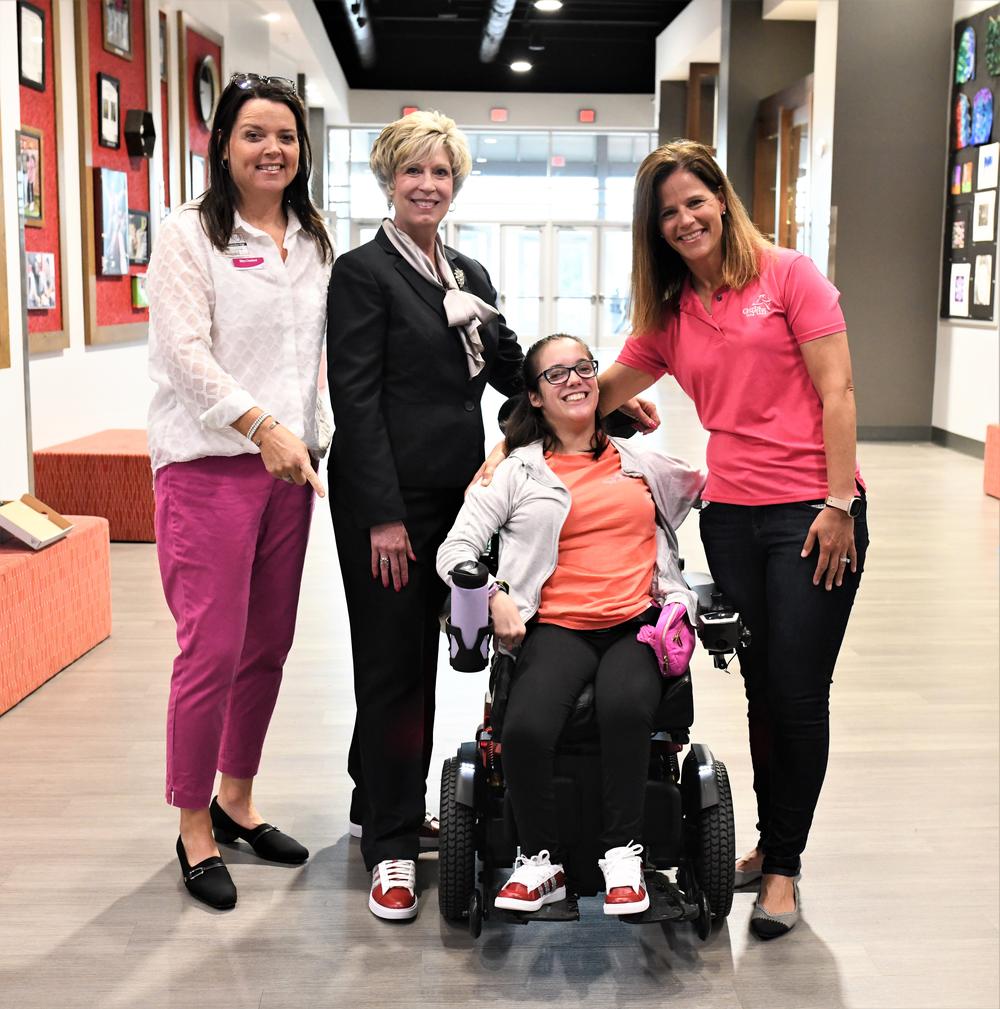 Ninth-grade student Allea Christopher gained attention at Lowndes High School in Valdosta for her collection of Adidas shoes. 
When Lowndes High School Principal LeAnne McCall noticed Christopher was wearing gold and black shoes, the colors of the rival school, she asked why. Christopher told her that Adidas does not make Crimson shoes, Lowndes High School's color.
"Allea is always dressed to the nines. She always looks amazing every day," McCall said. 
The pair made a video and sent it to Adidas, asking the company to add crimson shoes. Christopher uses a wheelchair and has small feet, which limits the shoes available to her. 
Christopher and McCall's video grabbed the attention of Claire Walton and Mary Crawford from Girls on the Run South Georgia, who knew they had to make this dream reality. 
Girls on the Run is a national non-profit dedicated to teaching girls life lessons and about setting goals. The South Georgia chapter meets after schools and the girls learn how to run a 5k. 
''I saw the opportunity and just said, 'We've got to we got to be a part of this. She's really special. The school is really special.' And so I felt like it was a chance to kind of spread some joy and some goodness and kindness in the world, when sometimes we get bogged down in all the ugliness," Claire Walton said. 
Christopher was a member of Girls on the Run in elementary school, and Walton first met her when she participated in the 5k.
"I remember she told her coach she was going to use her speedy wheelchair, that she was going to use the fast one, because she was going to do it super-fast," Walton said. 
Walton called Wade Custom Shoes Company, located in Valdosta, to help Christopher get her dream shoes. The final product was crimson shoes with bedazzled accents and an illustration of the school's mascot, the Vikings, on the sole. 
Walton presented the shoes to Christopher at school, surrounded by her peers. She gave McCall a matching pair. 
"Giving the shoes to Allea was really a very special moment. She was so excited. She gave me a big hug and she put on a big smile, and just it was just a moment that I will remember forever," Walton said.
Christopher said she wears her shoes almost every day, and cherishes the connection with Girls on the Run. 
"I feel an awesome relationship with those girls, and I can't thank them enough for making these shoes happen for me," she said. "I love my shoes to beyond infinity."
McCall often coordinates with Christopher to wear her shoes to school on the same day. She said, "Allea just brings joy to our entire student body. She's always has a smile on her face, is always in a great mood."
Secondary Content
Bottom Content