Section Branding
Header Content
Mayor extends ban on redevelopment of Atlanta Medical Center site
Primary Content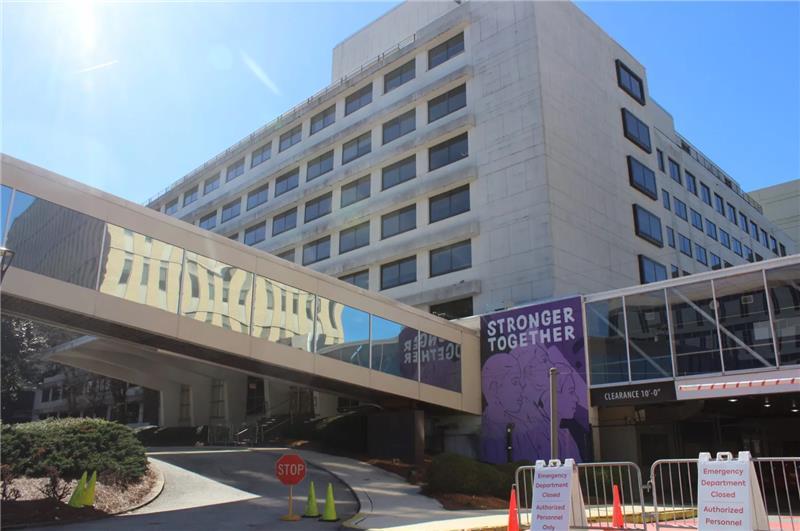 Mayor Andre Dickens signed an executive order on Monday extending the ban on new development at the Atlanta Medical Center site in Old Fourth Ward.
The Atlanta City Council is expected to approve the mayor's executive order at its May 1 meeting to extend the development moratorium for 180 days, according to legislation introduced at Monday's council meeting.
Dickens' executive order directs the Department of City Planning to refuse any applications for rezoning, building permits, land disturbances or other development plans within Atlanta Medical Center's 25-acre footprint.
Dickens issued similar executive orders last year when Wellstar Health Care announced it was closing the 460-bed hospital. The council approved the executive orders and issued a six-month redevelopment moratorium in October. That moratorium expired April 16.
The nonprofit Wellstar, one of the state's largest health systems, said it was forced to close AMC due to heavy revenue losses. The announcement shocked city and county leaders. They said the 120-year-old hospital played a key role in Atlanta's health care ecosystem because it served some of Atlanta's most vulnerable people, including low-income and Black residents.
Dickens has said the moratoriums ensure AMC's prime real estate in the heart of booming Old Fourth Ward is not redeveloped with "luxury condos." The mayor has also said he is working with local, regional and state elected and healthcare officials to ensure the future development of the property includes healthcare services, such as another, perhaps smaller, hospital.
The planning review underway for what to do with the AMC site must take into account that numerous parcels are divided into several zoning categories, such as C-1 Community Business District Regulations, C-2 Commercial Service District and C-4 Central Area Commercial Residential District. Some of the properties are also located with the Beltline Overlay District and Beltline Affordable Workforce Housing District.
Wellstar also closed its AMC South facility in East Point last year citing low revenue. The hospital also served mostly Black and low-income people and left those living south of Interstate 20 without an emergency room and other medical services.
Last month, the Fulton County Commission approved a resolution requesting the U.S. Department of Justice investigate Wellstar for "health care redlining" after closing two Atlanta hospitals used primarily by Black and lower-income residents.
The NAACP and state lawmakers have also filed two federal complaints over Wellstar's closures of Atlanta Medical Center and Atlanta Medical Center South, alleging the health system discriminated against Black patients.
Wellstar issued a statement that said it "does not and has not discriminated against patients or communities of color — any suggestion otherwise is shameful and patently false."
Last month, Wellstar reached an agreement to take over Augusta University Medical Center and Children's Hospital of Georgia, also located in Augusta.
This story comes to GPB through a reporting partnership with Rough Draft Atlanta
Secondary Content
Bottom Content