Section Branding
Header Content
Recently damaged Savannah federal courthouse a 'product of its time,' says architectural historian
Primary Content
LISTEN: The chair of architectural history at the Savannah College of Art and Design described the building as both classical and modern for its time. GPB's Benjamin Payne reports.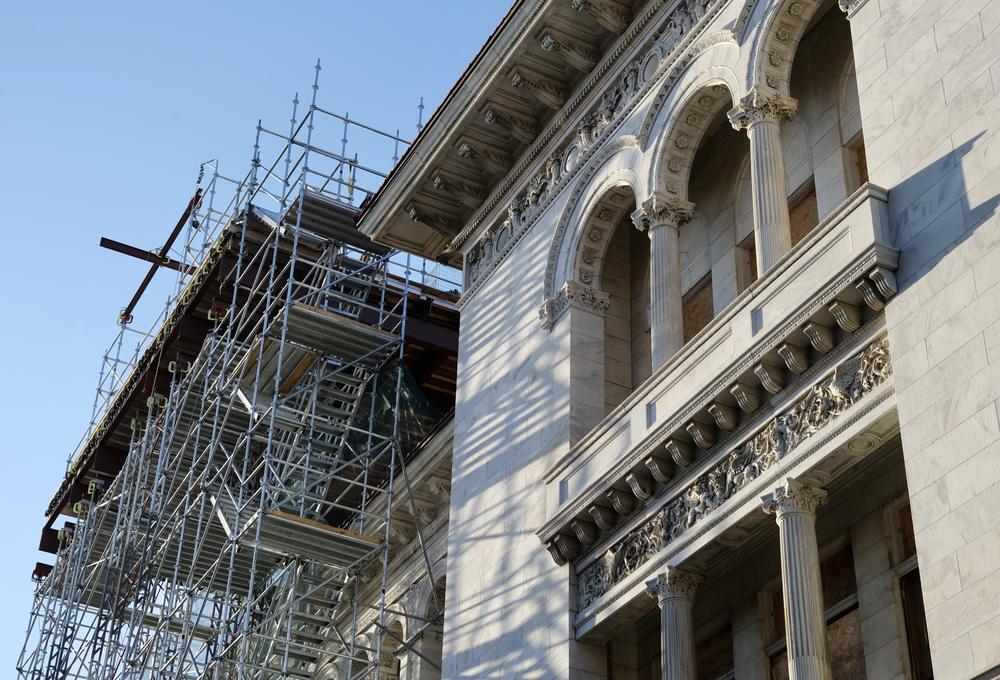 As structural engineers continue to try to determine what caused a partial collapse of Savannah's federal courthouse last week, the building's condition is cause for concern, owing to its architectural significance.
Little is known about the extent of the damage, aside from it being a roughly 30-square-foot portion of the third floor collapsing onto the second floor, according to the Savannah Fire Department.
No one was critically injured, and construction remains halted until engineers deem the building safe.
Occupying an entire block in the downtown Historic District, the Tomochichi Federal Building and U.S. Courthouse was designed and built in the 1890s in the Second Renaissance Revival style with white marble and elaborate ornamentation.
Savannah College of Art and Design architectural history chair Robin B. Williams called the courthouse a "lavish, beautifully crafted building" that is very much a product of its time.
"[It was] a moment in American architectural history when great American self-confidence is right on the heels of the World's Fair in Chicago, where America sort of declared itself on a world map," Williams said. "The white marble is actually related to what came out of that World's Fair in 1893 — what was sometimes referred to as the White City. And so white marble buildings become synonymous with the modern city. Even though it's this old classicism, it would have been seen as a modern building."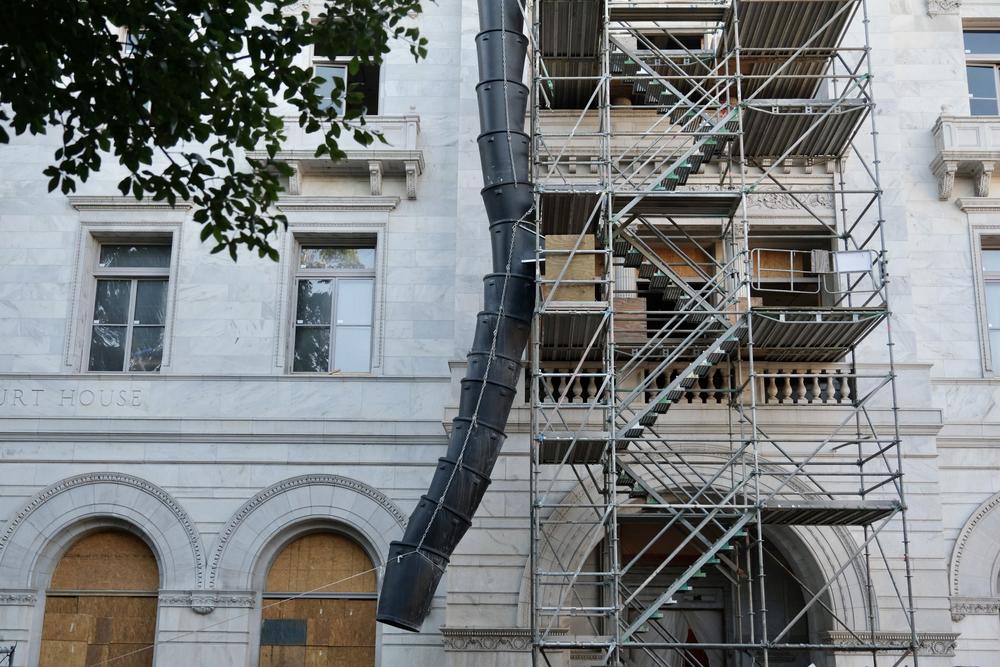 A roughly 60,000-square-foot addition was built in 1932, effectively tripling the building's original size. That addition, too, was a product of its time.
"They did it in a way that if it happened today, the federal government would prohibit this kind of expansion," Williams said.
That's because the expansion was designed essentially as a mirror image of the original structure — an approach that runs counter to federal guidelines adopted in 1966 through the National Historic Preservation Act.
"One of the standards is that when you put an addition on a building, it should be distinguishable," Williams explained, adding that although the guidelines say that an addition should be compatible with the original structure, its design should be at least somewhat distinctive.
"I love to stand in front of the building with anyone I'm giving a tour to or my students, and say 'Find the seam,'" he said. "It's very subtle. The original corbels — the brackets up in the cornice up at the top — are just slightly different and slightly dirtier than the ones that were on the expanded part. But otherwise, the difference is really difficult to see."
The partial collapse came as a surprise to Williams, as he said that the courthouse was built with high-quality materials.
Secondary Content
Bottom Content