Section Branding
Header Content
Could legislative expulsions like those in the Tennessee House happen in Georgia's?
Primary Content
LISTEN: A pair of Democrats were expelled from the Republican-controlled Tennessee House of Representatives for staging a gun control protest on the House floor. Georgians are questioning if a similar situation is possible in the Peach State.   GPB's Sarah Kallis asks University of Georgia's Ashton Ellett about it.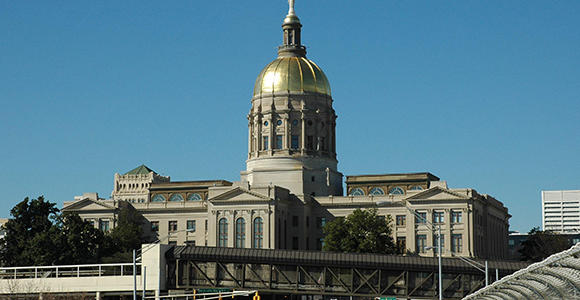 ​Days after two Black Democrats, Rep. Justin Jones and Rep. Justin Pearson, were expelled from the Tennessee House of Representatives for staging a gun control protest on the House floor, Georgians are questioning if a similar situation is possible in the Peach State.  
Not likely, according to Dr. Ashton Ellett from the University of Georgia.
"It is incredibly rare and sort of a party-line expulsion like we saw in Tennessee would be virtually impossible in Georgia because of the way the rules are written," he said. "It requires supermajorities to expel legislators in both houses. And there neither party has a supermajority."
Jones and Pearson were expelled Thursday for breaking Tennessee House debate rules.  A third Democrat, Rep. Gloria Johnson, also faced expulsion for participating in the same protest. But Johnson, who is white, escaped expulsion by one vote.  
Georgia House rules say that upon first offense, members are fined. After multiple offenses, the Speaker of the House can call a vote to expel a member. Two-thirds of House members must vote to remove the member in order for that member to be expelled. The Senate has similar rules.  
Expulsions in the Georgia legislature are rare, but they have been used to target Black members before.  
Most of the first 33 Black members of the Georgia legislature were expelled on their first day in 1868. The Black lawmakers were expelled because their white colleagues argued that the constitution did not explicitly allow Black citizens to hold office.  
Ellett says there is dispute over the number of lawmakers that were actually expelled in 1868, but most records say the number was between 27 and 29.  
The case escalated to the Georgia Supreme court, which said that the Georgia code deemed these expulsions unlawful. 
"Running for and holding public office is one of the rights permitted to citizens of Georgia," Ellett said. "There was nobody arguing that these Black legislators weren't citizens. And there was a second point in the code which said that unless there was a law specifically prohibiting individuals from enjoying all the rights, including holding public office, any citizen can do that."
The lawmakers were reinstated in 1870, but in the years that followed, the Legislature passed a series of laws that made it difficult for people of color to run for office at all. Ellett said the numbers of Black lawmakers in the legislature diminished, until there was only one left in 1906, and then none in 1908. No more Black lawmakers were elected until 1962 when Leroy Johnson was elected. 
Another Georgia similarity to the Tennessee expulsions occurred in 1965 with Julian Bond, a co-founder of the Student Nonviolent Coordinating Committee (SNCC), being elected to the House of Representatives. Bond was an outspoken critic of the Vietnam War, and was ousted by his House colleagues — sort of.  
"A majority of the legislators argued that he, being Julian Bond, could not take his oath of office because he couldn't be trusted to uphold the Constitution of Georgia and the United States," Ellett said. "And they do this three times. They deny him his seat. So he's never actually expelled because he's never officially seated."
In 1966, the U.S. Supreme Court ruled that the Georgia legislature blocking Bond from taking oath was unconstitutional. Bond was sworn in to the Georgia House in 1967.  
Ellett said he noticed similarities between Jones and Pearson's expulsion and Bond.
"They're coming to elective politics through direct community action and protest," Ellett said. "So it's very similar in that regard that there is a shift, a generational shift, a tonal shift, a policy shift. These are — these are very progressive, young and young legislators who are bucking the conservative majority of their state."
On Monday, Jones was reinstated in the Tennessee House of Representatives after the Nashville City Council nominated him as the replacement for his own seat. And by Wednesday afternoon, Pearson was also unanimously reinstated by the Shelby County Board of Commissioners.
Tennessee allows for the district's county commission or city council to temporarily fill the seat left vacant by an expelled lawmaker. But Tennessee law does not explicitly forbid the local governments from nominating the recently expelled lawmaker — and the lawmakers cannot be expelled for the same offense.
Both must run for their seats again in special elections for their unexpired terms of office.
Secondary Content
Bottom Content