Section Branding
Header Content
What happens next as Columbus seeks new chief to replace Freddie Blackmon?
Primary Content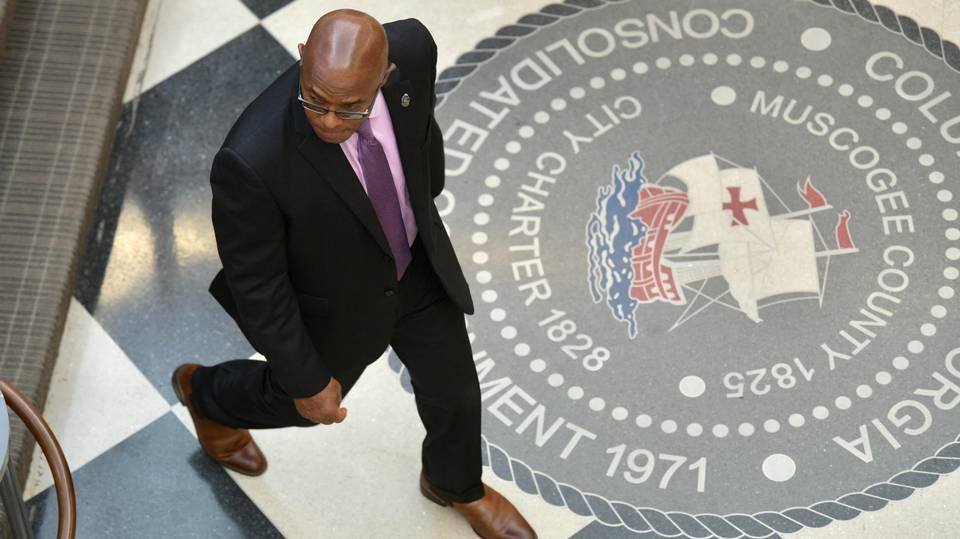 With embattled Police Chief Freddie Blackmon accepting a $400,000 severance package to retire this month, Columbus residents are left waiting to see what happens next with the vacant position at the top of a crucial law enforcement agency.
What's next, after an interim chief steps in, may be a nationwide search for an outsider to take the job, and not someone who already works in the Columbus Police Department.
"I think there are benefits to hiring from outside, like a nationwide search," District 4 Councilor Toyia Tucker said Friday, the day after council held an hour-long private session to work out Blackmon's severance deal.
When that executive session ended Thursday afternoon, council publicly voted on a resolution confirming these terms of Blackmon's early retirement package, beyond the $400,000 he's to be paid:
Blackmon took paid time off starting Thursday, and officially will retire April 30.
His assistant chiefs, Debra Kennedy and Joyce Dent-Fitzpatrick, will run the department as the city consults the Georgia Association of Chiefs of Police on appointing an interim.
Blackmon will continue to get his city health insurance at the employee rate until he reaches retirement age.
The chief will not to pursue legal action against the city.
Mayor Skip Henderson initially offered Blackmon a $250,000 severance package on March 15. Blackmon countered that by demanding around $850,000 total on March 28 in a letter from an Atlanta law firm threatening to sue the city for racial discrimination.
The deal capped a tense few weeks between the chief and the city leaders and opened up another chapter in the city's quest for a new top cop.
Appointed with council's unanimous approval in November 2020, Blackmon is Columbus' second Black police chief, and succeeded a white chief, Ricky Boren, who retired Oct. 31, 2020, after leading the agency for 16 years.
Both Blackmon and Boren spent their careers here. Boren first joined the department in 1971. Boren was born in Harris County, but graduated from Columbus' Jordan High School. Blackmon's a Columbus native who was hired in 1986. Each had spent decades with the department before becoming chief.
The next chief may not have those local ties.
WHAT NOW?
Mayor Henderson said he expects to name an interim chief within days, as the assistant chiefs run the department. Kennedy is in charge of operations, and Dent-Fitzpatrick oversees administrative functions.
"The goal is to get an interim in there, like 10 minutes ago," Henderson said after Thursday's council meeting. "It's just that it's been a very fluid, very fast moving situation, but we are seeking guidance from the Georgia Association of Chiefs of Police. They're an organization made of police chiefs and retired police chiefs."
The chiefs' association, based in Duluth, says it provides these services to local governments "in recruiting and selecting chiefs of police":
Onsite consulting on a police chief selection process
Establishing qualifications for applicants
Developing job announcements
Recommendations on hiring Background investigations
Suggesting conditions of employment
Follow-up training for new chiefs
The interim chief likely will be someone currently working here, Henderson said: "There are some people within the department that I know some folks are interested in considering. So we're going to make sure we get it right. The interim will simply try to keep it between the ditches, until we are able to do a search and come up with a permanent replacement."
He said one particular person was in line for interim, though some councilors and police officers privately have said a Black patrol captain nearing retirement is the current favorite.
"We'll have them in place very quickly, just like in the next day or two," the mayor said. That appointment will not have to be confirmed by a council vote, he added:
"It's an administrative action taken by the mayor, because it won't really be the chief," he said. "It will be the interim chief."
After that, city leaders expect to form a search committee to recruit a new chief.
"I think there will be a nationwide search for that," said District 6 Councilor Gary Allen, who serves also as mayor pro-tem, presiding over council meetings when the mayor's absent. He had no objection to hiring someone from outside Columbus, he said.
Tucker, the District 4 representative, said that after Boren announced his retirement in 2020, council appointed a focus group to seek citizens' input on finding a new chief.
"During 2020, when we had the focus group, the community overwhelmingly said we needed to hire externally, outside CPD," she said. Police officers also told the group they favored someone from outside the department, she said.
Columbus has been successful in that effort elsewhere, she noted: The chief heading the Columbus Department of Fire and Emergency Medical Services, Salvatore "Sal" Scarpa, is a Brooklyn, New York, native who came here from the North Kansas City, Missouri, fire department, replacing a local chief, Jeff Meyer, when he retired in 2020.
In November 2021, after a national search, council confirmed Herbert Walker as warden of the Muscogee County Prison. He was a resident of McDonough, Georgia, having served at the Lawrenceville Correctional Center and the Robert A. Deyton Detention Center in Lovejoy, Georgia. He also provided security services for the Centers for Disease Control and Prevention.
"He's doing a fantastic job," Tucker said of Walker.
District 5 Councilor Charmaine Crabb also praised the work of the fire chief and prison warden.
"I think that we can expand Columbus' horizons by having a new perspective," she said of an outside hire. "People who have lived in different places may have ideas that we haven't seen."
She added: "Our police department is a huge part of our public safety, but you have to look at the big picture."
That big picture includes economic development, and what major employers look for when deciding to relocate, she said: "They want to see a strong, vibrant police department."
A TUMULTUOUS TENURE
The year after council confirmed Blackmon as police chief, on Nov. 17, 2020, the city experienced an abrupt surge in gun violence, reporting a record 70 homicides in 2021.
That dropped to 45 in 2022, but Sheriff Greg Countryman and Coroner Buddy Bryan, along with some police investigators, said the decrease partly was the result of a declining gang war, between rivals known as the Zohannons and US World, that played out when many of the combatants either were killed, jailed or left town.
The police chief's office would not acknowledge that factor, for a Ledger-Enquirer analysis in February, saying it had not linked the killings to street gangs.
Its approach to fighting gang violence was criticized in a privately funded study of department operations that councilors received in November 2022. These were among the conclusions drawn by the national consulting firm Jensen Hughes:
The department did not effectively track gang activity or share such data across divisions. It has officers in its Office of Professional Standards, which investigates officer misconduct, serving in dual roles as gang investigators and crime-intelligence gatherers. This arrangement "interfered with and decreased the critical flow of intelligence information within the department," the report said.
The department's overall approach to combating gangs was inadequate, as no officer or unit had "robust knowledge or expertise on all of most of the city's gang factions, leadership, members, areas of influence or criminal activities."
The criminal intelligence information provided to other divisions is of little value. Officers said they "have never seen any predictive intelligence provided, but rather documents containing an assemblage of information void of any analysis or what that information could likely mean in terms of future outcomes." Some of the information was about suspects who were dead.
Jensen Hughes also found that experienced officers were leaving the department not because of low pay, a frequent complaint among officers nationwide, but because of low morale caused by poor leadership.
"We were frequently told the chief has created an environment of micromanagement, and while the department has some talented commanders, they are not being effectively utilized," the report said.
It noted that some officers had left for lower paying jobs. While surveying those who remained, the analysts found that "most of those interviewed stressed poor leadership impacted employee morale and was the primary reason for departures."
Alarmed by the continuing loss of police veterans, Columbus Council demanded Blackmon come up with a plan to address that, after councilors got a Feb. 14 briefing on the study, which echoed a 2021 police study compiled by the Leadership Institute at Columbus State University.
Amid the debate over Blackmon's leadership, another wave of gun violence erupted.
The city had nine homicides in two weeks, Feb. 15 through Feb. 28. Nine juveniles were wounded in a shooting at a gas station on Feb. 16, making national headlines, and midtown residents were alarmed when pedestrians walking around Lakebottom Park had to dodge bullets from a drive-by shooting.
At a meeting of Lakebottom Little League parents on March 2, Assistant Chief Kennedy told the crowd that Columbus steadily was losing mid-level officers, those with around 15 years experience, and the force was down to 299 out of a budgeted 488.
On March 14, Blackmon presented a "comprehensive plan" for the police department, proposing increased pay and benefits, and expanding the force to 572 officers. It had only 295 employed at the time, he said.
The mayor offered him a severance package the next day.
His supporters rushed to his defense, holding a rally outside council's March 28 meeting, alleging the majority-white council was treating him unfairly because of his race.
City leaders were not dissuaded from seeking his ouster, leading to the severance agreed upon Thursday.
Among the councilors who could be reached for comment Friday was Glenn Davis, the District 2 representative, who said Columbus now needs to work on rebuilding its police force.
City leaders should consult the rank and file officers, from the bottom up, and question some of those who have left for other jobs, he said.
"You've got to listen to them, and see what they think about re-energizing the department," he said.
"This story comes to GPB through a reporting partnership with the Ledger-Enquirer.
Secondary Content
Bottom Content