Section Branding
Header Content
Pimento cheese for $1.50, tickets for $90,000: The Masters by the numbers
Primary Content
As golf lovers flock to Augusta this weekend to see veteran players like Tiger Woods and Phil Mickelson compete with international stars such as Norway's Viktor Hovland and Spain's Jon Rahm, they have financial decisions to make — from where to stay and what to eat to how much to pay for a spectator's ticket if they don't already have one.
Augusta National Golf Course is the home of The Masters and one of the most exclusive clubs in the country. Patrons' tournament experiences vary according to the size of their wallets. 
Here's the lowdown:
Tickets
Front Office Sports reported today that tickets on StubHub ranged from $2,700 for single-day entry to nearly $90,000 for a four-day pass.
We can't verify the availability of tickets at any price point, but a quick perusal of the resale site showed other options closer to the $1,000 range for Saturday, when rain is expected. A ticket for a seat with an unrestricted view of the course for the same day was offered at $3,395.
 
Lodging
It's late in the game to find a place to stay, but Airbnb is still offering homes in the area for nightly fees at a variety of prices. This house 12 miles from the course will set you back $1,500 a night; another one is $3,499 per night.
Parties
According to the Augusta Convention and Visitors Bureau, locals will eat, drink and watch golf at venues including Solé Grill & Sushi Bar, Farmhaus Burgers, Southbound Smokehouse and Soul City Pizza, while brands sponsor lavish parties with celebrities at rented homes in the area.
Want to keep the party going after the tournament ends? Drive from Augusta to Myrtle Beach, S.C. for the annual celebrity charity golf fundraiser, Monday after the Masters, hosted by music group Hootie and the Blowfish.
Merch
The Masters' official online store offers shipment of historical photos including legendary Georgia golfer Bobby Jones for $50 plus tax and shipping.
A framed trio of photos of "Amen Corner," which the shop describes as views of the 11th, 12th and 13th holes at Augusta National Golf Club, will set you back $99: "From the white dogwoods and pond along the 11th hole, to crossing Rae's Creek on the Ben Hogan Bridge leading to the 12th green," the site touts, "to teeing off and then crossing the Byron Nelson Bridge leading to the 13th fairway and the over 500 yards of azaleas along the 13th hole — this is golf at its most beautiful."
A separate online vendor, MMO Golf, offers the avid collector a huge range of caps, tees, polos, commemorative putters and even a wooden wall clock emblazoned with the tournament logo for $249.99.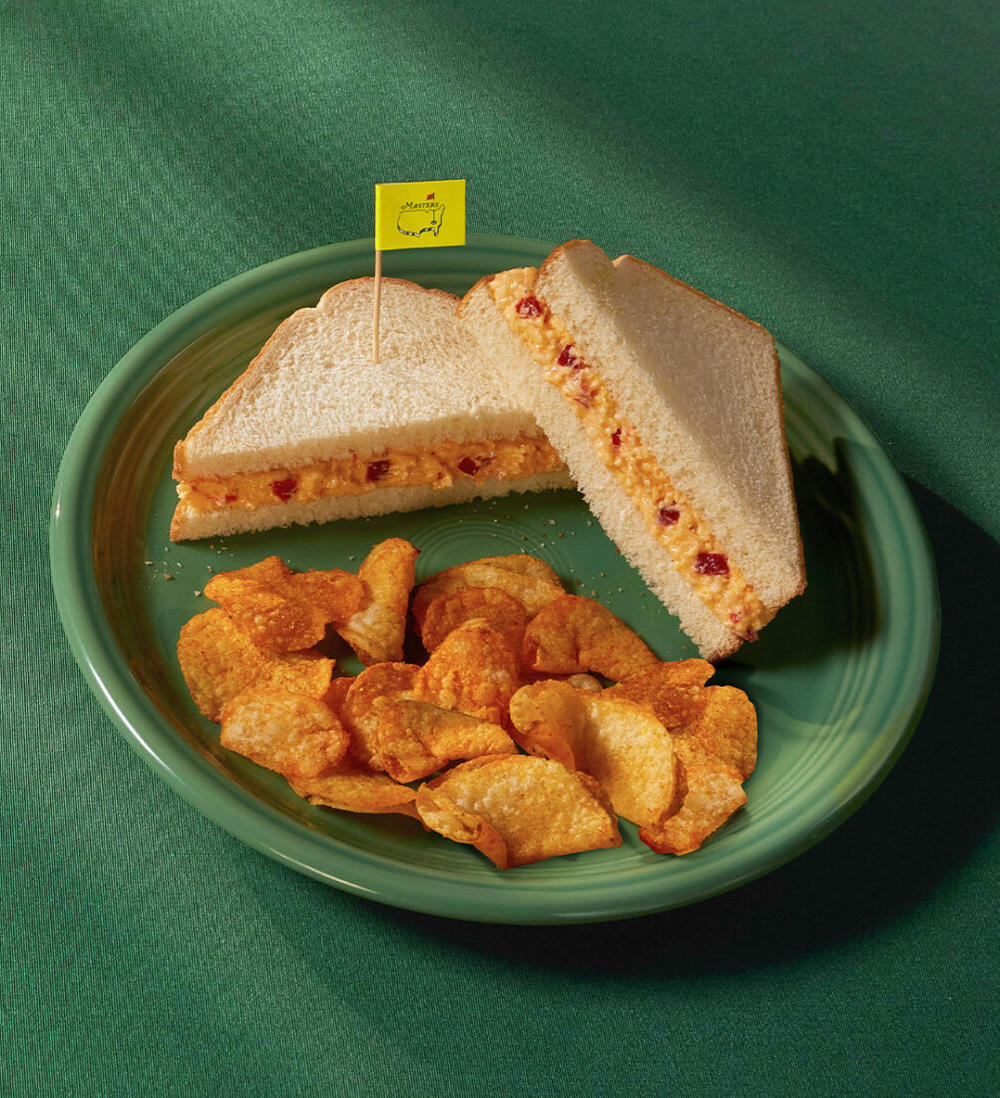 Food
The famous pimento cheese and egg salad sandwiches at Augusta National go for $1.50 each — an affordable tradition to taste, along with pork barbecue and ham and cheese for $3 apiece. Georgia peach caramel corn is $1.50, while white wine is $6 a cup.
Celebrity chef David Chang told Golf Digest that August National's food operation was the "best organized company in the world."
Can't make it to the course to try its famous Southern food? Make your own sandwich.
Secondary Content
Bottom Content