Section Branding
Header Content
With police chief's job on the line, Columbus Council sets specially called meeting
Primary Content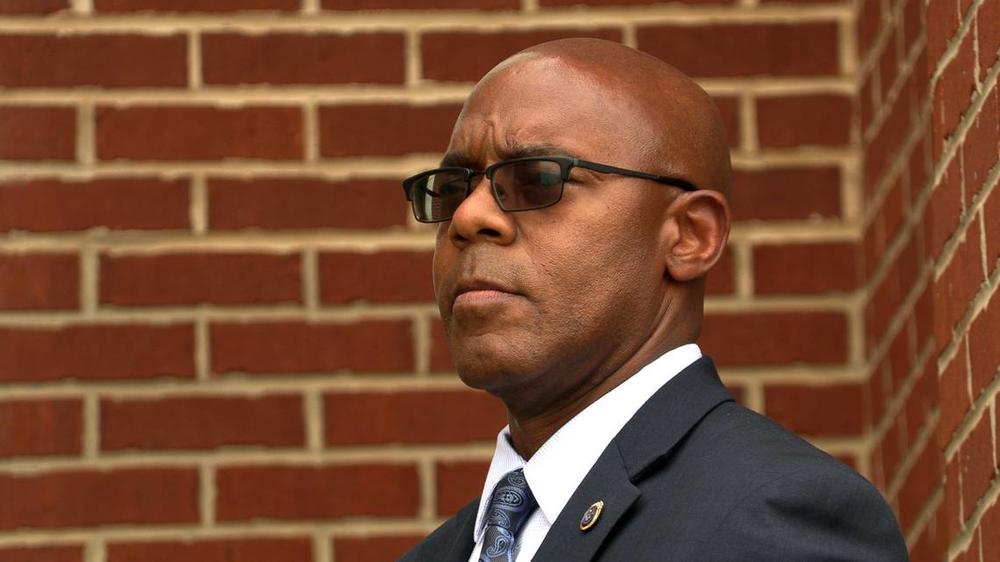 With city leaders still negotiating a severance package with Police Chief Freddie Blackmon, Columbus Council has called a special meeting for Thursday at 3 p.m.
The city's announcement Wednesday did not specifically mention the chief, but said the meeting is "for the purpose of going into executive session to discuss matters of personnel and potential litigation." Council's to meet at the City Services Center off Macon Road.
Blackmon faced a Wednesday deadline to reject or accept a $250,000 severance deal that Mayor Skip Henderson sent him on March 15. But the chief hired an Atlanta law firm, which sent the mayor a March 28 counter proposal seeking around $850,000, and threatening to sue on claims of racial discrimination.
Blackmon is represented by Buckley Bala Wilson Mew, which specializes in employment law. It claimed the city is ending the Black police chief's employment based on his race, in violation of his civil rights.
Henderson offered Blackmon the city's severance package the day after the chief presented a strategic plan to address issues raised in a police department study authored by the national consulting firm Jensen Hughes.
Blackmon's attorneys claimed the Jenson Hughes study was biased, having relied heavily upon complaints from Columbus' Fraternal Order of Police. The police officer heading that group, Lt. Ralph Dowe, who is white, has sued the city on claims that he was denied promotion because of his race.
Blackmon now is being targeted because of his race, and faces consequences from that discrimination, his attorneys wrote:
"While Chief Blackmon has suffered a complete disruption of his life as a result of the city's unlawful conduct, along with potentially significant financial loss, and he is prepared to pursue his claims, we believe a prompt settlement of this matter is in the best interest of both parties."
They added that under Title VII of the Civil Rights Act of 1964, Blackmon was "entitled to recover his lost wages, compensatory damages, and an award of attorneys' fees and costs of litigation in the event he prevails on the merits of his claims against the city. In cases involving a public employer, a court may award front pay for the entire remainder of a plaintiff's career."
These are the demands set forth in the firm's letter addressed to Mayor Henderson:
$646,053, or five years of his base salary through age 62
$200,000 compensatory damages under Title VII and the equal protection clause of the 14th Amendment
Health insurance through May 31, 2030
All vacation and overtime accrued as of the date he leaves the city's employment
Eligibility in the city pension plan
Full vestment in the city's Deferred Retirement Option Plan, commonly called "DROP," as if he retired on Oct. 31, 2027, at age 62
$15,000 in attorneys' fees
The settlement proposal would be offered for 14 days as of March 28, the letter says.
Here are highlights of the severance package the city offered Blackmon:
A one-time lump sum gross payment of $250,000
Health insurance benefits until May 2030
Compensation for unused vacation time
Eligibility for participation in the city pension plan to leave his position by April 5
Blackmon, a Columbus native who started at the police department in 1986, is the city's second Black police chief. His appointment to that position unanimously was confirmed by Columbus Council on Nov. 17, 2020. His annual salary currently is $161,513.
The Jensen Hughes report found the police department not only was losing experienced personnel, but failing to retain new officers, once they were fully trained. Officers complained of low morale, poor communications from leadership, and micromanagement. Blackmon's strategic plan called for boosting the number of sworn officers from 488 to 572, increasing financial benefits and restructuring the department. The current starting pay for a rookie police officer with a high school education is $50,121 a year.
This story comes to GPB through a reporting partnership with the Ledger-Enquirer.
Secondary Content
Bottom Content