Section Branding
Header Content
'There's a new sheriff in town': DeSantis makes Georgia political appearance during book signing
Primary Content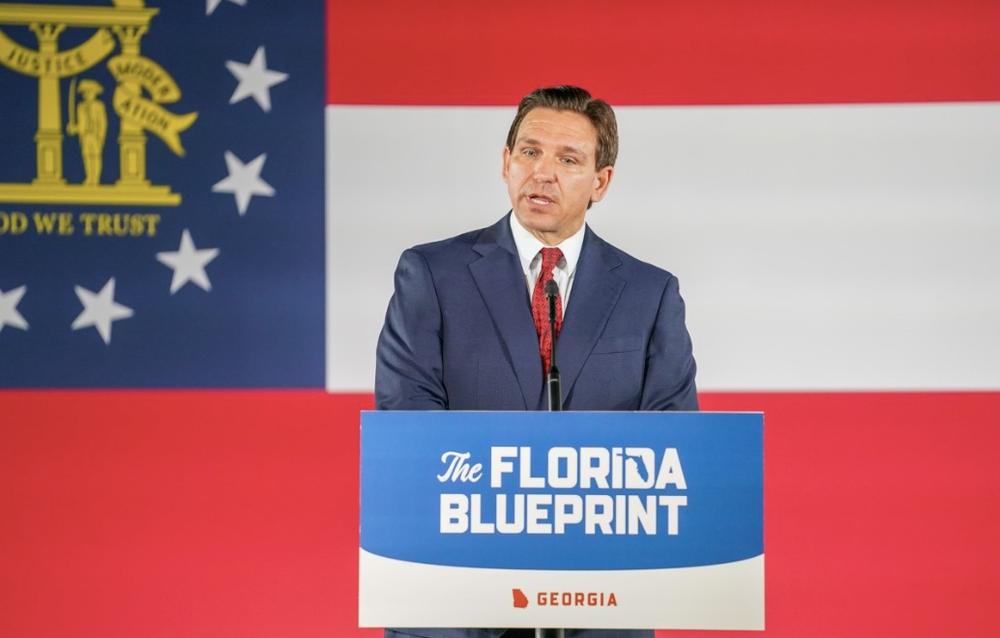 SMYRNA, Ga. — Standing behind a podium with a large Georgia state flag in the background, Florida Gov. Ron DeSantis spoke for more than an hour to supporters inside Adventure Outdoors, a retailer that bills itself as "The world's largest gun store." DeSantis was supposed to be in Georgia as part of a recent tour, The Florida Blueprint, for his New York Times bestselling book, "The Courage To Be Free." He only managed to mention the book twice — once when he first took the stage and just before he left the stage.
The second-term Republican governor and critical race theory opponent spent his time playing some of former United States President Donald J. Trump's favorite tunes. DeSantis spoke about border control, the lack of respect for law enforcement around the country, China, and building a wall around the country's southern border.
"They are letting the cartels eat our lunch," said DeSantis of the Biden administration. "We need to get serious about building a wall." 
He joked that Florida's efforts to recover from Hurricane Ian were more than enough proof that engineers from the Sunshine State could quickly build a wall if needed by the government. 
On critical race theory, DeSantis said Florida "banned CRT," and that the education system wasn't "going to teach our kids to hate our country."
"What kind of a message is that sending to a 6-year-old kid?" he asked. 
Earlier this month, House Bill 7, more formally known as "Individual Freedom" measure, was passed in the state of Florida. The bill essentially bans educators from teaching certain topics related to race despite their significance to American history. 
DeSantis, who has not announced that he will or won't be throwing his hat in the ring for the Republican nomination for president, did mention how Florida, under his leadership, has demonstrated the kind of mental fortitude this country could use coming from the White House. 
"When the world went mad, Florida stood as a citadel of sanity," said DeSantis of the height of the COVID pandemic. He also took multiple opportunities to compliment fellow Republican Georgia Gov. Brian Kemp for not completely shutting down Georgia during the pandemic, saying Georgia, Florida and Texas are governed much different than the rest of the country.
Signs of strong support across state lines
Desantis supporter groups were handing out free T-shirts with "Never back Down" and "DeSantis 2024" on them hours before the event started. During the event, free copies of "The Courage To Be Free" were given to any and everyone that wanted one. More than 650 supporters filled a second-floor event space at the gun and outdoor retailer. Trump supporters, waving flags and wearing "Make America Great Again" hats were in the parking lot and on South Cobb Drive waving flags.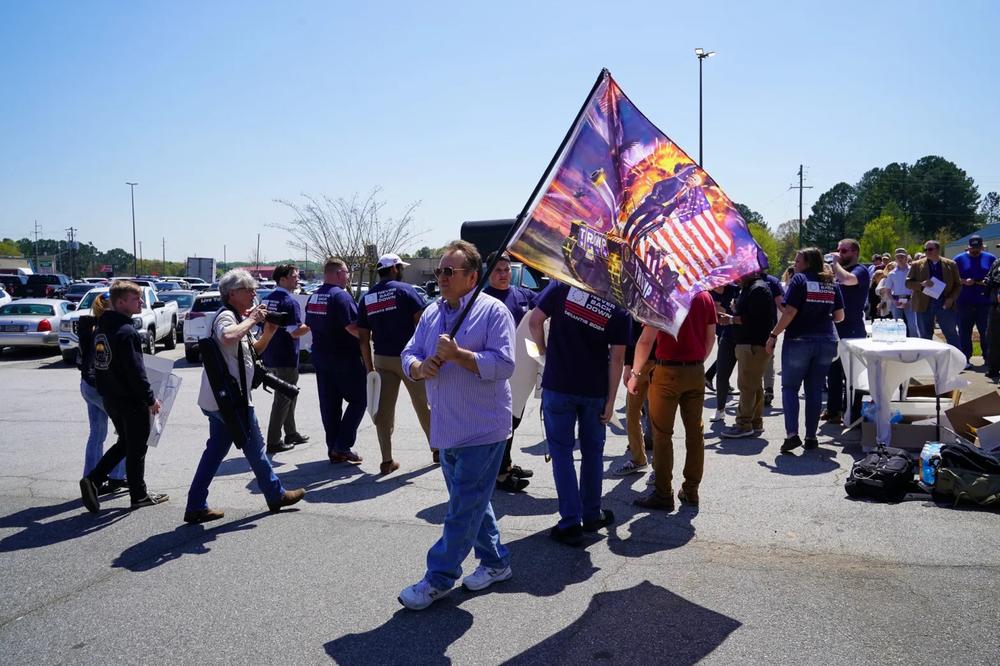 Adam Chandler, a Trump supporter and Smyrna resident said of DeSantis' potential to be the next president of the United States, "He can't do what Trump can do. He's not prepared and Trump has been through this already," said Chandler. 
When Trump's previous lack of political experience was mentioned, Chandler retorted, "Trump is strong enough to handle what's coming."
Veterans for Trump Georgia president Jared Craig said of DeSantis' appearance in Cobb County, "It is really disingenuous." 
"The race between Trump and DeSantis will be a landslide for Trump," he added. "This is a JV attempt at running for president."
Stan Fitzgerald, Veterans for Trump national president, said of the DeSantis visit, "It's no secret he's going to run for president. 
Standing on the corner holding a pro-Trump flag, Fitzgerald added, "He's going to need to win Georgia in order to accomplish that, though."
DeSantis referred to Florida as a "free state" during his first few moments behind the microphone and made several mentions about the Democratic Party throughout his speech. "The Democratic Party in the state of Florida is dead," he said. "What wins elections are bold colors, not pale pastels."
This story comes to GPB through a reporting partnership with The Atlanta Voice.
Secondary Content
Bottom Content